I'm a foundation floozy.  A total sucker too 'cos I can never resist a new release that promises me the skin of an angel.
I'm currently trialling one that's almost ticking all the right boxes for me (review coming v. soon!) but in putting this particular product through its paces, it's made me realise just how demanding my requirements are for the perfect base.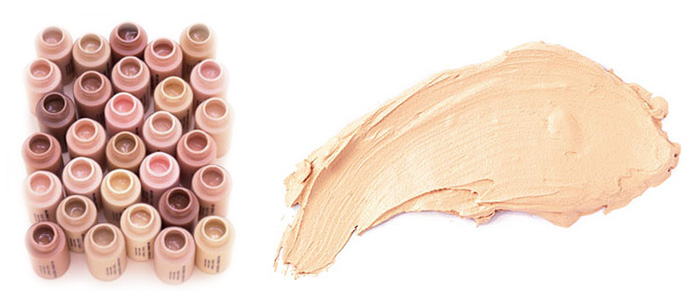 Holy Grail foundation, dude… wherefore art thou?
Infact, not only are my requirements kinda demanding… I'm not sure they're wholly realistic.  A bit like the images used to sell us the foundations then?  Touche.
My Holy Grail foundation, let's break it down…
1. Thou shalt give medium coverage
I don't want heavy coverage from a foundation, I want *even* coverage… it needs to give enough oomph to subdue the redness, dampen down the blotchiness and remove all traces of motley bits.  So, I want a mask… but like an invisible one ok?  Or someone else's face.

2. Thou shalt not stick to my eyebrows
I have an eyebrow/foundation issue.  Yes, I know the simplest answer would be to keep my foundation the hell away from my eyebrows.  But I like to apply my base in about 15 seconds flat with minimal fuss.  Infact, in an ideal world… I'd like my base to apply itself.  Some foundations spot my eyebrows from a mile away and make a direct beeline so that when I look in the mirror, my face is bare and my eyebrows? Skin coloured.

3. Thou shalt not make me matte
I don't do matte very well.  I have dry/combo skin… my nose gets oily by lunchtime but I'm ok with that (hello powder), I'm not ok with looking like I've been dug up.  Matte makes me look…. lifeless.  I want the glow (not the chip pan glow) but the "oooh la la" satin glow ok?
4. Thou shalt not squat in my pores
I have cheek pores that you could fall into and never escape from.  Some foundations make them appear smoothed over… some foundations install neon signage around each one to ensure they're visible from the International Space Station.
5. Thou shalt glide on with fingers/brush/sponge/elbows if necessary
I can't be doing with finickity foundations.  I want my Holy Grail foundation to apply happily with whatever utensil I have at hand.  I already have too many bases that look amazing only when applied with a coral reef sea sponge dampened with virgin water from iceberg B-15A on a Tuesday afternoon.
6. Under no circumstance shalt thou oxidise in my presence
Nothing worse than applying a perfect shade only to discover you've been oompah loompah'ed by tea time and your colleagues left wondering if their transition lenses are playing up.
Oh.. and finally?
If you don't last longer than a chocolate button caught in Leila's line of sight then it doesn't matter how good you are at all the other stuff.  You fail.
.
What are your foundation pet peeves?  Have you found your Holy Grail base?