Ahh a miracle… wouldn't that be nice?  Let's bottle some little miracles, tint them the same colour as our skintones and then buff 'em all over our face in the morning when we're looking a bit ropey.  Et voila, we go from Linda La Hughes to Linda Lusardi in under 50 seconds.
Pop!  There goes that bubble…
a).  Only about half of you will know who Linda Lusardi is and I should really set my sights a little higher than page 3.
b).  I'm not sure I believe in miracles and if I did, I wouldn't find them in a bottle (unless it was 70% proof).
and
c).  Shut up and review the damn foundation already.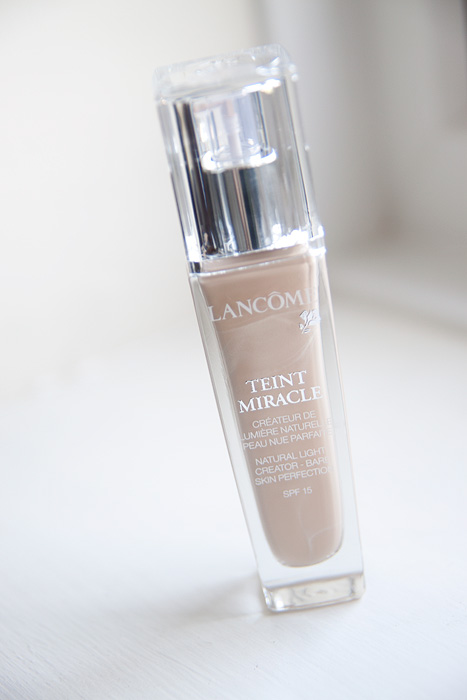 Lancome Teint Miracle is the company's newest base which has, they say, been 10 years in the making.  It comes backed with some pretty flowery statements.  Stuff like…
Lancome decrypts the inner light of perfect skin and recreates it.
To that, I simply raise an eyebrow and say…
O Rly?
Teint Miracle is a medium/full coverage foundation that somehow manages to defy the laws of physics by retaining a light, fluid texture that blends as easily as my MAC F&B whilst offering coverage to almost rival something as potent as Estee Lauder Double Wear.  The more I think about how it could possibly achieve this, the more respect I gain for those 10 years in development.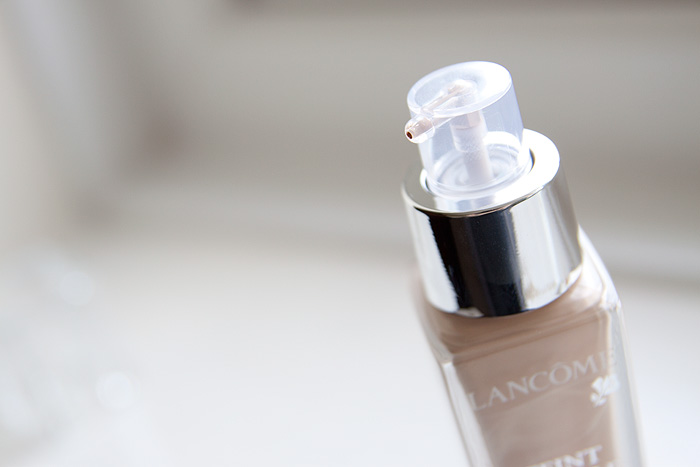 I need to take a moment to marvel at the packaging because it's not only rather attractive but also functional.  The pump is see-through which stops the "how many more pumps 'till it all comes out in a rush" guessing game we all know so well and for me, one full pump covers my face pretty much perfectly.  Your mileage may vary!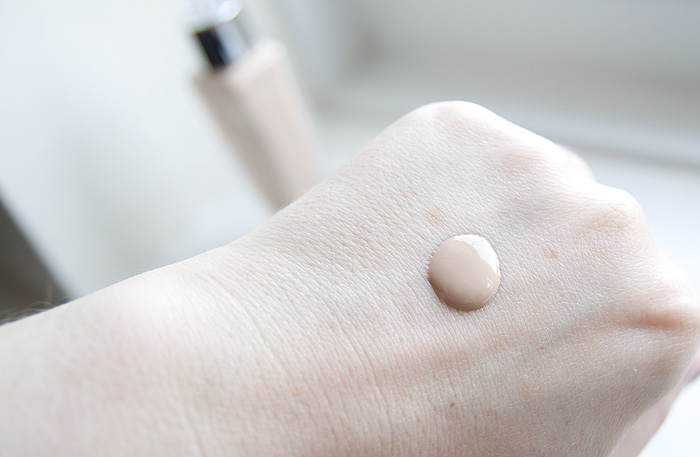 Lancome Teint Miracle in 010 Beige Porcelaine (the lightest shade) is a good match for my complexion.  I would class it as fairly neutral, neither leaning too much toward pink or yellow in the spectrum.  The formula also contains a light pearlessence, not Cullen-esque in the slightest but there is a sheen that almost makes the foundation look a shade too light for me when I first apply.  This fades as the foundation sets before becoming imperceptible but leaving behind a subtle glow.
The glow doesn't look at all greasy or shiny until after the foundation has worn in for many hours but if you fear the glow, I'd suggest looking for something that offers a fully matte finish.  Me?  I embrace any and every glow I can get my hands on and this is one of the better ones out there.
Excuse the nightie and the early morning "oh God, it's another day" expression.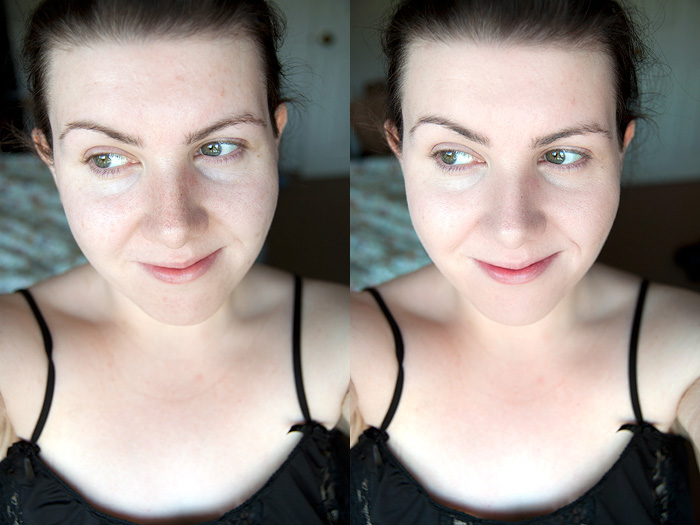 Before is on the left if you hadn't already sussed that.
The Lancome Teint Miracle gives me great coverage over my redness and veiny bits without looking too heavy and I'm really happy that it still allows my natural skin texture to peek through.  I really dislike medium/full coverage foundations when they make it abundantly clear on my face that they are indeed medium/full coverage foundations.
If you have any larger blemishes (like I did on the side of my nose) you'll still need concealer to disguise the blighters.
As for longevity, I achieved good all-day wear from this foundation albeit with a bit of slippage on the nose toward the end of the day.  If  you have particularly oily skin you will need to powder at lunchtime.
My only bugbear with this rather lovely product is transfer.  For some reason, I have issues when I wear this.  Dab my nose on a tissue?  More foundation on tissue than nose.  This is obviously a problem and one that I'm not used to experiencing, if anyone has any ideas… let me know!
I'd also like to point out that I prefer to apply this with a brush.  Sponges are a no, no… even when damp my beauty blender likes to EAT this foundation.  Oh also, I think that if you already have a primer you're in love with… you probably need to try this foundation ASAP.  I tried it over MAC Prep+Prime and it made an already smooth finish, incredible.  And I don't even really like Prep+Prime!
Hope that wasn't too indepth… I do totally advise a little trip to your local Lancome counter to see if they'll colour match you or part with a sample so you can try for yourself.  I may not be one for miracles but Lancome Teint Miracle does come pretty close!
Lancome Teint Miracle SPF15 Foundation is available to buy instore or online priced at £26.00
* press sample