I'm sure I was a peeping tom in a past life because I love to see what other people have in their baskets when I'm in Boots.  Please, please tell me I'm not the only one who has a sneaky peek when the person infront is getting their basket emptied by the sales assistant.
Infact, I don't just do this in Boots… I do it in Asda… and I judge other people's shopping habits while I'm at it.  Not that I'm in a position to judge you understand, the only fruit that transfers to the conveyer belt from my trolley is for L but it always makes me look good while I try and hide the jelly tots and pork pies under the toilet rolls.
Anyway, here's a peek at my lunchtime shopping basket as I zipped between Boots, Body Shop, Superdrug, Wilkinsons, Greggs… yano, the essentials.
Check out the ugly duvet cover, I think it's vintage 1998.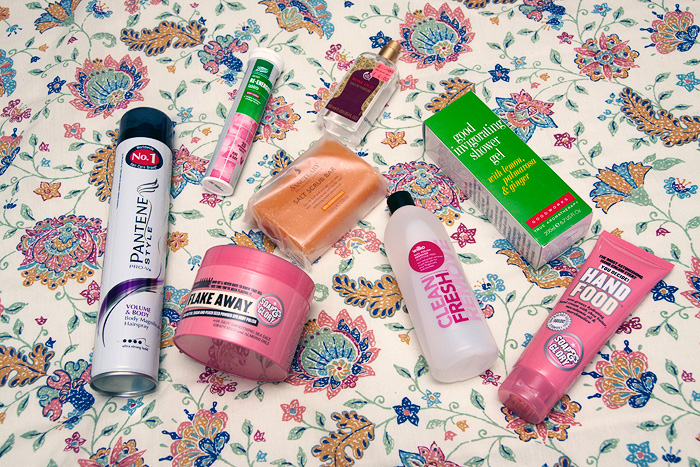 So, what did I buy? (this is the lamest of lame posts… apologies, it seemed like a good idea for 5 seconds back when I started writing it).
Pantene Pro-V Style Volume & Body Hairspray (£3.36)
I don't like hairspray… but my hair struggles to hold curls for longer than 10 minutes so this is my current hairspray of choice for when I'm wearing my hair down but 'styled'.  I'm not a hairspray connosieur but this one doesn't add any additional weight to my fine hair, gives a good hold and doesn't cost a bomb.
Boots Pharmaceuticals Re-Energise Tablets Berry Flavour (£4.07)
While I was browsing the supplement aisle, a man leaned across me and picked up THREE mega packs of Berocca (they're on 3for2) costing him £30, in one swoop… man, he must be knackered.  Me?  I'm only mildly exhausted, so whilst the simple answer would be to get more sleep and eat properly, I'd rather find solace in a £4.07 tube of fizziness than do the right thing for now.  Not that I know what these are like, they may well be unbearable.
Soap & Glory Flake Away Body Scrub (£6.64)
Yinka keeps bloody going on about this scrub and I thought it was about time I see what the fuss is about.  If I don't come out of the shower shining like a new penny, I'll be having words.
Sanctuary Salt Scrub Bar (£4.85)
I picked this up to fulfil the 3for2 that's currently on in Boots and Mr. L has his beady eye on it already.  Anyone tried it?  Do I need to rescue it back to my side of the bathroom?
The Body Shop Rose Oud EDP (£6.00 in the sale)
This is LOVELY and I almost missed it.  I spritzed it without paying much attention and it was only when I'd left the store that I actually noticed it.  It's a dirty rose trailing with sweet wood.  The warm, resinous qualities combine with a hint of spice… but to my (uneducated) nose it smells quite, quite unsynthetic, which coming from The Body Shop is a shocker.  If you're passing a store, do pop in and check it out!
Wilkos Nail Polish Remover sans Acetone (£can't remember)
Dull but essential, dunno if this one is any good… but it was cheap.
Good Works Good Invigorating Shower Gel (£2.05 in the sale)
On the Boots clearance stand… not much to say about this other than when I read the word 'ginger' it went in my basket.
Soap & Glory Hand Food Hand Cream (£4.85)
I've been reading good things about this hand cream recently and thought I'd give it a go.  You get a heap of product for not much money but only time will tell whether it's worth the purchase.  Smells nice though!
.
Have you picked up any lunchtime treats today?