By Terry is a brand guaranteed to get me drooling in SpaceNK.   As my eyes turn misty and everything goes a little bit fuzzy round the edges, I feel Mr. L's grip on my wrist (and debit card) tighten.
It's a battle of nerves usually interrupted by a certain small one's well-timed "Mama, mama" resulting in me looking over my shoulder just in time to see Leila tugging at an elaborately positioned display of Chantecaille compacts.  It's at that point everything goes a bit slo-mo as I make a Herculean effort to stop expensive things crashing down to the floor.
I leave the store at this point looking embarrassed and empty-handed.  It's a family conspiracy, well rehearsed.
It's not happening again.  Not now my eyes have feasted on the By Terry Graphic Wave collection…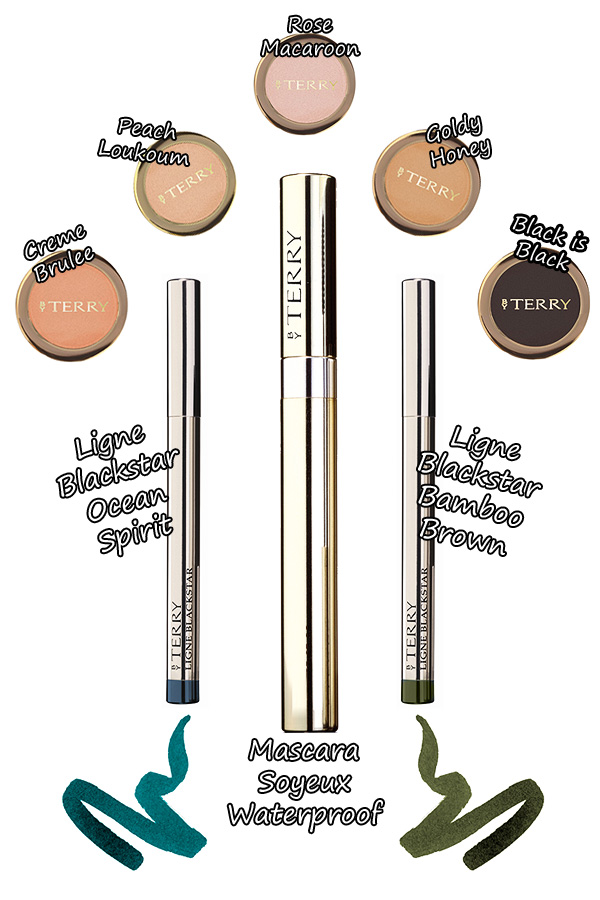 Now, when eyeshadows start from £22… I have to show a certain degree of restraint.  Last time I stopped at the Le Métier de Beauté counter in Liberty before Christmas, I came away with more than I bargained for.  Not to mention the burden of guilt the size of a small country that spent a few days resting on my shoulders.
My game plan in situations such as this is simple.  Don't swatch.
Swatching is deadly no?  It always makes me laugh at counters when the SAs give me the side-eye for swatching… Bitch, shut up… I'm doing YOU a favour.  Trust me.
Anyway… I digress.
This Graphic Wave collection…
I've got my eye on that Ligne Blackstar, the bluey one… Ocean Spirit.  Forgetting for a moment that it sounds like a naff yacht docked in Monaco… *wait, that's probably the point*… ain't it purrty?
And check this out:
A deep sea green that perfectly accentuates the blackness of the eye pupil or highlights blue green eyes
Blue green eyes? Oh rly? Made. for. me.
It's £28.  If I say that quick enough, I think it sounds a lot like 28 pence.
Check out Grace's great swatches of one of the shadows and *drool* the eyeliner!
Come join me in a bit of delusion… anything there that captures your attention for Summer?