This Autumn sees the launch of what I can honestly say is the first seasonal collection that's had me properly excited in a long time.  I knew Autumn wouldn't let me down.  A beautiful neutral eye palette?  Tick.  A visually tantalising and wearable blush palette?  Tick.  A vintage-styled red lipstick?  Tick.
Be still my heart, be still.  Lancome's 29, Saint Honoré is coming to town.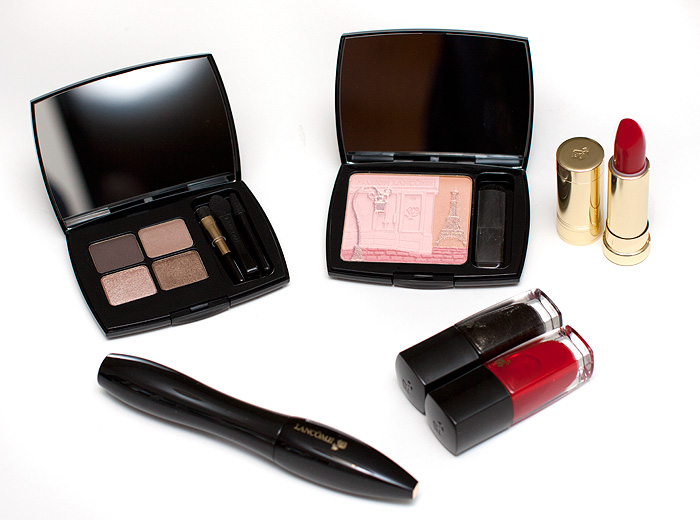 Inspired by the Femme Fatale trend of the 1930s and 40s, Aaron De Mey celebrates the flamboyant style of the urban, daring and stylish woman of this time (that's me! – ed) in his new collection for Lancome.  A woman who uses her make-up to define, enhance, strengthen and intensify her beauty.
French Touch Absolu Lipstick £23.50
Les Oeillades Eye Palette £33
Maison Lancome Blush £32.50
Le Vernis Nail Varnish £12.50
Hypnose Drama Mascara £20.50
Chic, Parisian styling from a brand celebrating its heritage, the "29, Saint Honoré" references the address of the Lancome Institute, the brand's historic home since its creation in 1935.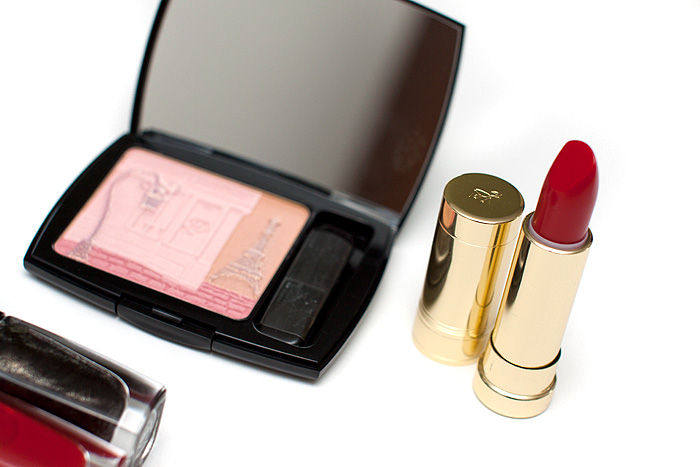 Of the Fall collection, Aaron De Mey, Lancome's Global Make-Up Director said…
"I really wanted to create an essential make-up collection that represents the staples of a chic, sophisticated women's make-up arsenal: red lips, brown lined, sculpted, defined eyes, groomed brows and fluffy lashes… A neutral coloured make-up with metallic hints layered over matt sculpting, defining powders.  A return to simplicity and sophistication…

It allows me to show a glamourous, graphic, sophisticated make-up style: Brown lined eyes with shades of Taupe, red painted lips and red or sparkly black nails… Very Femme Fatale."
As much as it physically pains me to spoil the pristine surface of that blush, I wasn't sent it to look at from a distance.  I'll be sticking my fingers in the palettes and bringing some swatches over the next few days.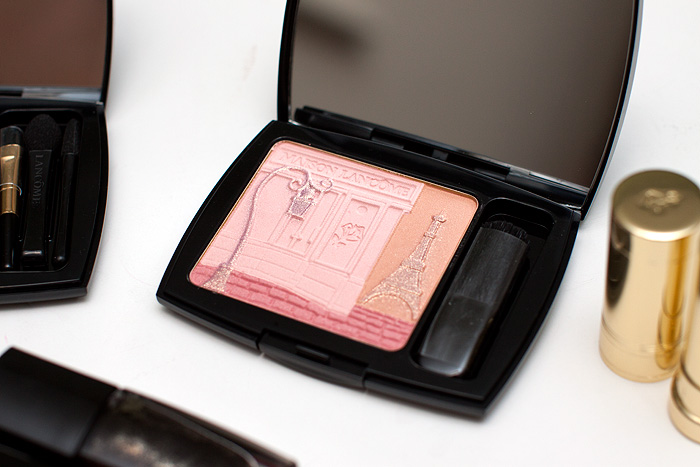 Classic, elegant and understated.  Sadly not the three words I'd use to describe myself but at least this collection might help me fake it.
Lancome 29, Saint Honoré will be available at Lancome counters nationwide from 1st September 2011.
* press sample