I'm starting a new series called The Countdown.  Each month, around this kinda time I'm gonna be having a root about on my desk and in my cabinets to find the top 3 products that I've reached for in that particular month.  They may be long since discontinued or they may be new acquisitions.
I love reading people's favourites lists and I often find hidden gems amongst them, so I hope this will be interesting to you lovely lot!  Today it's my top 3 blushes of August.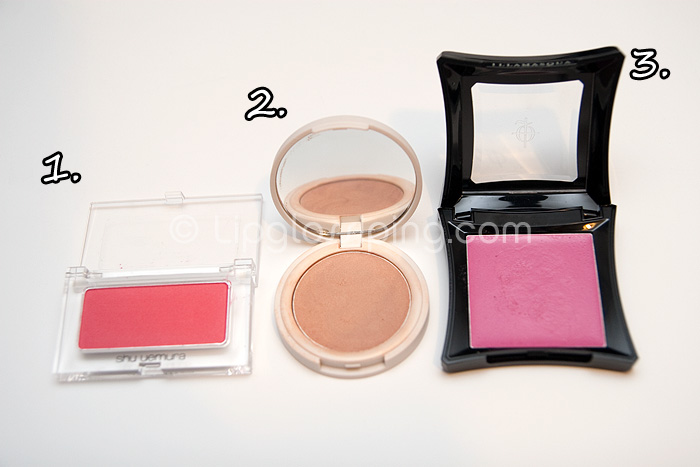 1. Shu Uemura Glow On Blush in M23 Wine – Stupid shade name, I've never drunk a wine this shade. If I had, I would be sure to have remembered the belly ache that would have followed!
I've been using this matte blush with a very light hand, just a pop on the apples of the cheeks with a loose bristled brush.  EASY to go overboard with this one!
2. Topshop Blush in Butterscotch – If Shu's Wine is easy to overdo… this is the exact opposite.  It takes quite a bit to get this to show up on me.  I've been using my fingers to apply and like the natural effect this cream blush gives.  I'm not sure I'd repurchase because I'd like one with a bit more oomph – but I've been reaching for it a lot this month because I'm loving the nude colour.
3. Illamasqua Cream Blush in Laid – A recent purchase, Laid is a cool toned hot pink… again, this one is best reserved for the apples of the cheeks unless you're going for that 80s look!  Blends like a dream and so quick for a fuss-free pop of colour.  Love it.
What have been your favourite blushers this month?