No, you're not dreaming… I'm talking sensuously sweet, toothache-inducing crumbly fudge flavoured just how you like it in under 10 minutes!
Here's some I made earlier…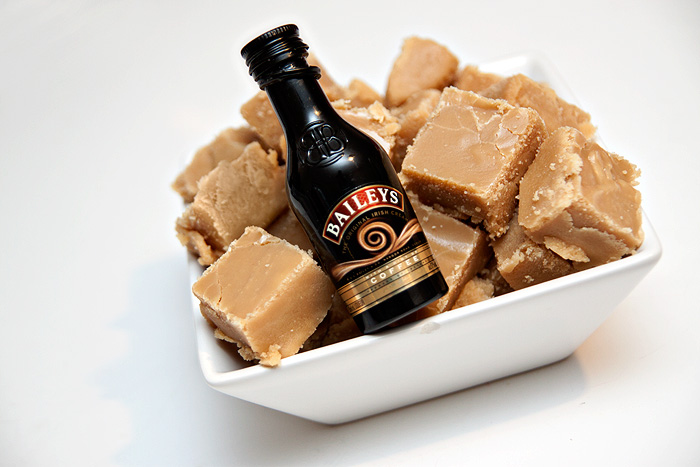 You don't need a sugar thermometer or skills that Fanny Cradock would be proud of you just need a microwave and a handful of ingredients.
Homemade Microwave Baileys Fudge!
397g Tin of Condensed Milk
125g Butter
250g Caster Sugar
250g Soft Brown Sugar

1 1/2tsp Vanilla extract
2 tbsp Baileys
1. Grab the largest microwaveable bowl in the kitchen and add the condensed milk, butter and sugars.  No need to mix just ensure that the container is LARGE because the contents are going to bubble up furiously and splattered fudge mix is way not cool to clean off.
2. For a 900W microwave, cook the mixture on full power for 9 minutes, removing the bowl for stirring every 3 minutes.  If your microwave has a lower wattage you'll need to cook the mixture for longer.  Add 1 minute of cooking time for every 50W less power.
3. Once the cooking time has finished, add in the vanilla extract and Baileys and beat the mixture until it begins to look smooth and glossy.
4. Transfer the fudge mixture into a 9″ square tin to cool.  You can be smart and line the tin with greaseproof paper to prevent sticking or just hook it out crumbled bits and all like I do.  Once the mixture has cooled to room temperature, you can pop it in the fridge for a firmer set if required.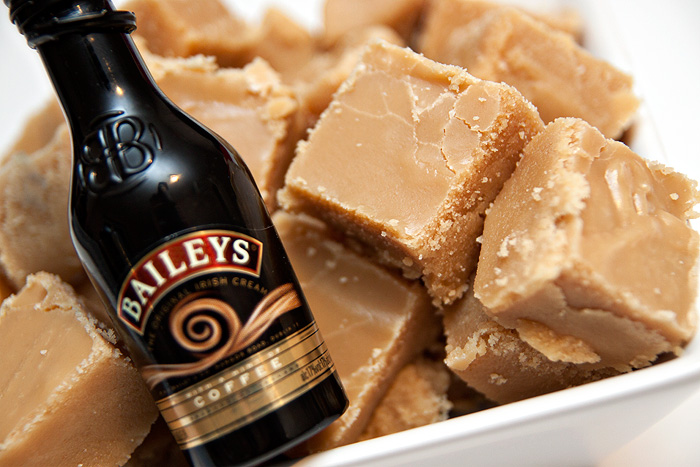 One of the charms (there are many) of homemade fudge is the limitless scope for wonderful flavours… I'm thinking chocolate & mint for my next batch, or maybe peanut butter or mmmmm honey and walnut?!
.
If you were to whip up a batch of fudge… what would be your flavour of choice?