Argh, look what happens when I go away… all the awesome deals come out!  I'm loving this one in particular courtesy of CheapSmells (I typo'ed CheapSmalls then and gave myself a massive smirk).
Back to this Deal Alert – Remember when I talked about the Travalo Perfume Atomisers?  Well, they're fairly inexpensive to begin with but CheapSmElls are offering them at an unbeatable price this weekend only…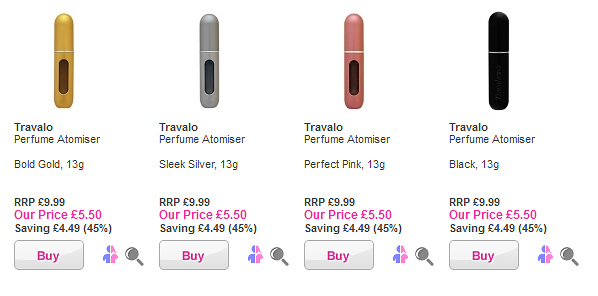 £5.50 with gratis delivery and you can carry a fair amount of your favourite perfume around with you wherever you go.  I took my Travalo on holiday with me this week (filled with Apothecary EDT incase you care) and it was fabulous for quick on the go spritzes.
Hope you're having a lovely Sunday, it's Saturday night as I'm writing this and I've not long got home from my 5 day break in London, want to go back already!