Fifty years ago, there was very little we could do about most cosmetic imperfections.  Children wore port-wine stains and birthmarks on their skin their entire lives and men and women alike have always suffered from cosmetic abnormalities that range from the mildly irritating to the full-blown debilitating.  Nowadays, of course, things are very different and the one technology that has made the biggest difference to non-invasive treatments is the not-so-humble laser.
You don't need to read far back through this blog to discover the impact that cosmetic lasers have made to my life, I have a greater sense of self-worth now that I've achieved and am maintaining a worthwhile reduction in hair growth, perhaps a shallow sentiment but it's easy to underestimate the devastating effects that cosmetic flaws can have on our self-esteem and confidence.
I headed back to my local Sk:n Clinic one morning in November to see what could be done about a skin imperfection that I'd noticed had gotten worse since giving birth to my daughter in 2009.  It's a 'condition' that affects many women (and men) around the world and is particularly prominent among those of us with a classic Celtic complexion.  I'm talking about thread veins.
Thread veins, spider veins, broken veins — whatever you want to call them — come under many guises but these delicate blood vessels are generally harmless little blighters that may be clearly visible across the thinner areas of skin.  In my case, it was the tip of my nose that suffered a permanent red (purple in cold weather) flush.  Making me look not unlike a total lush.  The photo below shows my skin on the day of my consultation, it's freshly washed and moisturised so a little more 'stimulated' (read: irritated) than it would be later in the day.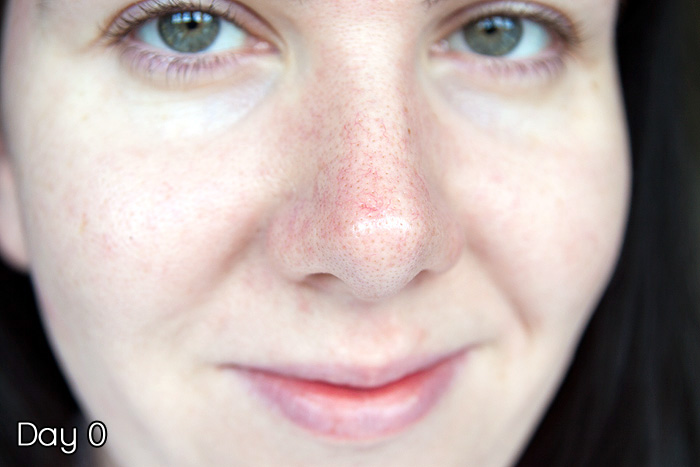 The majority of my thread veins are minor and conceal well with a good application of a medium-coverage foundation.  The one on the tip of my nose however, has slowly become more resistant to concealer.  I'm prone to redness and see it as part and parcel of who I am but when faced with the opportunity to correct the imperfections genetics has dumped on us, why not?
My consultation was enlightening, I discovered more about the causes behind these little red road maps that traverse my face just under the surface of my skin.  I couldn't resist asking if squeezing spots too recklessly as a teen (ok, older) may have contributed to their irritation.  The nurse at Sk:n said that whilst it may have been a contributing factor (as with any physical skin damage), the biggest likelihood pointed at simple genetic inheritance.  Thanks Mum!
The procedure itself was painless.  Not 'uncomfortable' just completely painless.  For some reason, I assumed that due to the particularly bony location I might have felt a reasonable amount of discomfort.  Nothing, nada.  Does not even compare to laser hair removal (which I find pretty 'uncomfortable').
The biggest caveat the nurse at Sk:n warned me about was the likelihood of bruising.  And er… I'm glad she did, as the photos will demonstrate.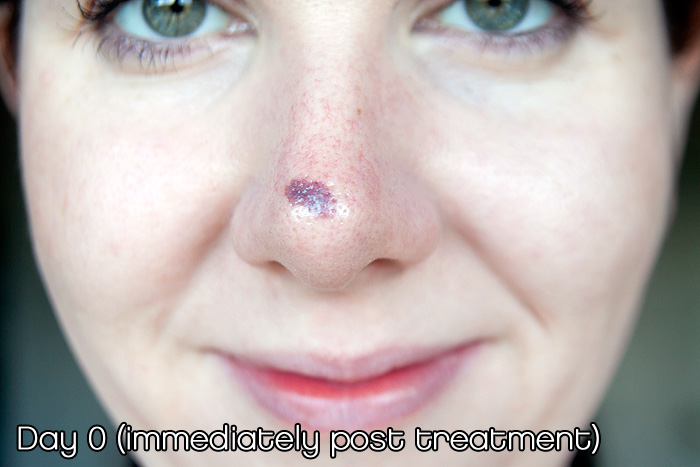 Nice.  I don't look *at all* stupid.
No, ok I really do look stupid.  There is no concealer in the world…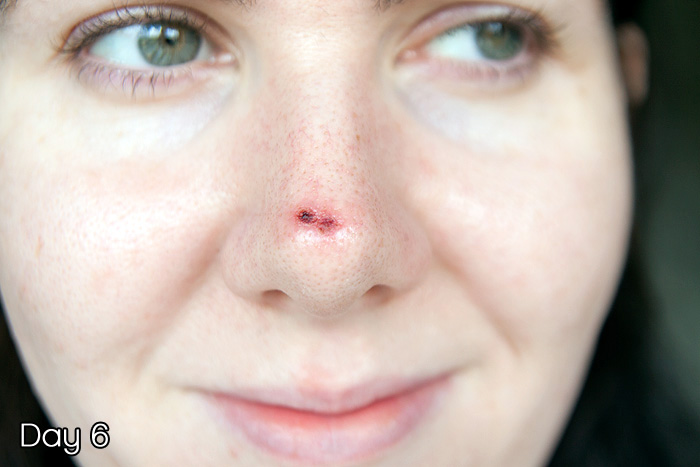 Scabby McScaberson.  DON'T PICK THE SCABS!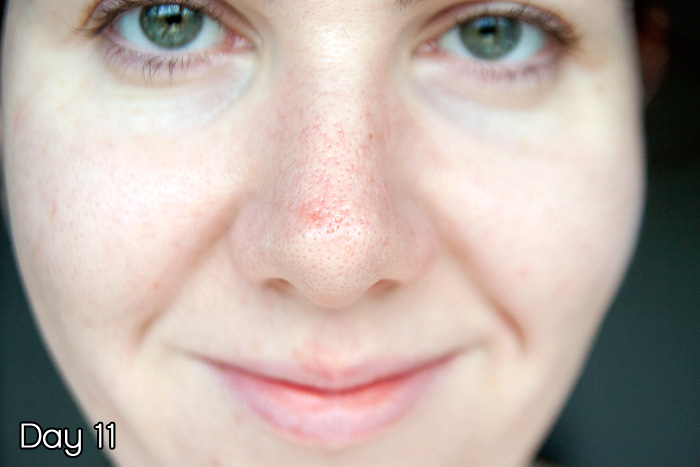 Halle-frickin-llujah, it fell off. Followed by: "Is this dent ever going to go away?"
"Oh, thank God for that".  OOOOOooooohhhh where's it gone?!
16 days people.  From start to finish.
A couple of laser bolts (not the technical term) fired at the tip of my nose, lots of giggles and comments about not needing "Rudolph" this Christmas and a fortnight later and cheerio biggest thread vein conurbation.  I'm really pleased to be able to show you something so tangible, often with all this beauty stuff results can be subjective and OK, it's not the most groundbreaking cosmetic procedure in the world but it makes all the difference when a red nose isn't the first flaw your critical mind picks up on when you look in the mirror. (I've moved on to something else, of course!)
The cost of this procedure? £99 for a single, very minor treatment.  That's all it took to shift mine and over a month later, it hasn't returned.
I hope this helps to give an accurate timeline and a little background information into what you can expect if you decide to go for laser thread vein removal.
In the words of The Fast Show's Mancunian teenage, "Aren't lasers BRILLIANT!?!"
You can read more about the facial thread vein removal services offered by Sk:n Clinic by clicking through to their website.
* complimentary treatment courtesy of Sk:n Clinic