A few weeks ago I treated myself to a new L'Artisan Parfumeur fragrance and I was completely torn between the fruity Mure et Musc and the floaty La Chasse Aux Papillons.  In the end, it came down to longevity… I had a sample of the Mure et Musc from my Discovery Coffret and although it smelled divine, it disappeared from my skin after a very short 40 or so minutes.  La Chasse Aux Papillons it was!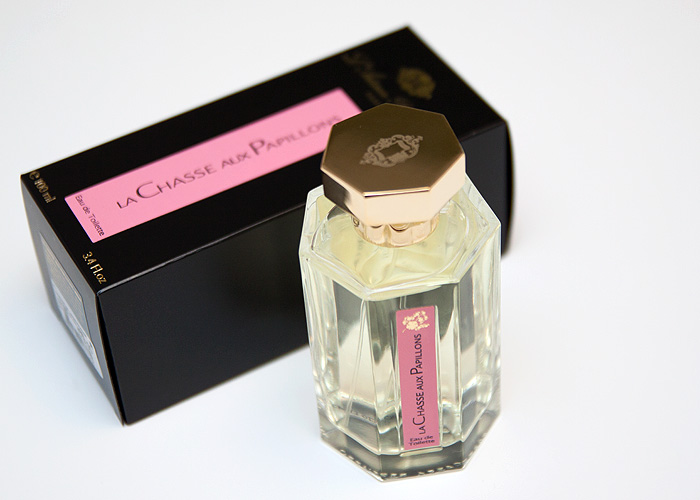 La Chasse Aux Papillons is a beautiful Spring fragrance, almost the antithesis to everything I usually love in a perfume.  I generally favour warmth, spice, leather… everything that's dark and best reserved for Wintery days or cool evenings.  This is light, floaty and a little bit ethereal.  It opens with a gentle fan of tuberose and orange blossom, a combination that evokes the kind of feelings that I associate with a beautifully, sunny day.  It's a little bit soapy in a freshly laundered way but this element is as light on the nose as the tuberose.  My one disappointment with this beautiful fragrance is that longevity-wise, I don't get much more than a couple of hours wear from it.
For me, there's nothing overtly sexy about La Chasse Aux Papillons, it breathes too much light and playfulness for that, it makes me want to step into a layered chiffon skirt and feel a warm breeze against my bare skin.  Realistically, it's more of a casual jeans and white tee kinda fragrance, only fashion bloggers and models wear chiffon skirts right?  Anyway, it fills me with hope of warm days and white flowers, and frankly, that's no bad thing.
L'Artisan Parfumeur La Chasse Aux Papillons is available to buy instore and online at Harrods, priced at £78 for 100ml EdT