Lily is a 19 year old beauty blogger hailing from one of my favourite UK cities, Manchester.  She has a penchant for indie cosmetics, inspiring looks and creating inventive ways to store your makeup!
Since first stumbling across Lily's blog, I've been transfixed by her tutorials – she has the kind of creativity I could only dream of aspiring to.  Don't believe me?  Read on as Lipglossiping.com features:  BeautysBadHabit
.
Take some black eyeliner, a leopard and an electric guitar, blend them together and what do you get? A freakin' rock 'n' roll smokey eye, that's what!  Or a really big mess…try explaining that one away to your insurance company.
1. Apply your eyeshadow primer as usual.  Cover your entire lid with a soft, black eyeliner and blend upwards just a tiny bit past the crease.  Don't worry if it's patchy, it will be covered up soon!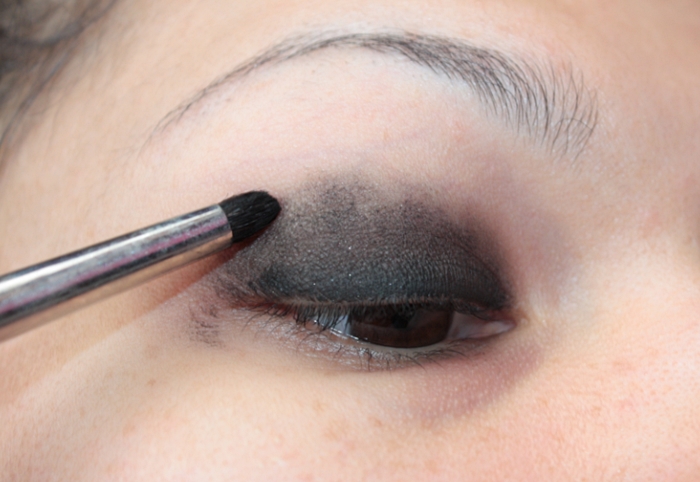 2. Pat a deep, shimmery eyeshadow over the black.  You can use any colour you fancy, purples and golden browns look great with this look, too.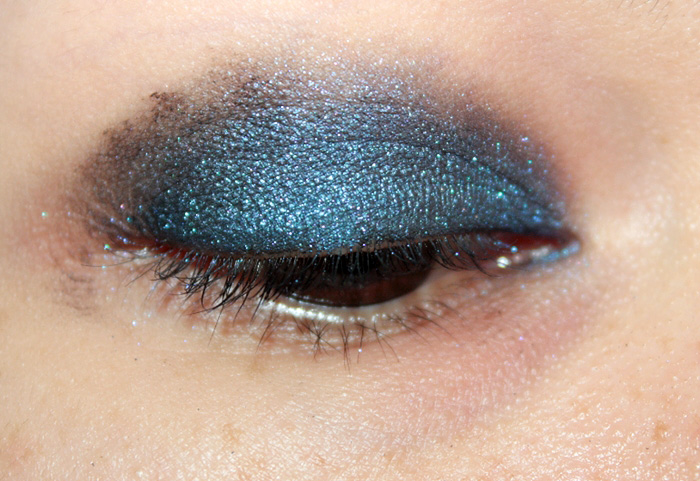 3. Now apply a matte highlight colour downwards from directly beneath the eyebrow.  Applying the highlight colour first makes it easier to blend past the crease in the next step…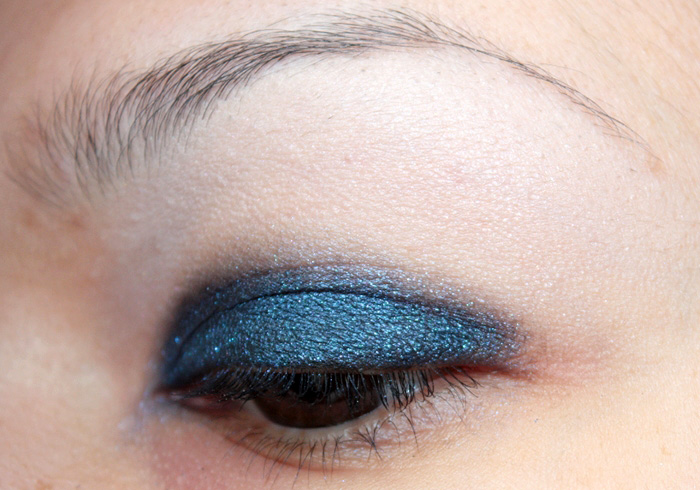 4. Use the same deep, shimmery colour on the lid to extend the eyeshadow shape upwards past the crease.  If you're unsure of how to shape your eyeshadow, use your eyebrow shape as a guide.  If you don't want to add leopard print to your look, skip to step seven.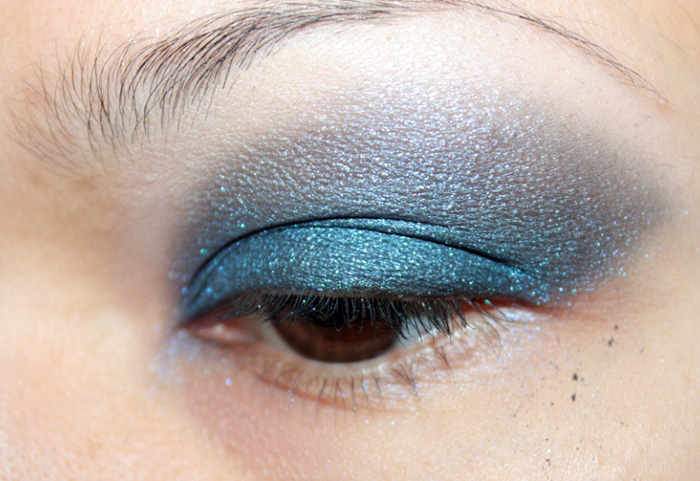 5. Squiggle some pale coloured dots, dashes and 'C' shapes above your crease.  Apply more at the outer edge and use fewer as you near the centre of your face.  I've used eyeshadow mixing with Illamasqua sealing gel, but coloured liquid eyeliners are definitely an easier option!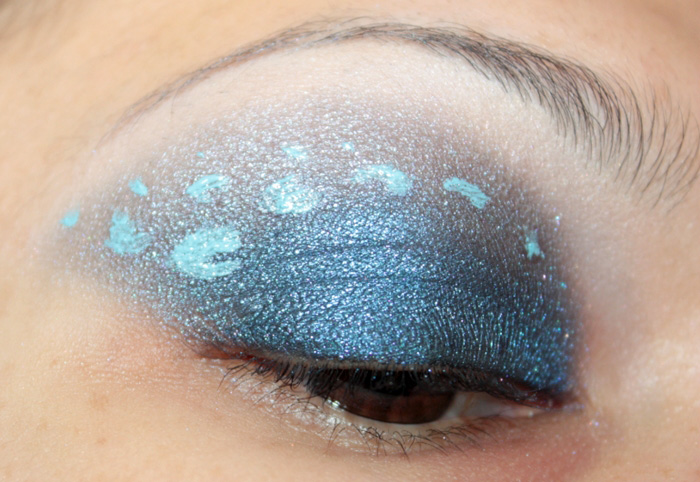 6. Outline your dots and dashes at the outer edges. You don't have to be neat or even – how uniform are a leopards spots, after all?!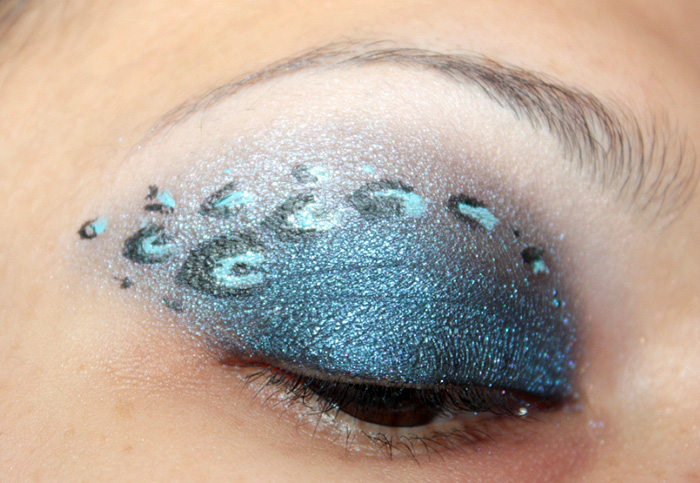 7. Extend the eyeshadow all the way around the eye.  Apply eyeliner to the waterline – I used a white and pressed the same pale blue eyeshadow I used for the dots over the top.  You could always use the usual black, though!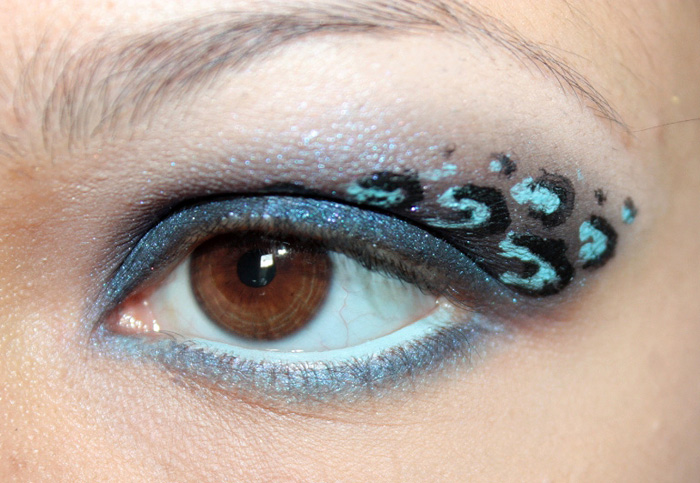 8. Apply mascara or false lashes and fill in your eyebrows.  If you decide to use falsies, opt for ones which aren't very long, otherwise they will cover your leopard design up!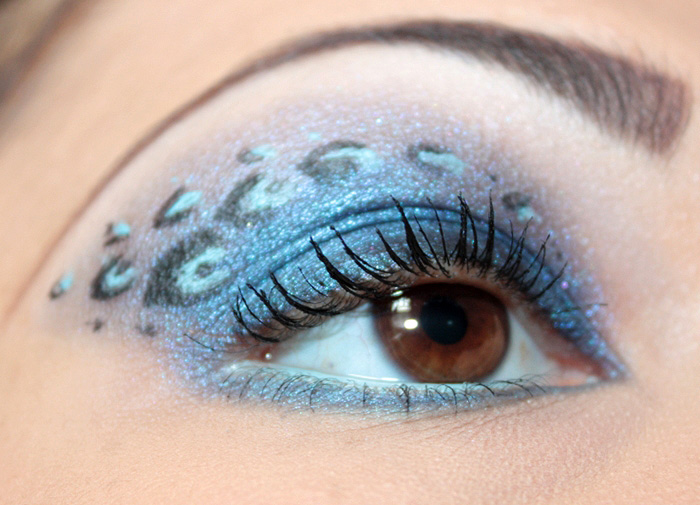 9. Bask in the glory of your awesome eye makeup 🙂
I finished off this look with peachy pink blush and a pink toned nude lipstick for a balanced and fresh finish. I'm not listing the exact products I used throughout since they're not especially unique, you can pick up similar shades from any make-up company!
.
See what I mean about the talent?  Fiendishly awesome, thanks Lily!!