I received a press release the other night announcing the new China Glaze Prismatic Collection.  Six new shades — a chunky glitter fest, complete with holographic particles.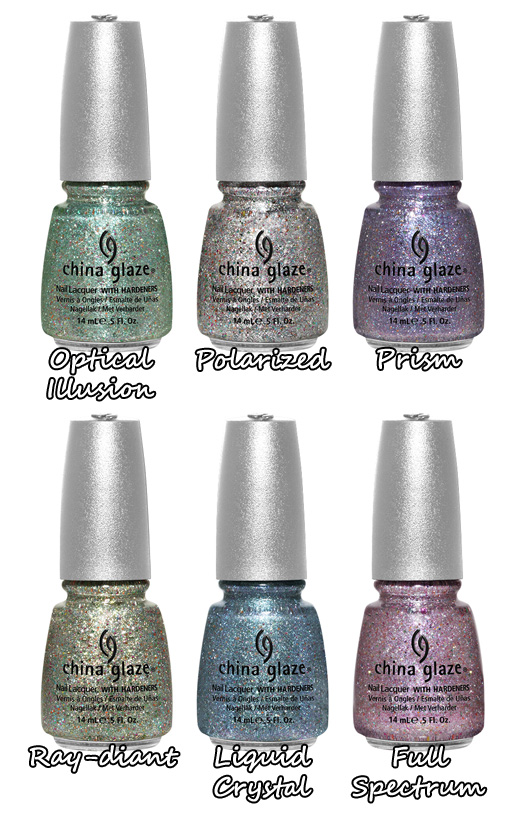 The shade descriptions:
Optical Illusion – Aqua green glimmers with a hint of purple filled with pink, yellow, silver, orange and green flecks
Polarized – Silver metallic sheen sprinkled with yellow, pink, orange and green glitters
Prism – Grape purple holographic gleams with pink shimmer and glitters with pieces of pink, blue, green, orange, silver and gold
Ray-diant – Greenish-gold shimmer filled with specks of cilver, pink, green, orange and blue
Liquid Crystal – Bright blue holographic with purple tint dusted with silver, gold, green, pink and orange
Full Spectrum – Baby pink bursts into holographic magenta to party with silver, gold, blue, pink and green particles
They sound amazing don't they?  But honestly, I'm over chunky glitters that claim to be holographic and duochromes that only just make the grade.  I'm really not seeing much that yells holographic in these and isn't it about time we had another proper holo collection from the big players anyway?  C'mon now…
Maybe it's 'cos they're a bit pastel-ly but I'm just not going to break my neck in the rush to add these to my collection.  I was wondering if I might feel differently once the swatches started to appear.  Here's some from Scrangie (who can basically make me want anything) and Nail Stories.  I'm still not lemming them, maybe my nail polish lem has been broken?
What about you?  Are you excited for the China Glaze Prismatic Collection?