When Google announced that they were disabling Google Friend Connect for non-Blogger blogs, I didn't think too much of it.  Sure, I'd miss my little window of friendly faces in the sidebar and the slowly-growing number that I was proud to have amassed but I didn't really believe that it would have any real effect on the site.
I was wrong.
Google disabled the service four days ago and my number of unique visitors has instantly dropped by over a thousand per day.  It's beyond disheartening to see my hard work in building a readership damaged so heavily overnight.  Now, if I bide my time patiently, my subscriber numbers will return to original levels as my lovely readers slowly begin to wonder why they haven't seen a new post from me in a while and manually Google for the web address.
I could do that.  But I'm really angry at Google for this and I'm not beyond giving people a little push in the right direction.
So please, on behalf of all non-blogger blogs who have suffered the consequences of Google's termination of service, myself and the lovely @tsunimee have a proposal.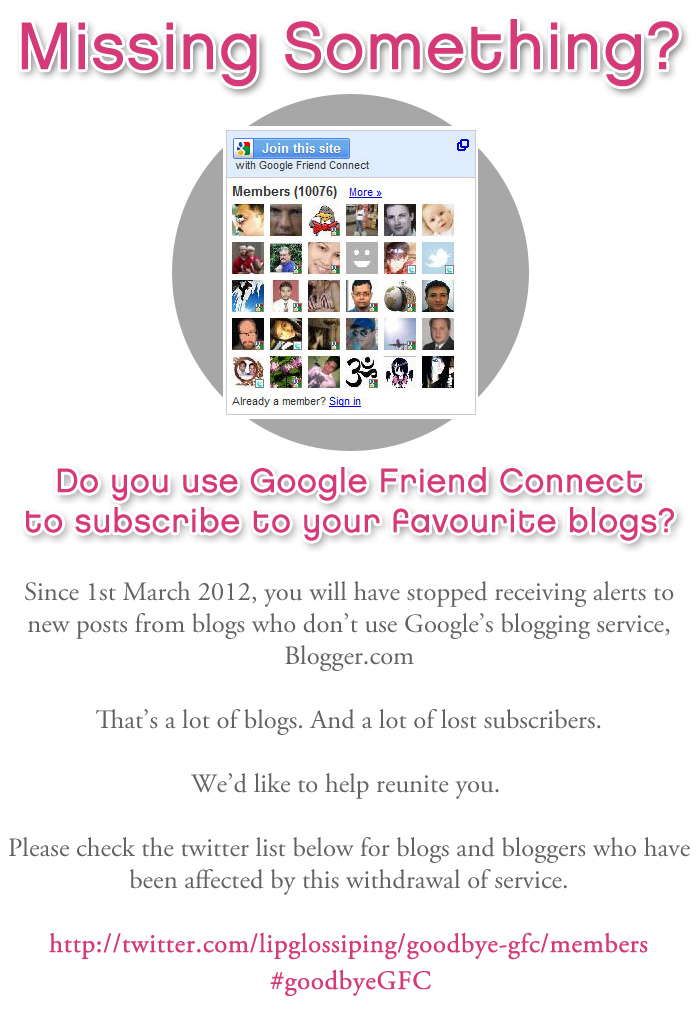 http://twitter.com/lipglossiping/goodbye-gfc/members
It would be brilliant if our blogging community could get together and dedicate a single blog post to relaying the above image and hyperlink across all blogs (regardless of platform) on Thursday 8th March, exactly one week since Google disabled Google Friend Connect for non-Blogger blogs.
If you are a blogger who has been affected by the withdrawal of GFC, get in touch with me on Twitter (@lipglossiping) and I'll add you to the Twitter list of bloggers in exile.
If you're happy to get involved and spread the word, please download the above image – you can choose from three sizes: small  |  medium  |  large

You'll also need to include this URL — http://twitter.com/lipglossiping/goodbye-gfc/members — beneath the image (as I have done) to allow a clickable link for your readers to follow.
Our aim is to raise awareness and promote discussion about other ways in which readers can follow their favourite blogs.  I firmly believe that it's only a matter of time before Google remove the Google Friend Connect service for all blogs in favour of subscribing via their new Google+ service (which is how they're now conveniently recommending readers follow non-blogger blogs).
Will you help?