Well, sort of.  No, I am!  Kind of.  I've been included in a special supplement for the April issue of ELLE UK in association with LG who are promoting their new Prada phone.  I've been featured alongside some brilliant bloggers which is very lovely indeed!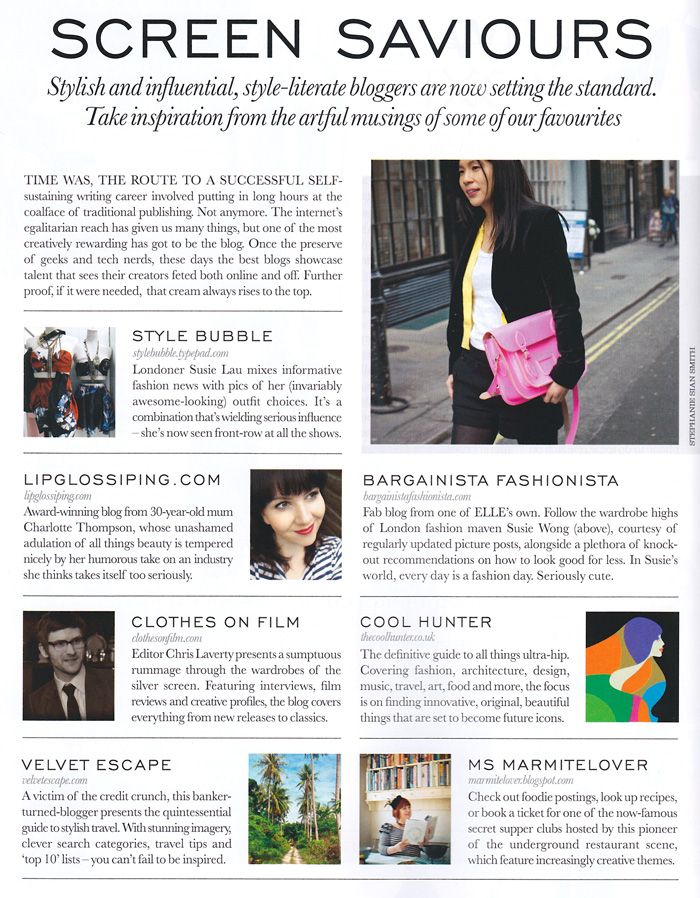 You can click the image to view a larger version.  That's an instruction, not a suggestion by the way 😉
So what did I do next?  I weighed up my options… I thought about buying up all the copies in my local newsagents, approaching the till with it open on the right page before lying my face on the counter, parallel with my photo.  That would have been fun.
Or, I could have taken a few copies with me to Leila's dance class and walked down the row, accidentally 'dropping' one directly infront of each parent.
No, I'll tell you what I did.  I showed my Mum.  She was cooking dinner and didn't have her glasses on – so I read it out to her.
"…Once the preserve of geeks and tech nerds, these days the best blogs showcase talent that sees their creators feted (I had to ask her what that meant) both online and off.  Further proof, if it were needed, that cream always rises to the top."  I look up, with a happy tear in my eye…
"So does scum." says the woman who gave birth to me.