As the summer approaches, my thoughts turn to bullet-proofing my makeup to last the course of a hot, tiring day.  I don't know about you but despite my dry skin, the first to make a dash for freedom is any and all makeup down the bridge of my nose.  Then my eyeliner melts into my tear ducts, developing into hugely attractive eye bogies before the last of my foundation gives up the ghost and literally puddles in the area where my nose meets my face (hello face).  If it's really hot, my eyeliner will also strive for symmetry and create matching lines across my upper eyelid where the "hoods" rest gently on the lash-line.  It's a beautiful sight to behold.
Bobbi Brown's new Long-Wear Eye Collection promises to stay the distance without letting you down or showing you up.  The eye pencils from the new collection are richly-coloured and deeply-pigmented.  They're creamy and have that soft, gel formula reminiscent of my beloved Avon Mega Impact/Supershock Gel Eyeliner (whatever they're bleedin' being called at the moment).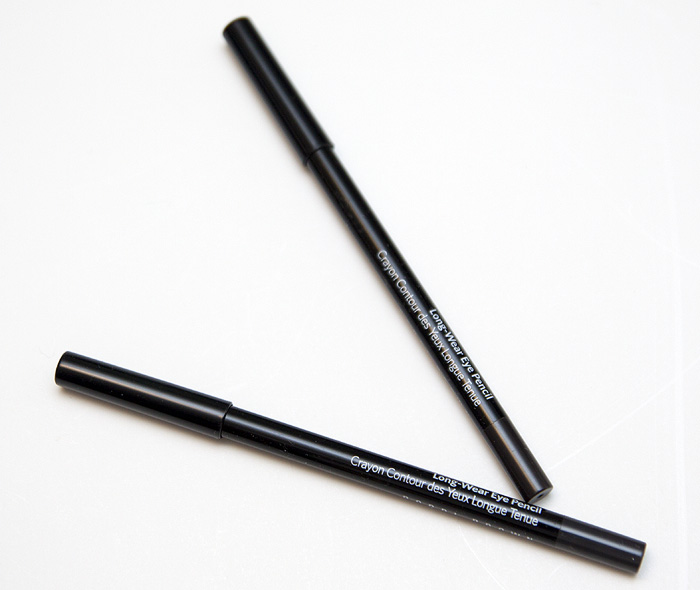 The Bobbi Brown Long-Wear Eye Pencils* are available in six shades: Jet, Mahogany, Black Navy, Black Plum, Hunter and Smoke, providing a colour option whatever your personal taste.  I really like an off-black range that carries the density of an inky black but without the harshness on maturing features.  Not that my features are maturing, shutup.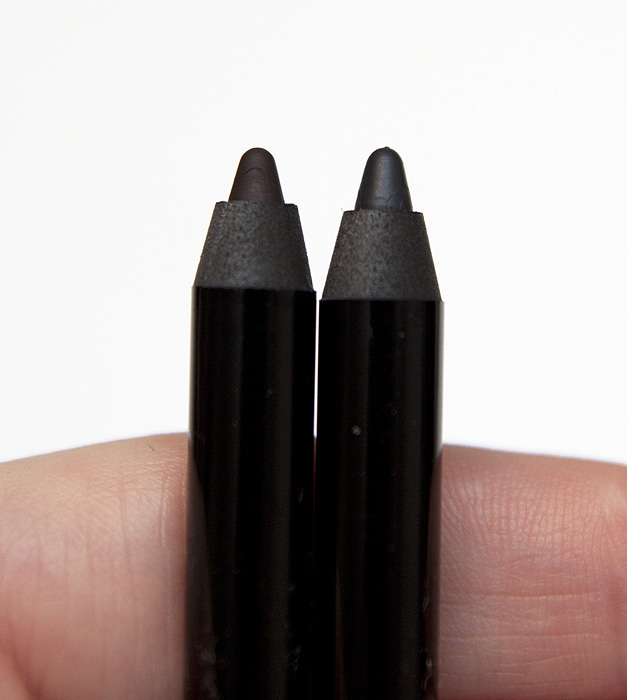 These pencils haven't given me any trouble sharpening, the uber-softness of the Avon ones means that I do need to chill them in the fridge for half an hour prior to sharpening, total pain when you need a pencil stat.  I didn't have to do this with the Bobbi Brown pencils.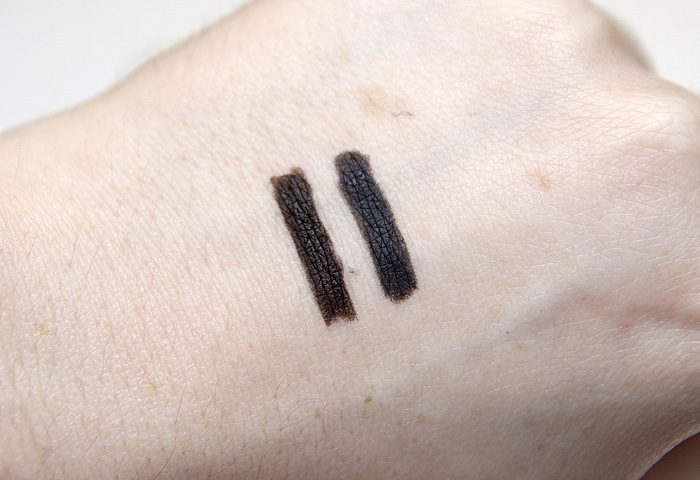 Mahogany is swatched on the left, Smoke on the Right.  You can see the density of pigment is really quite impressive.  It's a teeny bit less pigmented than the Avon offerings (which are insanely pigmented) but as I said earlier, they do provide a little more precision during application thanks to a firmer texture.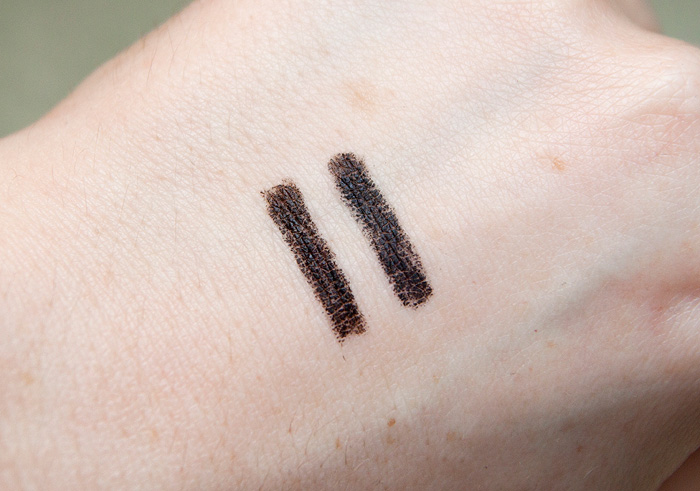 Here are the same swatches after scrubbing the back of my hand with soap and water for a good 30/40 seconds.  I was impressed that they didn't smear or transfer as I swiped and rubbed.  You can see that the pigment has eroded in places but if you imagine that swatch as drawn across your lash-line, I think you'd be fairly happy to emerge from the swimming pool 3-hours later with that much still intact no?
Unfortunately, whilst I think these pencils are brilliant.  This is where the praise ends.
I've been comparing these all along to the Avon SuperShock Gel Eyeliner pencils (which don't come in as many shades admittedly) simply because the Avon ones are my benchmark and indeed, my daily staples.  As I swatched both alongside one another, I expected the Bobbi Brown ones to outlast the Avon.  They don't.  They wear identically both on the back of my hand and on my waterline, around 5 hours.
The Bobbi Brown Long-Wear Eye Pencils are priced at £17 each.  The Avon SuperShock Gel Eyeliner pencils are currently priced at £4 each.  And there's the rub, I'm not going to recommend that you spend extra money needlessly… both are fabulous long-wearing, densely pigmented pencil liners.  The Avon ones are substantially cheaper.
The Bobbi Brown Long-Wear Eye Pencils are available to buy on counter and online from BobbiBrown.co.uk
* press samples