Jo Malone have released a trio of floral fragrances this month to celebrate the classically British country garden, a much-loved place (which often exists more in our national pride than reality!) awash with well-cultivated flora grown in haphazard and slightly eccentric ways.  The combination of notes within the three fragrances are purposefully juxtaposed, resulting in a playful take on the classic floral fragrance.

The first thing to strike you about the new collection is the departure from the signature Jo Malone look, the beautifully illustrated, botanically-inspired bottles are quite something and tell the story of the scent that awaits you inside.  With the Olympics and the Queen's Jubilee, the idea of "Britishness" is something that will undoubtedly feature heavily as the year progresses and Jo Malone are clearly striking while the iron is hot on this score.
I received a sample of Iris & Lady Moore* which at first sniff, is all about the Iris.  It's a powdery, traditional floral which initially fails to transcend the expected until just a couple of moments later when the Lady Moore (geranium to you and me) slices through the nobility with a blast of spicy freshness that my nose reads as a tingle with a citrus-kick.  All well and good, but then things get truly delightful on the dry down as the vetiver raises its aromatic head.  It adds pungency, masculinity, and earthiness laced with freshly-cut grass and delivers just what is needed to introduce a modern twist to the conventional genre.
I would class longevity and sillage as average and do wish for a couple more hours wear, particularly as the longer it warms against my skin, the more deliciously earthy it becomes.
As for the other fragrances, I haven't had the pleasure of sniffing them yet but have been convinced that I sadly won't be finding the particular brand of rhubarb that I'm looking for in White Lilac & Rubarb (which by all accounts offers the more acerbic, vegetal kind).  I really should stop procrastinating about it and simply purchase Comme des Garcons Rhubarb Sherbert which has been on my wishlist for a very long time.
Peony & Moss promises a beautiful mix of a delicate floral, with a hint of juiciness from the cassis kept well-rounded with an earthy base.  I hope that the moss adds something a little dirty and damp to counteract the lightness in the floral, that's a contrast I'd love to smell.
All three of the London Blooms fragrances are limited edition and stock is already selling fast.  They're priced at £72 for each 100ml cologne.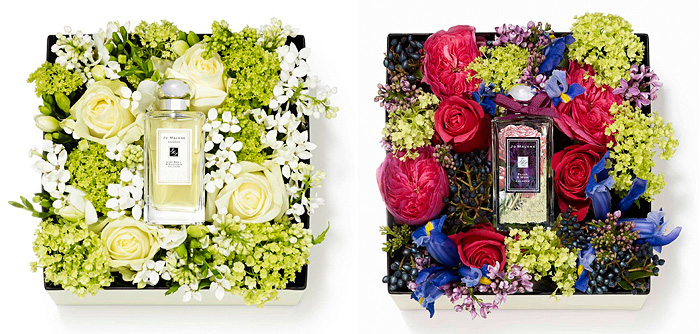 Before I close this review, I'd like to draw your attention to easily the most breathtaking Mother's Day gift to grace my inbox this year.  Jo Malone have created a beautifully-presented gift in partnership with Wild at Heart, one of the country's most inventive florists.  Costing more than just a pretty penny (but worth almost every one of them), you can choose to have your chosen scent (any of the Jo Malone fragrances qualify) cushioned on a bed of fresh flowers.  This is available on the 16th, 17th and 18th March only, instore at Harrods in the Beauty Apothecary Hall.
For such a lavish gift, you can expect to pay £115 – perhaps for only the most deserving of Mums, I suggest deducting £1 for each time your mother made you eat your peas.
* press sample