I took delivery of my new hula hoop yesterday – it's very pretty, which I'm sure isn't supposed to be the thing that I'm most fixated upon when it comes to exercise equipment.  After getting my interest piqued in the idea of taking it up as an exercise (thanks Cami) I went and bought a Casall Rock Ring but it gave me hella bruising and a back-ache that wasn't subsiding and after speaking to a hooping guru (yes, there is such a thing!) on Twitter – she advised me that those super-heavyweight things with their bumps and nobbles can actually cause damage to your kidneys, spine and skin – I've since put it back in the box just in case.
Instead, she linked me to an Etsy shop (temporarily closed) that offers hoops suited to dance and general exercise and so I went ahead and ordered this one, let's call her Sally.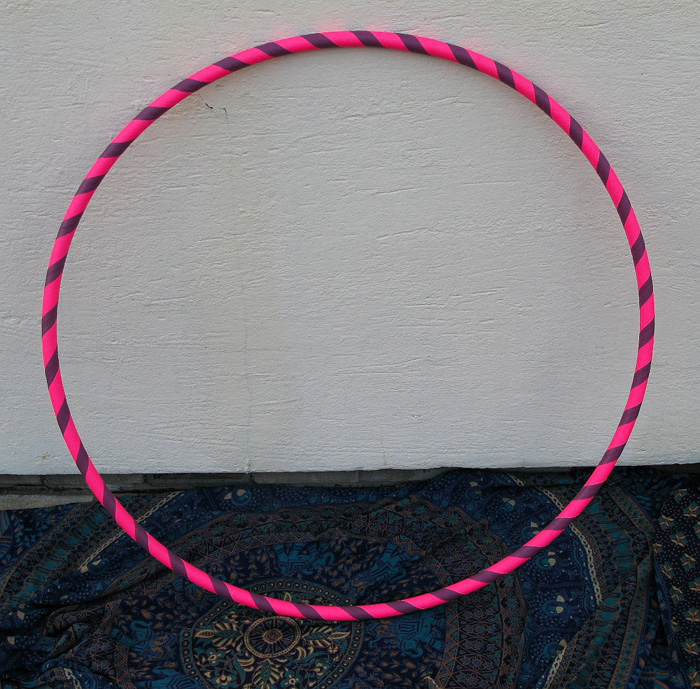 Photo courtesy of Innerspiral here (and by courtesy, I mean flagrantly stolen)
Here she is in my photo… I would have taken a piccie of her in full circular glory but I hadn't picked up Leila's toys as you may notice from the tornado of multi-coloured, blurry crap in the background.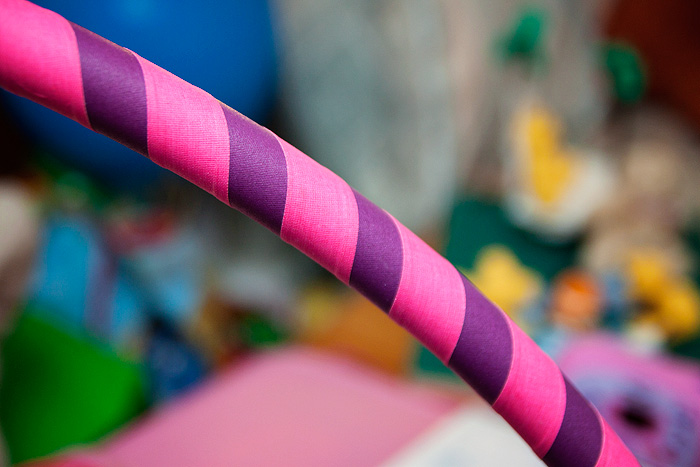 I love Sally.  She's very springy and comfortably solid without being heavy.  At 40″ diameter, she's pretty hefty (much like her owner) and everyone ducks for cover/moves glasses off tables/runs for their lives when I pull her out from behind the sofa.  She's so much fun – fifteen-minutes of exercise infront of MTV has never flown by so quickly!  I'm a bit of a n00b at finding my rhthym but for once, I can do something better than my husband who basically turns into Mr. Bean.
I found this video last night and I am in awe…
…but I have to say, I got brought back down to earth with a bump on my funny bone when I read mixitango's comment:
I wish I were tall and thin. Hula hooping is 57320x more elegant when you look like that.

I just look like a potato with a belt.
Amen spud.
Hooping?  Have you done it since you were four?