When was the last time you discovered a really good celebrity perfume?  I can tell you mine… it was such a relief to discover that it wasn't completely shit and I will totally hold my hands up to totally buying it because of the celebrity it was associated with.  The fragrance was Covet, by SJP and I hugely appreciated the vintage, vegetal, and quite sharp opening that grabbed me, shook me violently and screamed "LOOK, I'M NOT YOUR USUAL CELEBRITY PERFUME!"
It's true, I find Covet to be the least celebrity, celebrity perfume I've ever smelled and perhaps that's why I hold it in such high regard.  It's a love it or hate it scent and if I'm honest, the majority of people I've introduced to it, hate it.  But, it's not the usual celebrity mainstay of vanilla, fruit, caramel, and air.  And that's got to stand for something, reflecting the quirkiness that SJP posesses herself – you smell it, and you can see that there was some real thought put into its creation.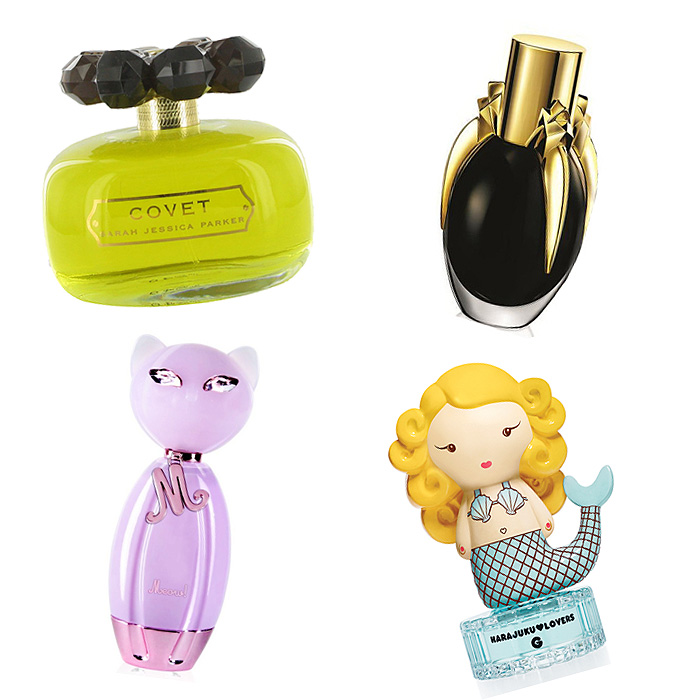 This is what I find so irritating about celebrity perfumes.  I'm not opposed to the idea of them, but I am opposed to the laziness and disregard for the people who might actually want to purchase them.  It's a privilege to find yourself in a position where you can put your name to something that will represent you on the shelves of every high street in the land, why waste the opportunity? *cough* Lady Gaga *cough*.
Imagine if these celebrity fragrances really did reflect the (stereotyped – of course!) celebrity behind it?  How amazing would that actually be?  A Bear Grylls Cologne? (woody, animalic?), Stephen Fry (cherry tobacco (though I believe he gave up smoking a few years ago), whisky, books!), Julie Andrews (spoonful of sugar?), Meryl Streep (oooh that would be tricky!).
Who would you like to see represented in a fragrance?  And whose wouldn't you buy?!  Do you have a favourite Celebrity fragrance?