A gaggle of geese, a school of fish, a colony of ants… a… a… a.. nest of NARS?
Whatever you want to call it, here are some of my favourite NARS blushes in all their shamefully dirty glory (I really should give these a wipe over!).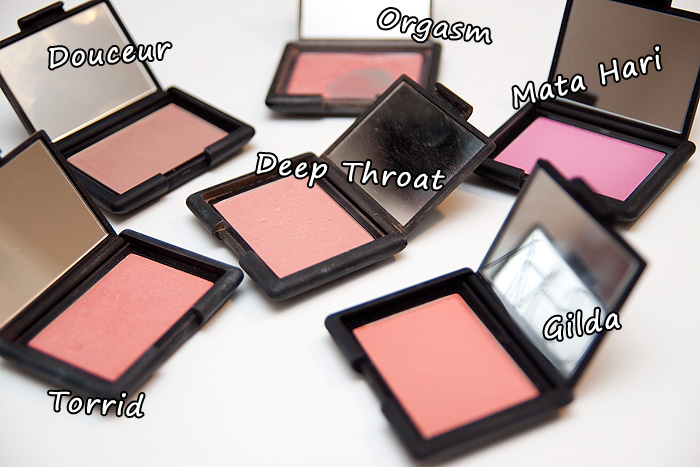 Considering I'm such a cool-toned chick, you might be able to tell I have a fondness for peachy cheeks (no sniggering at the back).  I just find that with a light touch, it warms up my complexion and looks more natural and less doll-like than the pinks.
My latest acquisitions (you may be able to spot them from the fact that they're less dusty!) are Gilda and Mata Hari.  I picked up Gilda from the ASOS/Groupon super deal, ahhh… I want another one of those!
Anyway, there's no real reason to this post other than for me to have an excuse to play with my NARS blushes.  Sorry, indulge me!  Here have some swatches…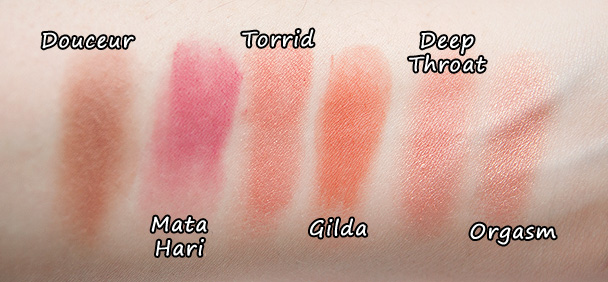 Douceur – A neutral matte shade that has enough pink in it to be a delightful option for cool-toned skin.  Swatched heavily here, I'd call it a must-own simply because (with a light hand) it will add a touch of colour to your cheeks without clashing.
Mata Hari – This always feels like a proper wintery rose shade.  Another matte, it's heavily pigmented and a touch powdery.  I haven't worked out how to make this work flawlessly for me but I want to persevere!
Torrid – A bit scared of this when I bought it but it's gorgeous.  A proper peach with sparkles!  Used with a light hand I can make this work nicely against my colouring but I do need to double check in different lighting before venturing outdoors (just in case I've tangoed myself!)
Gilda –  It's a gorgeous shade but I haven't got the application of this one down yet.  Perhaps it's just a bit too warm and matte for me, either way… it's another one I want to learn to love.
Deep Throat – My favourite NARS blush.  It's a pinker, more pigmented version of Orgasm with silvery sparkles compared to the dusting of gold that runs through the big O.  It's a perfect peachy pink and one that I will repurchase forever more.
Orgasm – The cult favourite is also a hit with me!  Warmer than Deep Throat and a little sparklier, I often pair this one with other blushes (particularly mattes) to give a more 3D appearance.
.
Do you own any NARS blushes?  Which are your favourites?