God. Have I told you how much I love foundation? Oh, I have?! Well, the thing is… I really love foundation. I love the idea of being able to smooth over the blemishes, teeny veins and discolouration with what is, effectively, a new skin.
If I were a character in a horror-filled b-movie, I'd like to be the skin harvester and I'd go around, stealing people's faces… no, please don't leave. I'm only joking. Sort of.
So that I don't have to go around harvesting other people's faces, Benefit have launched a new beauty kit that will appeal to all foundation-lovers out there.  How To Look The Best At Everything claims to contain everything we need to achieve that sought-after flawless complexion.
Let's take a closer look….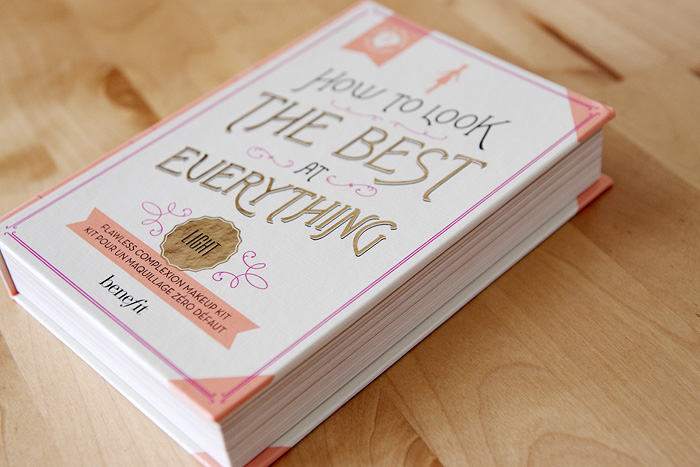 The kit is available in three skin shades: Light, Medium and Deep and is packaged in squee cute Benefit stylee, taking obvious inspiration from the series of similarly titled books.  Despite the housing being cardboard, it stands up pretty well to mild misuse… it's not gonna crumble anytime soon, unless you put it in the washing machine or something phenomenally stupid like that.  In which case, you deserve whatever soggy mess awaits you.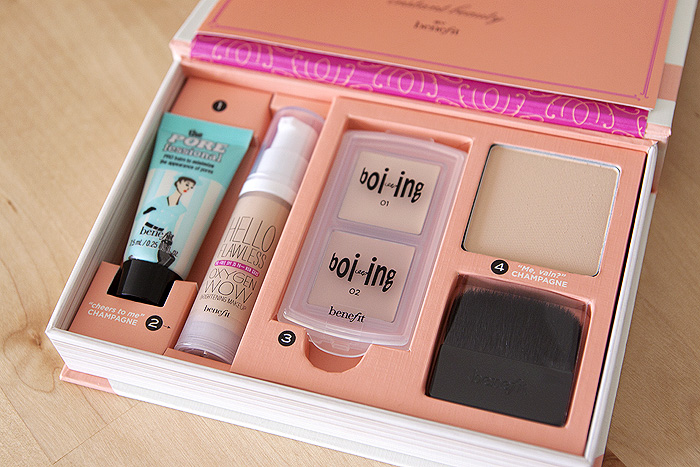 Beneath the 'front cover' sits an assortment of Benefit's face products… providing you 'get on' with the products inside, this is a brilliant thing to take away on holidays/dirty weekends and the like.  Do people even still have dirty weekends?  I feel like I've just stepped out of the 80s with that expression!
So, from left to right, we have:
The POREfessional primer (7.5ml) |  Hello Flawless Oxygen Wow in "Cheers to Me" Champagne foundation (7ml) | Boi-ing 01 & 02 concealer (1.5g each) | "Hello Flawless!" "Me, Vain?" Champagne powder (4g).
I've been doing my sums and based on the quantities of product you receive inside the kit, compared to the full-size prices…. the kit is worth approximately £44.22 on product value alone.
Which is pretty awesome considering that Benefit (who are not well-known for their bargainous prices) are asking only £24.50 for the entire set.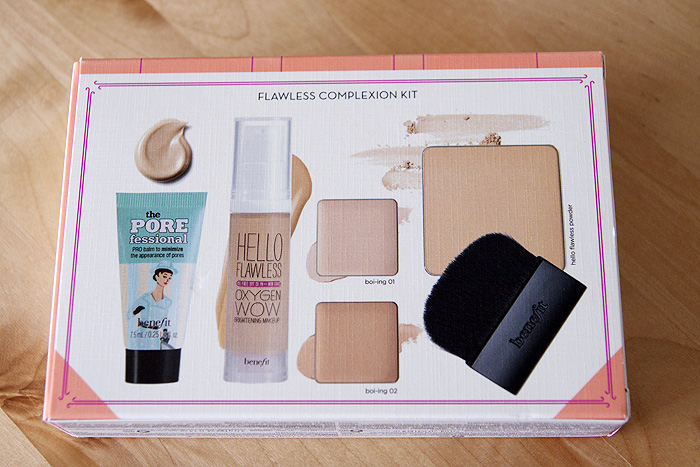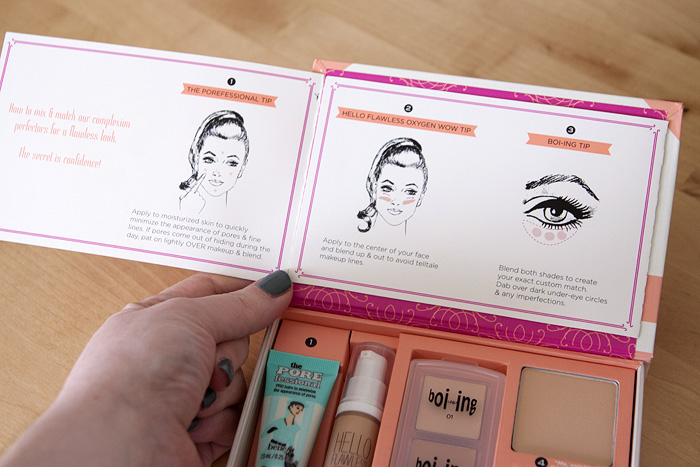 It's a great starting point for anyone unfamilliar with the Benefit base makeup line and would be a lovely present for most teens *cough* and older makeup-loving ladies to open on Christmas morning.
Benefit's How To Look The Best At Everything kit* is available to buy now online and on counter nationwide, priced at £24.50
* press sample