Morning!
Hope you're reading this from the comfort of your beds, I intend to still be fully tucked up when this post goes live – probably with one eye on Franny's Feet, Mike the Knight or whatever else is showing on TinyPop that will grant us an extra half hour in bed in the morning.  Sweet, sweet children's T.V.  Once that's over and done with I'll be heading to my parent's house to eat my Dad's birthday cake celebrate my Dad's birthday.  Possibly with a little trip to the supermarket on the way back.  Not the most exciting of Saturdays is it?
Whatever you're doing today, I thought I'd give you a little heads up to a rather tasty free delivery offer that's gone live over at Illamasqua.com.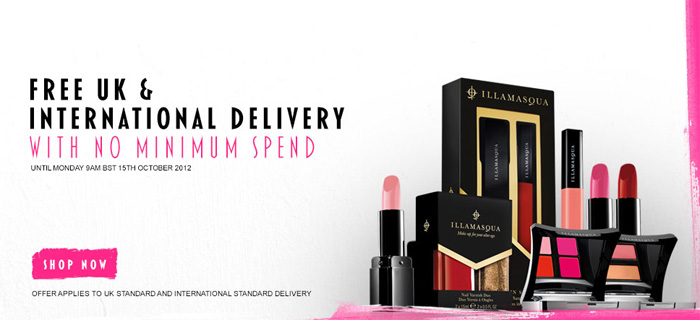 The deal lasts until Monday morning and is valid on both domestic and international orders with NO MINIMUM SPEND.
If you're interested in checking out some of my favourite (and not so well liked) Illamasqua goodies, click here for an archive of Illamasqua-inspired posts.   Also worth checking out is the Illamasqua Perfect Pout bundle; The Retractable Lip Brush, any colour in Medium Pencil and any colour in Lipstick for the price of just £38.00, originally £47.50.
What are your plans for the weekend?