Got presents to buy this weekend? Of course you have *sounds the "it's nearly December klaxon*!   How about a Cult Beauty goody bag to go with them?
I got lured into Space NK yesterday… what can I say? I don't have a store near me, so whenever I do spot one, I break into a four-minute mile on the approach.  I'm mildly ashamed to say that I didn't actually buy anything in there for anyone else (it was all about ME) but I'm hoping to restore some karmic equilibrium by sharing this offer from Cult Beauty with you, especially after it proved so damn popular last year!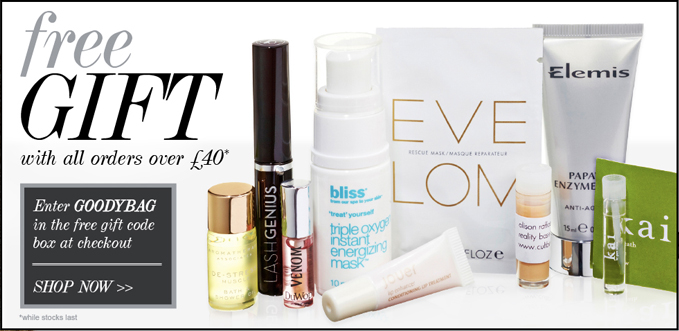 Spend £40 (and a penny – although not necessarily exactly – duh) and claim a goody bag of delights that include the following:
1. Anastasia Beverly Hills Mini Lash Genius
2. Elemis Papaya Enzyme Peel (15ml)
3. Bliss Triple Oxygen Instant Energizing Mask (10ml)
4. Aromatherapy Associates De-Stress Muscle Bath & Shower Oil (3ml)
5. Eve Lom Rescue Mask (5ml)
6. DuWop Mini Lip Venom (1.5ml)
7. Jouer Cosmetics Essential Lip Enhancer (full size)
8. Kai Perfume Oil Vial (1ml)
9. Alison Raffaele Reality Base Foundation (5ml)
Yes, yes… did you spot #7?  My eyes may have made a beeline…
I'm a massive fan of sample-sized masks and peels, they're "treatments" that you can reap the benefits from in just one sitting.  The ladies at Cult Beauty have clearly put some thought into this year's goody bag.  Also, would totally save the Aromatherapy Associates De-Stress for Xmas Day evening… bliss.
The offer starts tomorrow morning and is only available while stocks last.  Simply spend over £40 and enter the code GOODYBAG at checkout to claim yours.
Now, that's gotta make Christmas shopping a little more palatable!  Done yours yet?