Jesus Christ, one of you could have tidied up around here for me, no?
I mean… I abandon my blog for the longest time ever and when I come back, I've got an astronomical electricity bill because one of you forgot to turn the kitchen light off and mouldy custard slices in the fridge because you selfishly forgot to eat them.  No wonder I don't wanna come back, look at the state of this place, there's even a fucking tumbleweed blowing through the bedroom… *make readers aware of double-entendre just in case*.
But, I really do want to come back… it's just.  You know, I can't remember how.
Blogging is one of the most "creative" *slaps self* forms of writing around, especially when you've limited yourself to a narrow stream of talking shit about makeup for over 5 years.  If I'm not blogging and at least being a little bit silly and fun about it at the same time, I'm just robotically reviewing and while that's useful, at least for anyone who Googles the product, it feels a little bit soulless for me.  It's like that little girl (who had that little curl)… when it's good, it's very very good… but when it's bad… there's just no point in doing it.
So, yeah.  Having a baby.  It was awesome!  Better than last time, sorry Leila, but it was… no one was screaming "THIS ISN'T GOING TO HAPPEN ON MY WATCH!", for one.  They also didn't run my bed into the reception desk mid-contraction this time, you know what?  I didn't even swear!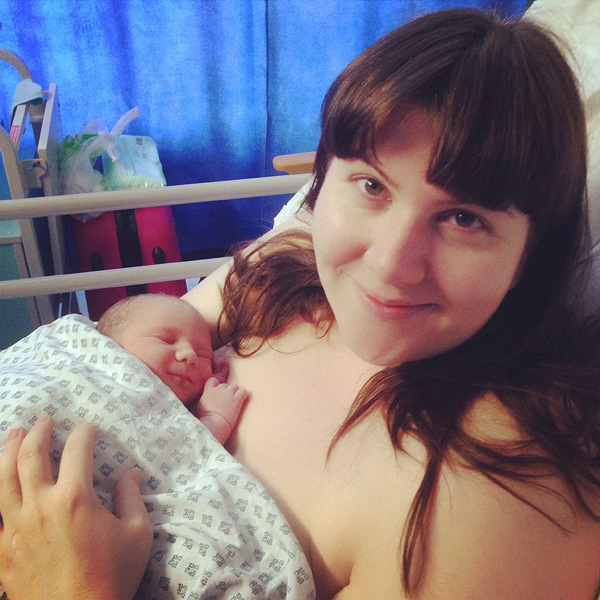 Having said that, recovery has been the biggest bitch since Cindy Beale.  I don't know if it's the two-kid thing (which is a nightmare btw, thanks for warning me) or just because it's been pretty warm this past month but I'm plagued with a c-section incision that just. won't. close.  Also, c-sections… how insane are they?!  I was completely knocked out last time around so had no idea what went on!  Poor Paul's face went every different colour known to man and there is simply no mystery left in a relationship when your partner gets *that* close to your innards.  Still, he finally got to see his baby being born, pass me a tissue!
Talking of the baby.  Joe is nice.  I mean, he's a bit like a Tasmanian Devil (they're all just little animals to begin with aren't they?), and he eats constantly… far more than he should too.  Already taking after his Mum.
But, but… he smells all milky and babyish and is a bit squidgy now his knees aren't so wrinkly.  Unlike Leila, he seems more wiry in build?  Leila was a chunk of beautiful bubs from the moment she came out and even though she was an oz lighter than Joe at 7lbs 6oz, she has always been this solid, little thing.  Joe is definitely stronger and um, bendier!  He also has these incredibly long monkey arms, that one day, I pray he'll grow into.
He's also 6 weeks old today, so I need to man-up and stop telling people that I only had a baby a few weeks ago.  I think I've probably milked it enough for now.
Anyway, if you follow me on Twitter or Instagram, you'll have been subjected to a torrent of baby Joe photos… but this here is my (neglected) blog, so… have another, just for luck.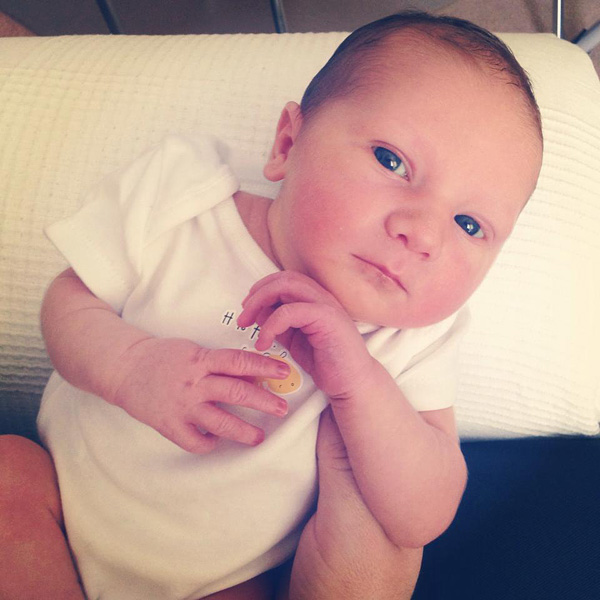 As for the blog… well, I can finally log back into the dashboard (thanks Mr. L) and TalkTalk flicked the "turn the internet back on" switch for my phone line, so you can expect a couple of *brilliant* guest posts that were kindly written for me while I was otherwise occupied, and with a good kick up the arse, some new posts from me.  I warn you, there may be a couple of NOTDs first, you know… just to ease me back into the hardcore beauty blogging 😉
Love and baby sick and stuff x
if you liked this post, please don't forget to check out my subscriber options, here