Coffret.  A.k.a box.  Coffret sounds better though doesn't it?  Especially if you say it in a french accent, roll the "r" a bit… but not too much – you'll sound like you're having a seizurrrrrre.
You know what I like about coffrets?  They're easy to wrap.  Because I'm a bit cheap, I dug my old Robosapien out of the loft for Leila this Christmas (we're in a recession ok?) and I couldn't find the box for it.  Do you have any idea how hard it is to wrap a Robosapien in Primark-quality wrapping paper?  It's basically IMPOSSIBLE.  Especially when the thing starts fucking moving 'cos you've left the batteries in and managed to turn it on through the sellotape.
So, yes, anything housed in a box is alright by me.  As long as it's not a really obvious box… like a Toblerone because let's face it, the gift receiver can pretty much see that "surprise" coming from the other side of the room can't he?
Here are my favourite Coffret gifts available for your wrapping pleasure this year, hope you like them: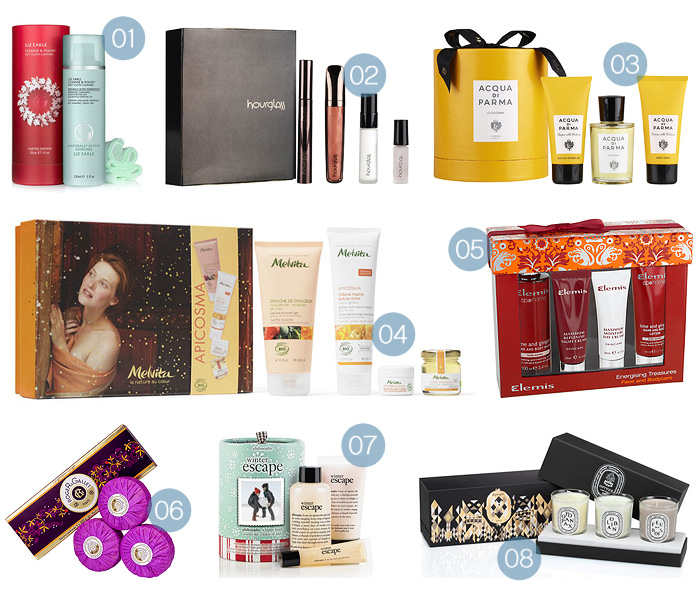 01:  Liz Earle Cleanse & Polish Christmas Limited Edition (£19.75)
If limited editions are your thing, team it up with the cult classic cleanser from Liz Earle.  The Christmas wreath presentation case will ensure that your gift looks the business, even if the recipient's face, doesn't (that's what the cleanser is for!)
02:  Hourglass Holiday Coffret (£59.00)
This four-piece collection of best-selling products from U.S. cosmetic brand, Hourglass comes complete with: Film Noir Full Spectrum Mascara (10G), Extreme Sheen High Shine Lip Gloss (7G), Veil Mineral Primer Spf 15 (10Ml), and No. 28 Primer Serum (5Ml).  It's all anyone needs to introduce them to the brand (and probably keep them coming back for more!)
03:  Acqua di Parma Colonia Coffret (£74.00)
If you partner has a nose for scent, gifting them this beautiful coffret from Acqua di Parma would be an act of supreme kindness.  Colonia is the timeless Italian classic, and this set contains: Acqua Di Parma Colonia Eau de Cologne 100ml,  Acqua Di Parma Colonia Shower Gel 75ml, and Acqua Di Parma Colonia Body Cream 75ml.
04:  Melvita Apicosma Discovery Gift Set (£15.00)
"And it's all about the honey, honey, honey!" sang no-one, ever.  But for Melvita, it really is all about the humble bumble, without whom they would be unable to employ their patented 3-Honey-Complex to enrich and nourish our skin.  This coffret is another great brand-introducer and contains: Skin-softening nourishing body milk, Apicosma Extra-rich Hand cream, and Apicosma Repairing lip balm.
05:  Elemis Energising Treasures Gift Set (£25.00)
At no point in time does one need more energising than in the early-January lull.  With all the excitement of Christmas over, we're simply faced with the prospect of yet more bitterly cold weather and a potential tax-bill.  Awesome.  Elemis' Energising Treasures Gift Set contains four face and body treats that promise to uplift and boost hydration.  Now if only they'd sneaked a bottle of vodka in there too…
06:  Roger & Gallet Ginger Soap Coffret (£11.70)
I don't generally have much use for soaps… but my husband (the ifty-fifties binman that he is) loves 'em.  I have issues with them sitting, slimily on the side of my sink but I must compromise.  As-long as he has to compromise too, meaning that I get to choose the soap and these ones sound particularly lovely without being too girly.  The packaging is girly enough to please my senses and the soap is… soapy enough to please his, sorted.
07:  Philosophy Winter Escape Set (£22.00)
No one does cute coffrets quite like Philosophy and this year's Winter Escape Set does nothing to disprove my theory.  The lovely coffret features a playful winter-scene (why doesn't it ever actually look like that on Christmas morning?), and three tantalising treats, each one employing a delicious musky-vanilla scent.  Live the (fanciful) winter dream.
08:  Diptyque Holiday Coffret (£60.00)
From Body Shop home fragrance oils to my Annick Goutal candles, I do like me a bit of home fragrancing and when it comes to woody, winter scents – you are hard-pushed to beat the harmonies that arise from the flame when you burn a Diptyque candle.  This set contains 3x 70g candles in the form of Feu de Bois, Opoponax, and Oliban – a genuinely, perfect counterpart to these long, dark nights.  If you're not sure why da bloggerz are going Diptyque mad at the moment?  Just go sniff Feu de Bois and come back to me on that one…
Nailistasistas?  Tomorrow's your day…