Yeah, that doesn't rhyme too well but 'bossiping' wasn't a word last time I checked.  It's 2.20am and I've spent all evening playing with makeups. Infact, I've been so preoccupied painting my face that I haven't blogged and whenever I don't blog, my head fills up with "stuff". Stuff that will stop me from being able to sleep if I don't turn the tap on my brain and let it flow somewhere, anywhere. I think is probably the #1 reason why I blog… when my head hits the pillow, I'm out like a light. No messing. No time for books, telly, nothing. In the empty space between my photography blog and Lipglossiping, I used to lie awake for hours each night constantly searching for the cool side of the pillow and trying not to look at the alarm clock for fear of jinxing sleep forever. Blogging is good for me and it gives my night-owl habits a great excuse to manifest.
Anyway… Lipglossiping is Bossing just means that I've got another list for you. A list of 'Do Its'. No reason, they're just snippets of things I want to say I like without having to analyse in the minutest of details exactly why I like them because frankly, I'm gonna hit that pillow hard tonight.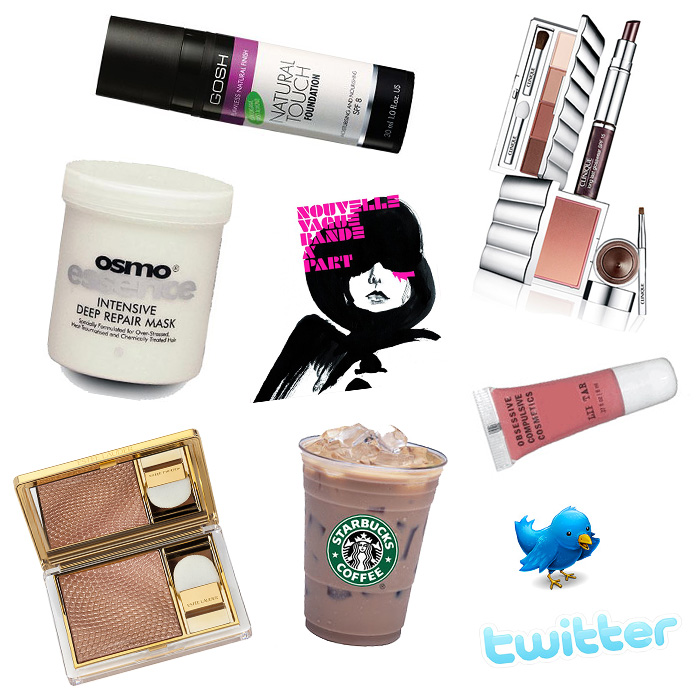 IMMERSE: The Everyday Beauty, Long Tall Ally's Tales from the Scales & Rouge Deluxe
ENJOY: Skinny Sugar Free Iced Vanilla Latte (tricky not to look like a twat asking for something so pretentious-sounding though)
ANTICIPATE: Clinique Black Honey Collection & Studio Look Books at Superdrug
LISTEN: Nouvelle Vague – Dance With Me
FOLLOW: @inmywindow, @lindseykelk, @cosmetic_candy & @beautie
BUY: GOSH Natural Touch Foundation, OSMO Intensive Deep Repair Mask & OCC Lip Tar in Memento
LUST: Estee Lauder Pure Color Illuminating Powder Gelée
WATCH: But that's the button for the internet…
.
Have a lovely weekend people!