When bloggers do a "what's in my bag", or a "what's on my bedside table" post.  We all know that this stuff isn't really in their bag right?  Their bedside table doesn't actually look like a Sense and Sensibility set at any other time than when the photo was taken for the blogpost.  I mean, I love candles but I don't feel the need to sleep with one inches from my face or keep a collection of classic books to rival the British Library's back catalogue adjacent to my elbow.  "Look how messy it is!" they proclaim.  Hahhahaha.  No.
Where's the clicker? (remote controls to you normal people) the snotrags, the scrunchies that you wouldn't be seen dead in outside of 1992?  It's an illusion.
Which is why I was a little bit nervy when my first Weight Watchers challenge turned out to be photographing the contents of my fridge post-Christmas.  Of course, I did what any normal person would do and took out the two Quarterpounder Feasters (microwaveable burgers), and the Pepperami.  But what you see in the photos below is not an illusion.  It was also quite bare considering the Big Day had not long passed, I guess that accounts for the 6lbs I managed to put on over the festive period.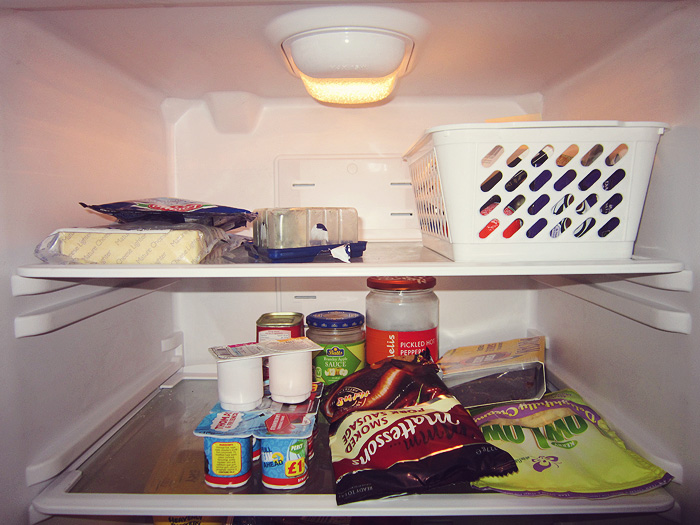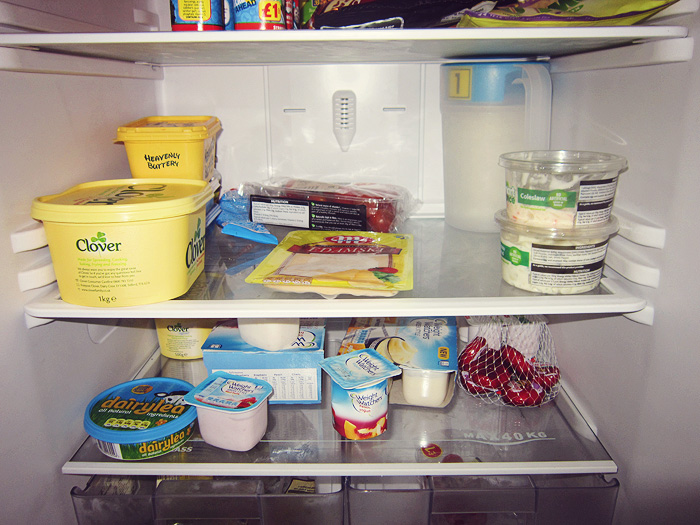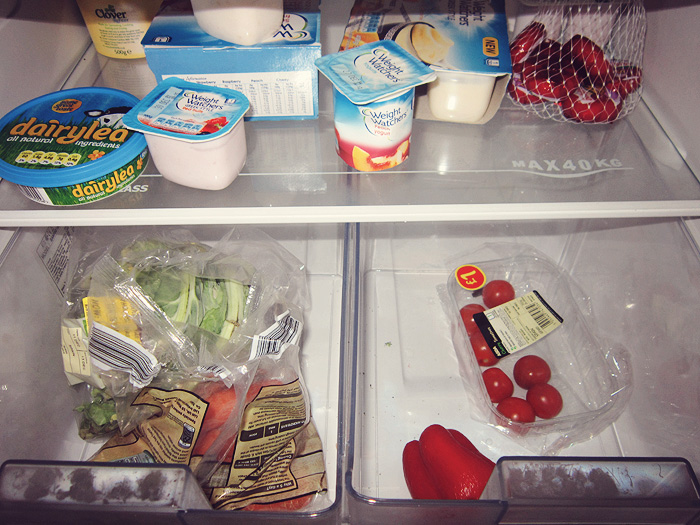 I swear those yogurts were not planted there by a Weight Watchers crack team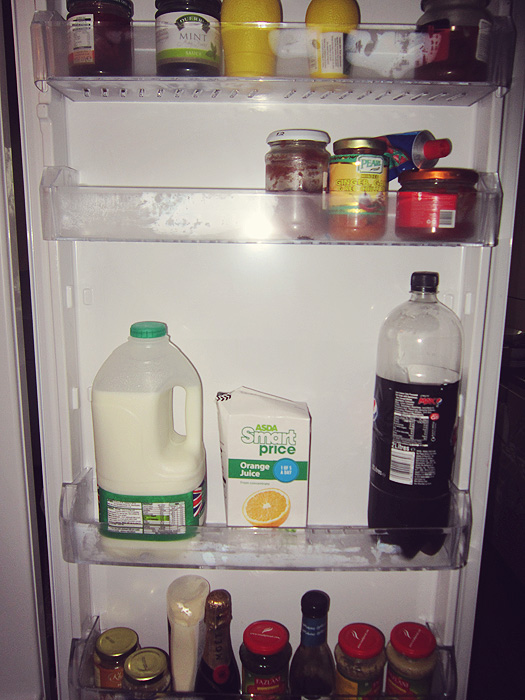 So, what have we got here then?  A crap-ton of garlic, coriander, ginger, madras etc. type pastes… because they can turn nothing into everything.  Some tired looking vegetables, many yogurts, leftover coleslaw, a tin of corned beef (it's easier to slice cold!), mattesons sausage, the chocolate/treat container (shh), butter-esque spreads, and a bottle of mini champagne in-case something nice happens one day.
The thing that surprised me looking back at the photos, is this… considering how little there is in the fridge, there's an awful lot of cheese in there.  We've got: cheddar, parmesan, dairylea, lowlow grated, blue, edam slices, and babybel.  Just how much cheese does one poorly-stocked fridge need?
So why am I showing you the contents of my fridge anyway?  Ladies, the challenge from Weight Watchers HQ was simple…
This week we want you to sort your fridge by hiding all your high PPV foods.
Store that Stilton, move that muffin and put all these temptations into containers or drawers that are hidden away.
Turn all the leftovers  you can into tasty low ProPoints values meals and share one recipe you've made.
I'm not storing my Stilton!  Stilton is a bleedin' lifesaver when you're trying to create tasty-but-virtuous meals thanks to its potency.  The reality is, you only need to use a little bit to really lift the flavour of something… and that's what I'm going to show you in my "leftovers" recipe below.  In-case you were wondering, the mattesons sausage totally got stored.  I also went through my freezer and gave my stash of beef mince to my Mum who picked me up a few packets of turkey mince on her next food shop.
Anyway, the recipe…
Cauliflower, Turkey, and Blue Cheese Bake – 10 ProPoints Values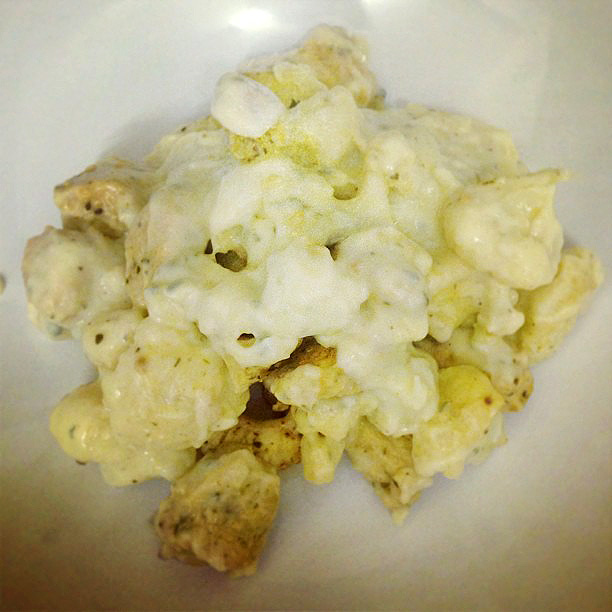 Now, I know it looks a bit like baby vom and at the very least needed a sprig of parsley artistically placed somewhere but believe me when I tell you that it tasted better than it looked.  I'm no Smitten Kitchen when it comes to cooking but this was pretty yum for a weight loss friendly, fridge-rescue mission.  I do have one confession to make though… I stole the turkey to make it from my Mum's fridge, hers was (and still is) heaving!
1 head of cauliflower, broken into florets
15g butter
15g plain flour
140ml semi-skimmed milk
50g blue cheese
200g roast turkey meat, pulled into pieces
black pepper to taste
1.  Steam the cauliflower until tender and transfer into a baking dish.
2.  Make the roux by melting the butter in a saucepan on medium/low heat.  Once melted, quickly stir in the flour before adding the milk – a little at a time until you have a creamy sauce.
3.  Crumble and add the blue cheese to the sauce, keep stirring until it melts and then remove from the heat.  Grind a little black pepper into the sauce if you wish.
4.  Add the turkey pieces to the baking dish and pour over the blue cheese sauce.
5.  Pop under a hot grill until the top begins to darken.
The rich flavour of the blue cheese and the unadulterated creaminess of the sauce makes this meal seem far naughtier than it is and I felt no guilt when I logged on to the Weight Watchers website later in the evening to track my day's progress.
How's your fridge looking in the gloom of January's dull presence?  My first food shop since Chrimbo came on Friday and I must say, it's looking a lot healthier this week!
* I am a Weight Watchers blog ambassador and my links to their website are affiliated.  I have received no payment for this post.