I don't know if it's my return to being allowed to treat myself to frivolous things once again, or just normal (forgotten) behaviour for me but I'm walking around like The Cat out of Red Dwarf at the minute. "This is mine; that's mine [etc.]"…
I am the human equivalent of Pepe Le Pew, desperate to lay claim to most things I see!
Here's what I've been lusting after this week, and considering I'm still lusting after half the stuff from LAST WEEK's list – this could get messy.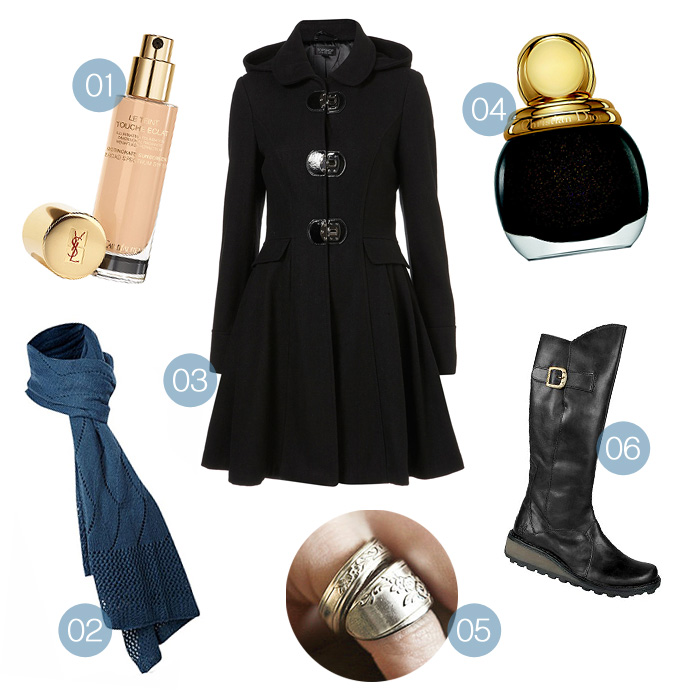 01: YSL Teint Eclat (£28) – I STILL haven't tried it!  On paper, it sounds like it might be perfect for my dehydrated, winter skin.  But I just haven't gotten close enough to a counter in the last fortnight to colour-match. It's my mission this week. (nice mission huh?)
02: Linea Softs Blanket Stitch Oversized Scarf In Blue (£6.75) -Is it certifiable scarf-weather yet?  Maybe not quite but I might make an exception while this one is at such a lovely, lovely price!
03: Topshop Hooded Clasp Coat (£85) – Meh, about £20/£30 overpriced but if you're like me and don't own a pair of curvy hips, a skirted coat is flippinamazing at making you look more hourglass-y.
04: Dior Grand Bal Collection nail polish in Diva Diorific (£20) – I'll admit it, I only want it for the packaging.  I can totally tie some gold thread around it and upcycle it to Christmas tree ornament next year yes?  Which means that in girly budgeting terms, I can justify the price-tag.  Almost.
05: Silver Spoon Ring but Tangs and Tines (£13.95) – Silver plated vintage cutlery turned jewellery?  Where do I sign up?!
06: Fly London Black Mol Boots (£135 but £94 on amazon!) – I wish my current boots were up for replacing but alas, I had the heel reinforced last January and they're still going strong.  I should be happy, I know I should – but gosh, I want THESE ONES *stamps well-heeled boot*
What have you been hankering after?