As if an obsession with all things beauty wasn't enough to contend with, I thought I'd let you in on one of my other little 'collections'.  Home Fragrance Oils.
I'm actually in recovery as far as these bijou bottles are concerned.  Mr. L has in the past, banned me from entering The Body Shop until I finish a bottle which quite frankly, is probably for the best.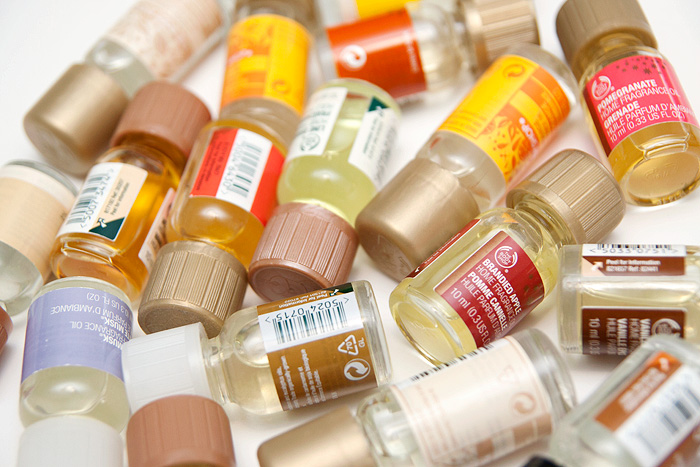 I usually have one of these 'on the burn' somewhere in my home, they're mood-lifting, fun to choose from in the shop and often on sale!  As far as quality goes, some of the scents can be a touch Glade-esque but occasionally, The Body Shop blend a scentsational gem!
I have four particular favourites and unfortunately, none of them are currently available.  The Body Shop's turnover for these products are pretty rapid and ultimately seasonal.  They'll sometimes be re-released the following year but if you find one that you fall in love with, my advice is to buy in bulk!
My four biggest favourites from recent years have been…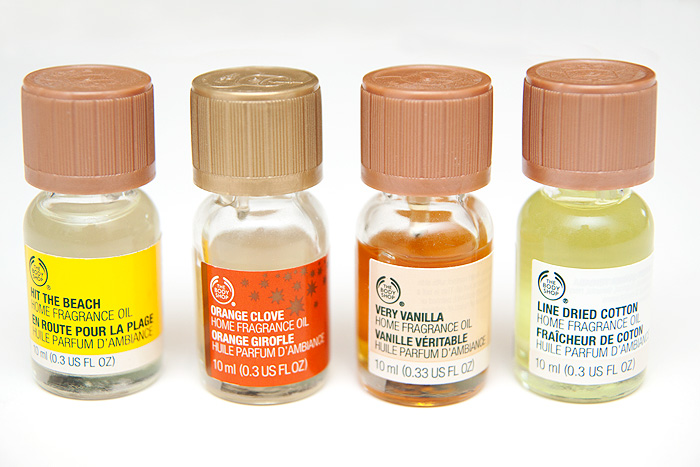 Hit The Beach: I think this was from 2007/2008 and I returned for backups when I discovered how lovely it was!  I actually find it a bit more floral than oceanic despite the name… it's light, summery and carries a gorgeous vibe that makes me think of wide open windows, dune flowers and a stiff breeze.

Orange Clove: The Body Shop do the citrus-y scents very nicely and this is my favourite of the bunch.  It's incredibly festive and indeed was a limited release a few Christmases ago.  It's sweetness reminds me a little of Orange squash which makes it sound far less impressive than it actually is!  Think sweet oranges with a hint of spice.

Very Vanilla: Is the booziest of the vanilla fragrance oils I've purchased from The Body Shop… it's rich, creamy and decadent.  Perfect for burning on cold evenings.

Line Dried Cotton: Ahh, my first and still one of my absolute favourites.  Nothing smells quite as amazing as getting in a clean bed right?  Well… take the scent of clean sheets and intensify it, you'll get this.  An amazing fragrance for the Summer and I'm on my last bottle now!
There are others that I love to light up but these are the ones that I will always snap up if I see them pop up on eBay (as long as they're not extortionate).  I would love them to re-release Line Dried Cotton in its original form…. all the other linen/cotton ones they've released since don't quite do it for me in the same way.
Aside from The Body Shop, I've also started burning my Haus of Gloi perfume oils (I sound like an arsonist!) not the most economical way of scenting my home but my God are they deliciously potent!
Candles, wax tarts, oils, reed diffusers… I'm a sucker for a great scent.
.
Are you a fan of home fragrancing?  What are your favourite scents?