Look lively 'cos the bloggahz are coming.  For the last couple of weeks we've been busy contemplating some of the loveliest products on the counters (aren't we always?) before tasking BuyaPowa with the mission to offer them up for less.  Rising admirably to the challenge, the co-buying initiative have declared this week; Blogger's Week!
Each day will bring new products as put forward by various bloggers on the interwebz.  I've included a full list of bloggers and products below, so if you're liking the look of any of them, don't forget to sign up to make sure you're notified as soon as the co-buy goes live.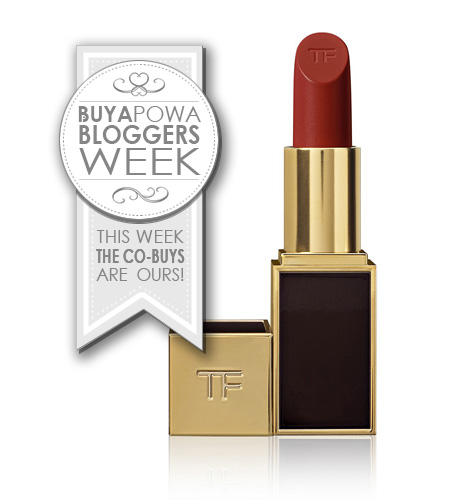 Charlotte from Lipglossiping: Tom Ford Lipstick (Scarlet Rouge)
Charlotte from Charlotte's Obsessions: Benefit Porefessional
Nic from Strawberry Blonde Beauty: Chanel Blush Horizon de Chanel
Yinka from Vex in the City: NARS Gina Blush
Kim from Dottie K: Illamasqua Pigments Trio (Ore, Furore, Android)
Sarah from I Heart Cosmetics: YSL Faux Cils mascara
Jen from A Little Bird Told Me: Chanel le Vernis (Paradoxal)
Amrita from The 6 Inch Stilettos: Benefit They're Real mascara
Lily from LLYMLRS: Bobbi Brown Gel Eyeliner (Black)
Bettina from Beauty Swot: Benefit Watt's Up Highlighter
Jennie from Sailboat: Illamasqua Cream Blush (Promise)
Claire form The Beauty Scoop: YSL Rouge Volupte (#13 Peach Passion)
Khila from Miss Budget Beauty: Benefit Hervana Blush
Zoe from The London Lipgloss: NARS Multiple (Orgasm)
Charli from Charli…: NARS Laguna Bronzer
Lucy from Lucy's Stash: OPI Holland mini collection
Liloo from Le Petit Jardin de Liloo: Shu Uemura Smoky Layers false lashes
Milly from Pearls and Poodles: Benefit Coralista Blush
Emma from Milkteef: Marc Jacobs Daisy Eau So Fresh EDT
Stephanie from May Loves Makeup: Pureology Pure Volume Shampoo
Kate from gh0stparties: Smashbox Softbox eyeshadow palette
Charlie from Lady of the Lane: Too Faced Natural Radiance face palette
Karris from Karrisx: Urban Decay 15th Anniversary Palette
Jen from Beauty Junkie London: St Tropez Bronzing Mousse
Choosing my ultimate BuyaPowa co-buy was pretty easy once I'd decided to go down the lipstick route!  The Tom Ford Lipstick in Scarlet Rouge combines my passion for a great red lip with the benefit of having a few pennies shaved off the retail price.  Hooray for posh red lipstick!
What do you think of the blogger choices, are there any you'll be going for?  What would you have chosen?!