I don't do pastels, I blend into the background enough without them thankyouverymuch.  I need some contrast in my life, and eyeliner… all of the eyeliner.  I don't think I like this look but I do like my hair very muchly.  So much infact, that I sort of, kind of, want a loose perm.  But that's exactly the kind of thing you want just before you get one and then regret it forever.
I'll have to think on this more seriously.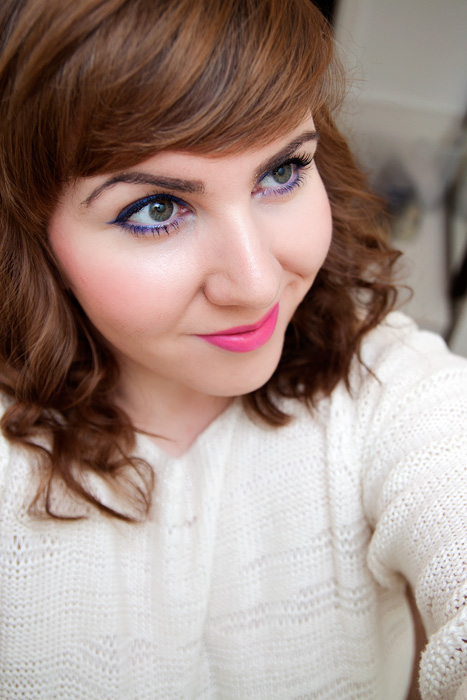 Ok, so the look is possibly a bit eighties, and not in a cool way.  As a nineties child, it's pretty hard to think that anything about the eighties can really be considered cool when you were there first hand with the Speak and Spell to prove it.
My problem is that I struggle to think about a makeup look in its entirety, I just wake up and think "I want to wear BLUE EYELINER today (ooh, aren't I bold!)".  And then, 20 minutes later, my husband is rushing me out the door and I'm stood there… lip-less thinking "QUICK! What goes with blue, what goes with blue?!?!!"
"PINK!"
And I grab the pinkest lipstick and blush that I can find.
Oh well, at least my skin looks good.
What was the last bold look you attempted?  Did it work out?
** edited to add list of products used
Face: Embryolisse Lait Creme Scintillant (the one with subtle gold sparkles), Ginvera BB Cream, Givenchy Mister Bright, My Face Paradisio Pink Blush
Eyes: Illamasqua Gaze Brow Powder, Yaby PP066 eyeshadow (worn as blue liner), Kiss Me Heroine Make Smooth Liquid Eyeliner, Guerlain Maxi Lash Mascara
Lips: NYX Soft Matte Lip Cream in Addis Ababa