I've been enjoying Jo Malone's recent releases, I haven't fallen head over heels in love with all of them… but unlike many mainstream fragrances, they've elicited an almost guttural response from my emotions at first sniff.  And if a fragrance does that, then I'm enjoying it regardless of whether or not I'm actually enjoying it.  Jo Malone's latest release, Earl Grey & Cucumber got me hugely excited on paper.  I'm a tea fiend, in all senses… and one of my favourite scents is L'Artisan Parfumeur's Tea for Two which features a blacker-than-black tea note, rich and smoky, steeped until the teaspoon stands to attention.
I was excited to contemplate upon a fresher tea incarnation, a more spring-like scent that marries one of my favourite notes with another… and one that my brain didn't quite know how to process.  Cucumber?  Cucumber?!
Honestly, it made me think back to memories of Saturday shopping in The Body Shop.  I tried to think past this, rendering instead my thoughts on the lovely juxtaposition of Jasmine and Mint used in one of Jo Malone's most iconic fragrances, and wondering if this one might evoke a similar synergy.  To say that my nose was twitching with anticipation as I spritzed Earl Grey & Cucumber for the first time, would be an understatement.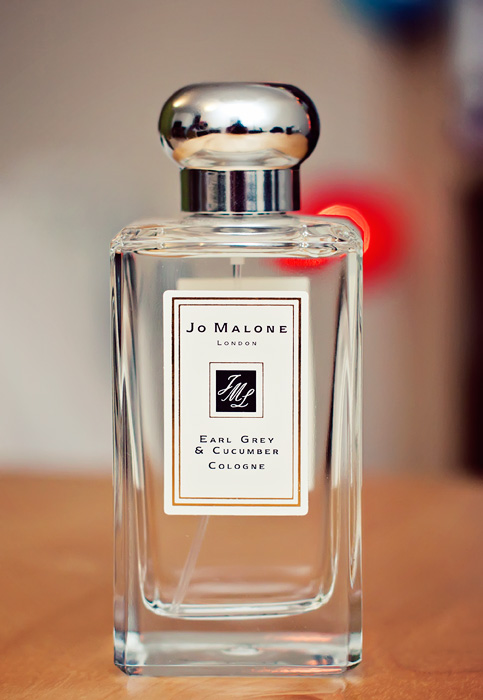 It's absolutely there but is so completely different to anything I've smelled before.  If my other experiences with tea in fragrance have been in all their full-bodied, ornery glory – Earl Grey & Cucumber is the antithesis to this.  Its tea note is genteel, so very polite and more civilised than silver service on a Sunday afternoon.  That's not to say that it's a particularly quiet fragrance, for it has plenty to say, it just knows how to express itself with all the dignity of a fine afternoon ritual.
Jo Malone's Earl Grey & Cucumber feels like an extremely unisex scent to me, as if it daren't cause offence by leaning too far in one direction.  The balance of bitter bergamot and sweet musk almost cancel one another out, leaving behind little more than a well-placed whisper that sits lovingly behind the ear.  The cucumber doesn't really smell of "cucumber", at least, not in the way I imagined it might (thankfully).  Instead, it delivers an echo of something that's been freshly cut, delivering a playful bite and a cooling impression without any of the watery flavour.
Evocation is where it's at with Jo Malone's Earl Grey & Cucumber, from the beginning, through the middle, until the last drop is poured from the teapot.  Afternoon tea done the British way.
Jo Malone Earl Grey & Cucumber Cologne, available to buy online from jomalone.co.uk, priced from £38.00 for 30ml.
* press sample