Welcome to the inaugural post for The Lipstick League! We are a group of beauty bloggers, bound together by the desire to save the world with beauty, one post at a time!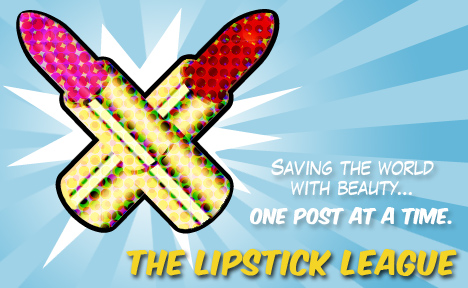 Once a week, each member of The Lipstick League will select a favorite post from their blog and we'll assemble the links in one tidy weekly post for your reading pleasure.
We've gathered together a fantastic group of beauty bloggers whose content spans the world of beauty on topics such as makeup, skin care, nail care, fragrance and beyond!
To add a bit of personality to these posts, we'll also ask each Lipstick League member to answer a "Question of the Week", which they will answer on their own post. So be sure to check all the member's responses!
We hope you enjoy these weekly posts—we are so proud of the group we've assembled and we can't wait to share this great content with you, our readers!
The Question of the Week for this inaugural post is:
If you could only wear one lip product for the rest of all time (gasp!), what would it be?
Oh my, you can't make me choose just one!  OK, ok… Well, it's gonna have to be Lanolips in Apple.  I toyed with the idea of the original Lanolips 101 but I'd miss colour too much!  You're mean!
.
Here are this week's links…
Beauty Junkies Unite – just can't get enough of Urban Decay's Greed Eyeshadow Primer Potion.
Clumps of Mascara – tried brown eyeliner for the first time. It wasn't what she thought it was.
EauMG – reviews a NEST candle. It's fragrance will put a smile on your face.
Nouveau Cheap – puts the new Revlon Crazy Shine Nail Buffer to the test. Does it really give you 400% shiner nails in seconds?
Orange to LA – has her first experience with Jill Stuart Cream Eye Shadows, see if these shimmery shadows get you noticed!
Pink Sith – is finally able to get some much needed color on to her pale cheeks thanks to Yves Saint Laurent Creme de Blush # 5. No Pinching required!
Phyrra – discusses foundations, skin undertones & overtones and shows you her naked face!
Vampy Varnish – Zoya ModMattes Collection for Spring 2011 swatches & review.
we heart this – takes a look at the new Hourglass Aura Cheek and Lip Stains. Finally, a stain that you can be happy about!
.
What do you think readers? If YOU could only wear one lip product for the rest of all time (gasp!), what would it be?
See you next week!
~The Lipstick League