I've talked before about over-processing my hair to within an inch of its life and the difficulties I've encountered trying to find a happy compromise between routinely covering my greys and keeping my hair in a healthy condition.
Well, I've found the answer.  Almost.  It's not completely perfect… but it's close enough for now.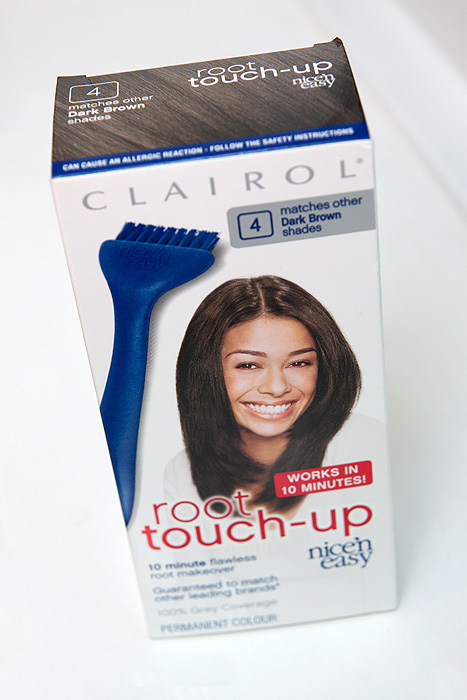 Clairol Nice n' Easy Root Touch Up.  There's something about paying the same amount of money for LESS product that kills me everytime I approach the counter to pay for this box.  The dye is intended only for use on your roots (you don't say…), hence you get less in the pack than you would normal hair dye.  It's not that it's phenomenally expensive, infact, it's really good value but compared to my Superdrug own brand Choc Brown that I've enjoyed using previously, it is a small step up in price.
However, it's a little box of awesome.
I pick up shade #4 which claims to blend with all manner of dark browns and I will absolutely back those claims.  It's never looked at all out of place alongside my older dye jobs and really does blend quite seamlessly.
I part my hair in its usual parting and apply the dye all along any visible roots, not forgetting the hairline.  Once I've saturated these parts, I usually part my hair a little further over in both directions and re-apply to allow room for error.  I usually still have some more dye left over and cover my centre parting too (just in case!)
It only takes 10 minutes before I jump in the shower and rinse.  The entire process is completed in under 20 minutes and because it doesn't go anywhere near the ends of my hair, is a lot less messy than usual!
My only caveat is that I've seen a couple of photos of myself recently (where I'm trying to take snaps of my curls etc..) and I can see a bit of grey peeking through the roots toward the back of my head.  It's probably been about 4 months since they've last been dyed and I either need to grab a normal box dye (which I don't want to do) or get Mr. L to tackle the harder to reach areas with an extra pack of this stuff.  Better solution I think.
Either way, my ends are getting some MUCH needed respite and my overall hair colour is looking beautifully natural and non-blocky.
Win.
Clairol Root Touch Up is priced at around £4 a pack and available at all the usual outlets (Boots, Superdrug, Supermarkets…)