News of The Body Shop's latest launch is like well-tuned music to my ears.  I'm a sucker for anything that promises an instant fix in less time than it takes to watch a movie and their NEW single-shot face mask sachets will turn you into a movie-watching, zit-busting multitasker of EPIC proportions!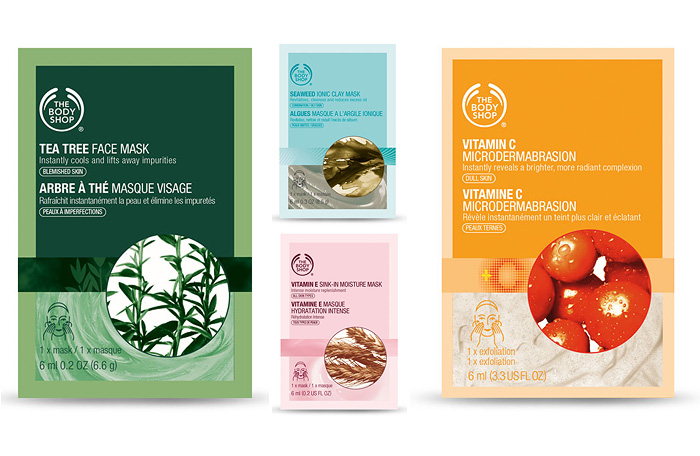 There are four different varieties of mask available in the range, here's a quick guide to give you an idea of which might be the best choice for your current skin needs:
Vitamin E Sink-In Moisture Mask
"Bring skin back to its optimum moisture levels with intensely hydrating Vitamin E.  Bursting with antioxidants this cushioning moisture cream protects and rejuvenates, leaving skin feeling soft and smooth. "
This is an overnight leave-on mask, great for when your skin is feeling dehydrated or in need of some extra TLC, personally… I'd use this in conjunction with any one of the cleansing masks.
Vitamin C Microdermabrasion Mask
"Filled with fine micro particles and crushed garnet stones, this zesty Vitamin C mask gently and effectively removes impurities and dead skin cells, providing deep exfoliation. It improves skin texture and tone, revealing a brighter, balanced, more radiant complexion."
Great for combination and congested skin-types, perfect to use a couple of days before an event or big night out.  As it's an exfoliator, I wouldn't use this one more than once a week at most.
Tea Tree Face Mask
"This antibacterial, deep cleansing clay mask smoothes and refreshes the skin by absorbing excess oil.  It gives an instantly cooling, soothing sensation whilst leaving skin clear and squeaky clean."
A good choice for oily skin types.  If you're wary that it might be too much for your skin, limit its use to a dab on any blemishes you have and save the rest to give your back/shoulders a deep cleanse!
Seaweed Ionic Clay Mask
"Draw out impurities and rebalance the skin's natural ph levels with this mattifying clay mould mask. Packed with the purifying properties of naturally sourced seaweed, it cleanses deeply, controlling excess oil, leaving skin oil and shine free."
Who doesn't love a good sea monster-esque clay mask?  These are my favourite to tackle congestion and blackheads across my t-zone.  Again, I'd use an overnight moisturising mask after treatment to restore hydration on my dry skin and limit its use to once a week.
All masks are single-use sachets containing a 6ml volume, making it a great and inexpensive way to mix-and-match treatments for an at-home pampering session.
Priced at £1.50 each and available in store and online at bodyshop.co.uk
* the seaweed ionic clay mask appears to be temporarily unavailable online
** The Body Shop are currently offering 40% off and free delivery when you spend £5 online with code EXTRATREAT
*** In other news, TBS are discontinuing the Sweet Lemon range, I'm so sad!