Whenever I get given one of those nifty till spits treating me to X amount off Boots No7, I make a beeline.  Well, two actually… my first port of call are the brushes, I must have a million No7 brushes that I always take with me on holidays.  You know the sort of thing… not so rubbish that they're unusable, not so amazing/expensive that you'd cry if they got bent out of shape! Makeup bag staples.
My second stop-off is in front of the Boots No7 Stay Perfect nail polishes.  I'm a little bit reluctant to hand over full-price for the range but when you've got £3 off… well, things don't seem quite so expensive after-all!
Especially when they look as pretty as this…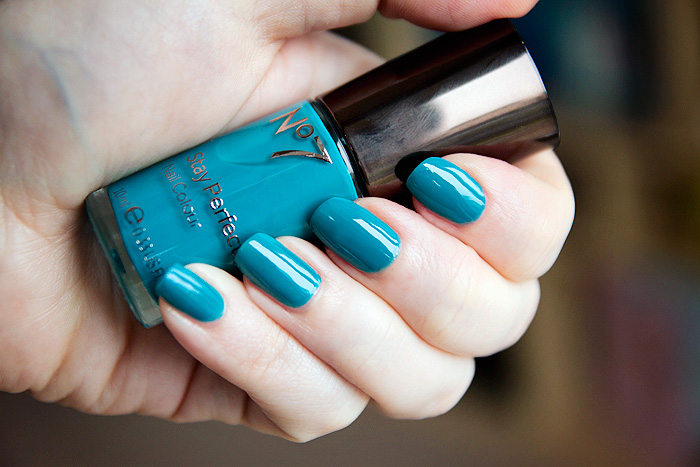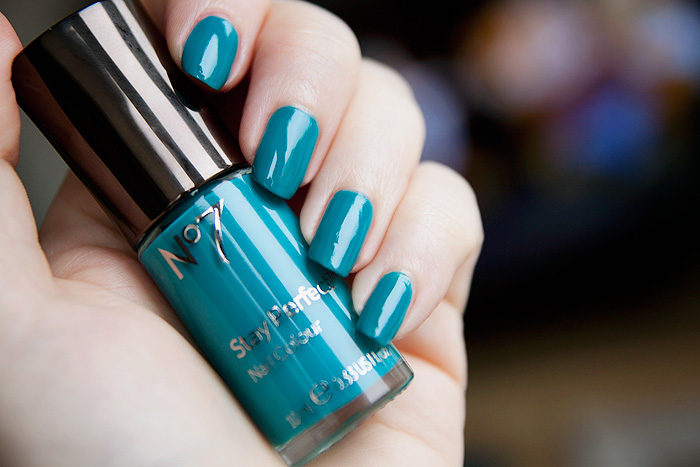 How lovely is that teal?  Next stop, it's going on my toes!
I generally find the No7 formula to be a two-coater, the brushes have improved recently and now I can generally cover the nail in 3 strokes with an extra one thrown in to tidy up.  Drying time is average but the gloss is usually out of this world.  My biggest bug bear with the formula is that so many of the strong shades stain my skin and require more acetone in removal than I'd usually like to use.
Despite the moniker, Stay Perfect doesn't actually stay all that perfect.  I usually get significant tip wear within a few days and the odd chip here and there, noteworthy for someone whose nails rarely suffer from chips!
That being said, I'm almost tempted to forgive it for being such a rich, glossy shade that looks as though it's been poured on rather than painted.  Lush.
Boots No7 Stay Perfect Nail Colour in Cruising is priced at £6 (without a voucher) and available to buy instore and online at boots.com
Are you a fan of the No7 Stay Perfect nail range?
* press sample