You know how I love to come across an unexpected beauty bargain?  Well, this one is my latest and it's from the M&S debut Limited Collection make-up range.  The range went live last month, you can read more about the brand's new beauty ventures in this post but the main thing you need to know about the M&S Limited Collection is that everything comes in at under £6.00
The Limited Collection includes almost everything a girl needs for her daily makeup bag from foundation to bronzer, nail polish to cheek tint and most things that fall in-between.  I was sent a few random bits and bobs from the new collection and I've got enough of a feel for the products to confidently call this one out as worth a look next time you're in store.
The shadows come in a range of finishes and although I suspect that some of the base products will be a little hit and miss when it comes to shade selection (light, medium and dark anyone?) there are some funky nail shades on offer and this little gem of a liquid liner really turned my head…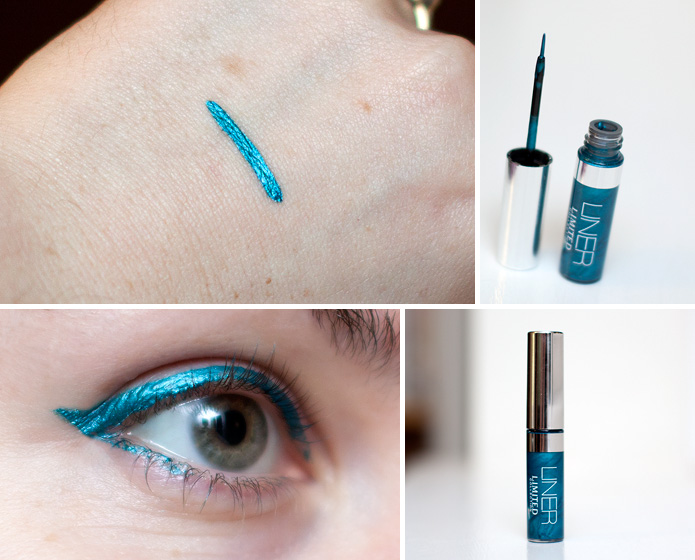 This liquid liner in turquoise packs one hell of a tropical punch in the colour stakes.  It's incredibly pigmented and doesn't do that annoying liquid liner thing of pushing the pigment to the edges of the line, leaving the centre colour-free and in need of seven more layers.  The above swatch images show a single sweep of colour (except for the very outer "v" on the eye where for neatness' sake I had to go over it).  My only caveat with this product is that it takes a while to dry… I'd say around 90 seconds to set, that's quite a long time when you've only got five-minutes to do your face in the morning.
Marks & Spencer Limited Collection Liner in Turquoise is a complete steal at only £4.00 for 6ml.
* press sample