If you're British and don't get the popular cultural reference in the title, shame on you.  If you're not British, and do… you're amazing!
When I was at my local farm food shop last week I spotted a barrowfull of marrows, they were selling them off at 60p-a-piece.  I've never had marrow before, stuffed or otherwise… at 60p, I felt that I couldn't go wrong.
I googled for some recipes but decided that I'd go for the old tried, tested, and somewhat derided route of stuffing it.  Instead of cutting the marrow into two long "boats", I decided to slice them into 1.5″ thick rings and stuff the middle of those instead.  To my eye, it just looks a little more modern.
The great thing about marrow is that… it doesn't really taste of anything.  You might think that this isn't such a selling point, but it absorbs the flavours of whatever you combine it with beautifully.  I felt that combined with the stuffing mix I prepared in the recipe below, the marrow tasted a little like fluffily boiled potatoes (but without the uber-carbs!).  A truly delicious meal.
The recipe below makes enough stuffing mix for the amount of marrow you see in the photos (6 slices, not whole) with enough leftovers to stuff a further two large peppers.  It's great for cooking up on a weekend and refrigerating a portion for later on in the week.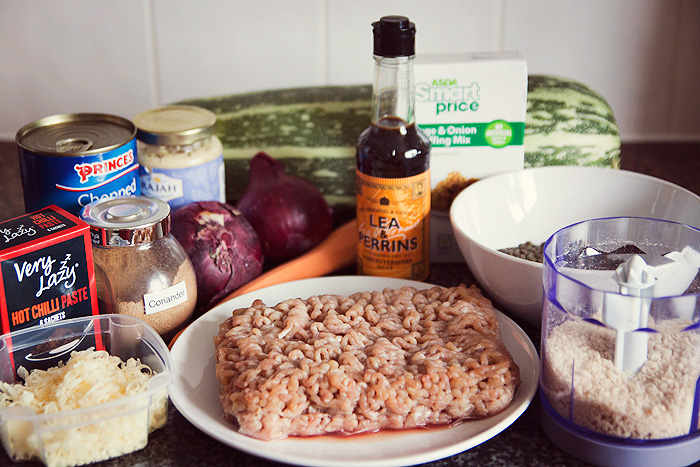 You'll need:
500g turkey mince (or any mince you prefer to use)
85g sage & onion stuffing mix
1 marrow
2 onions
1 carrot (shredded
1 tin chopped tomatoes
a glug of worcestershire sauce
1 tsp chilli paste (or chilli powder)
1 heaped tsp of garlic paste (or a couple of cloves)
1 lvl tsp ground coriander
1/2 tsp cayenne pepper (not pictured)
100g green lentils
Water
1 pitta bread broken into breadcrumbs (I prefer the crunch pitta bread gives)
60g grated cheese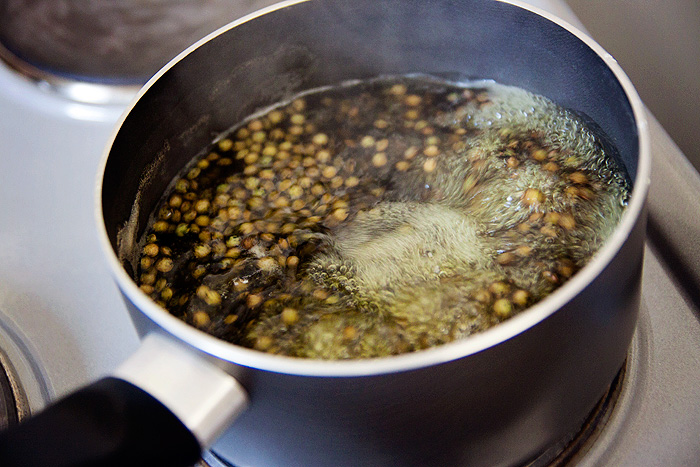 Rapidly boiling the lentils for 10 minutes before turning the heat down and continue to simmer for around 30-minutes.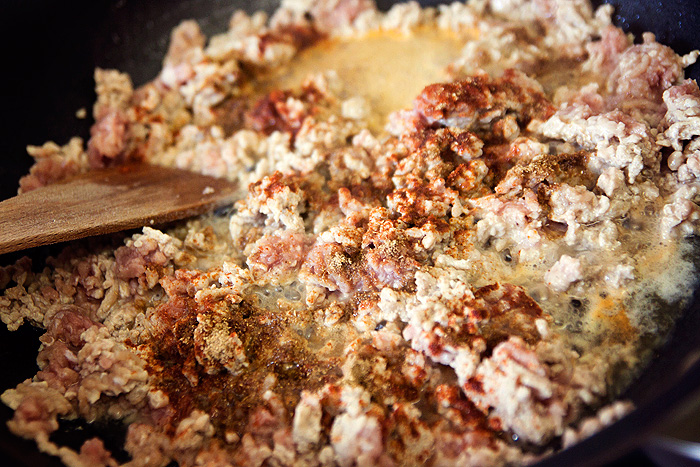 Fry off the turkey mince (I used a couple of sprays of frylight to coat the pan first) and add your spices (coriander & cayenne pepper).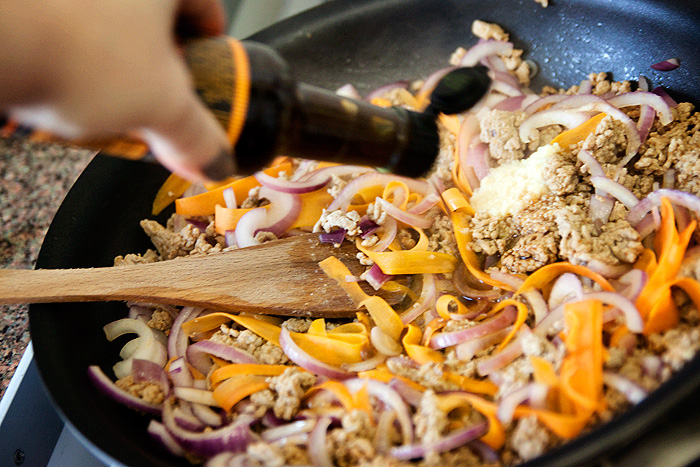 Add the onions, carrots, garlic paste, and a good glug of the worcestershire sauce and allow to simmer for a couple of minutes.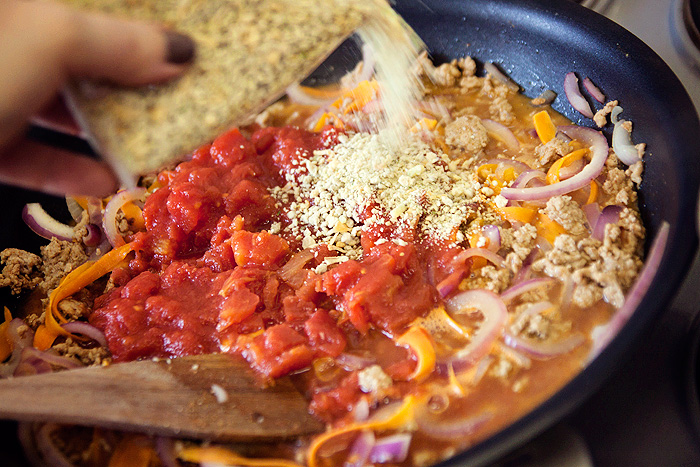 Pour the chopped tomatoes and stuffing mix on top and stir to combine the stuffing mix.  Have a jug of water ready, you'll need to topup the pan as the stuffing mix absorbs the liquid. You can use a stock cube in the water but I didn't have one to hand and it was fine.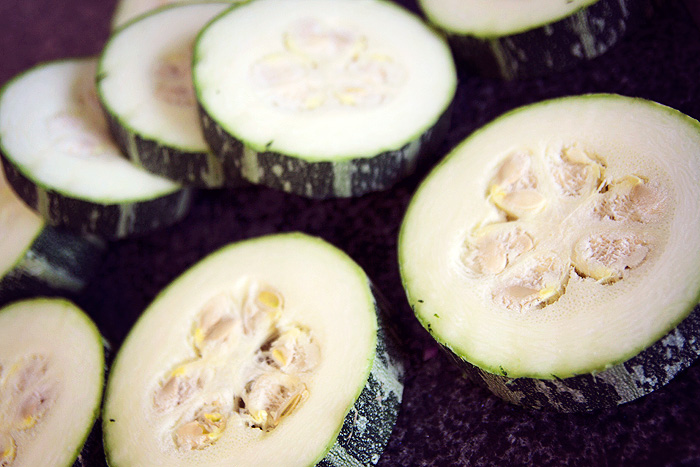 As your mince is cooking away in the background (keep checking it for water levels, you want it dry-ish but not enough to stick or burn!), it's time to prepare your marrow.  Marrow might seem like an awkward vegetable to prepare but it's incredibly easy.  Simply slice of 1″-1.5″ thick pieces, as many as you need.  Using the tip of the knife, cut out the middles and discard.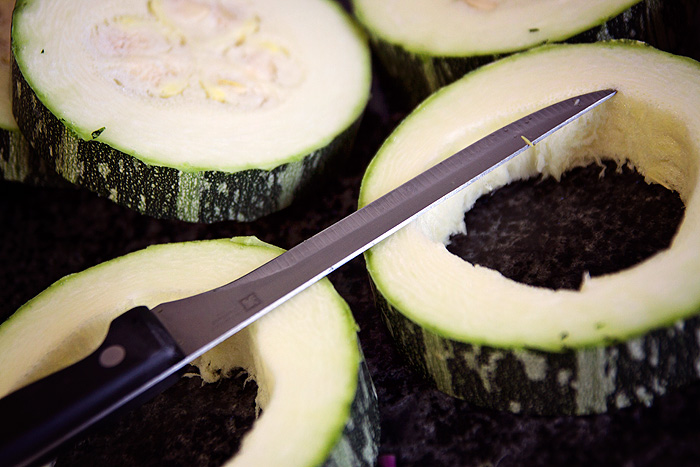 They should look like the above photo once you've finished.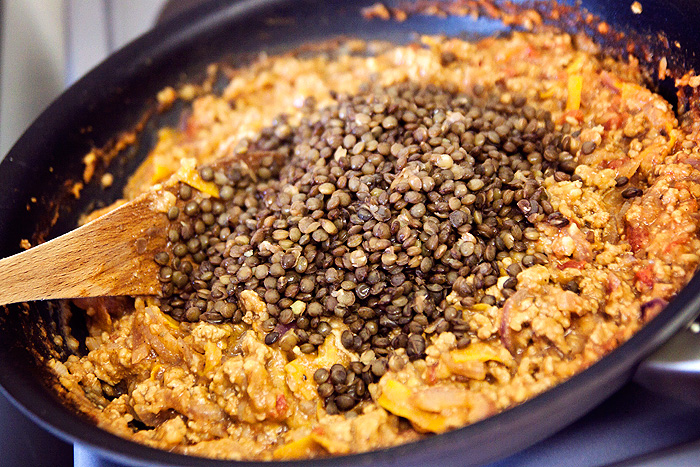 Drain your green lentils once they've finished cooking and add them to your stuffing mix, combine well.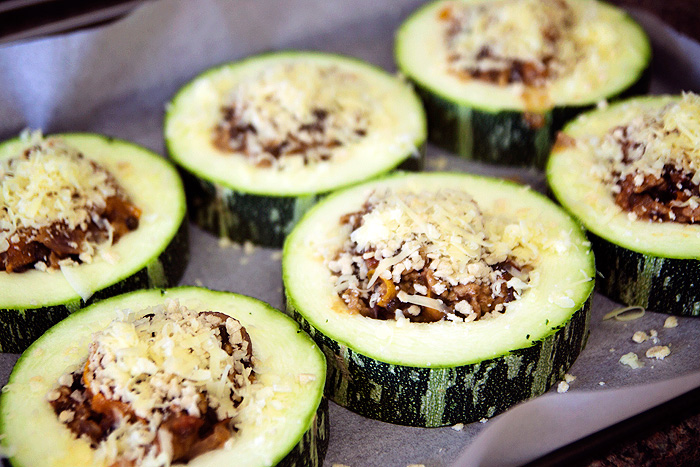 Take a baking tray, a sheet of greaseproof paper, and your Frylight spray.  Place the empty marrow rings evenly onto the greaseproof paper and fill with your stuffing mixture.  The mixture will shrink down a little as it bakes so make sure that you fill them generously!  Top with the pitta crumbs and grated cheese.  Lightly spray the rings with some Frylight and pop into a pre-heated oven (200°C/400°F/Gas 6).
Loosely cover the baking tray with foil, try not to let the foil touch the top of the rings (or your cheese will transfer!).  Bake for around 30-minutes, remove the foil and pop back in the oven for another 10-minutes until the top is browned.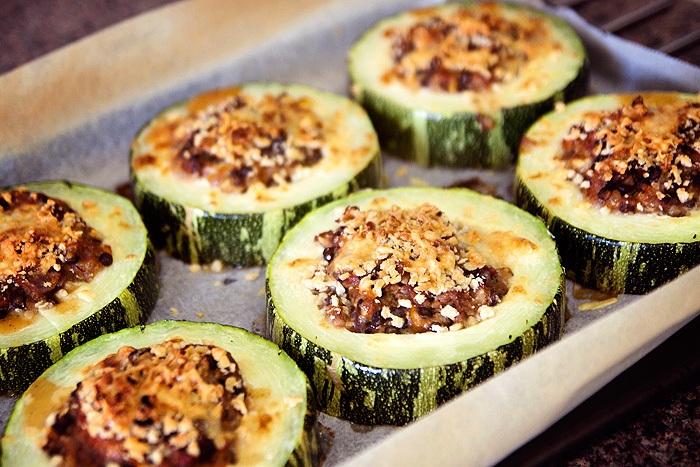 They should come out looking something like this!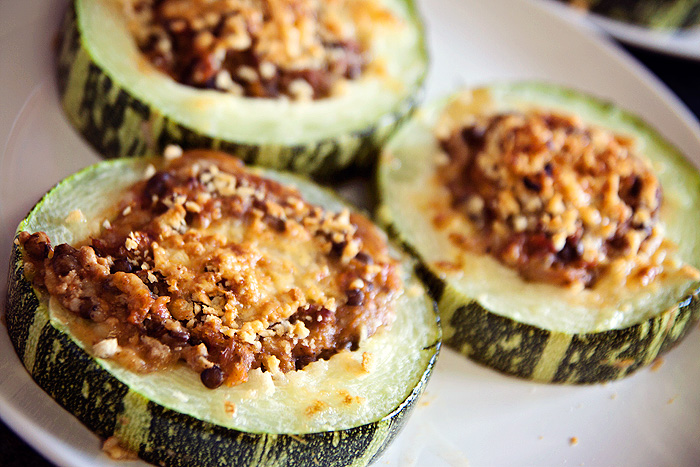 For me, these are a whole meal in themselves… they don't need anything to accompany and three slices of stuffed marrow was incredibly filling.  Some people are happy to eat the skins, I didn't like the texture so sliced mine off just before eating.  Either way, don't peel your marrow before you cook it, the skins hold everything together!
I do hope you try this one while marrows are still in season.  It makes for an incredibly cheap and filling meal, healthy too!
* Weight Watchers – I pointed this recipe at 9PP per portion for the minced stuffing mix (the whole recipe makes 4 portions of stuffing mix)