This month, eco-conscious brand Aveda are supporting Earth Month 2013 with the launch of a limited edition Light the Way Candle.  The brand will be donating 100% of the retail price (less VAT) to Global Greengrants Fund (GGF), a non-profit organisation that channels high-impact grants to grassroots groups working to solve pressing environmental problems.
Terry Odendahl, Global Greengrants Fund Executive Director says…
"Aveda's support makes an enormous difference to Global Greengrants Fund and our goal of creating a sustainable world. Partnering with local communities, we have protected over 700 watersheds, lakes and rivers, and have supported over 20,000 women working for clean water in their communities. All of this is made possible by the sale of Light the Way Candles, and the salon owners who participate. We are grateful to the Aveda community for their visionary support!"
These clean-water projects can make a real difference to the lives of real people around the world.  In Morocco, just one candle donation can support the purchase of eight metres of piping to transport drinking water!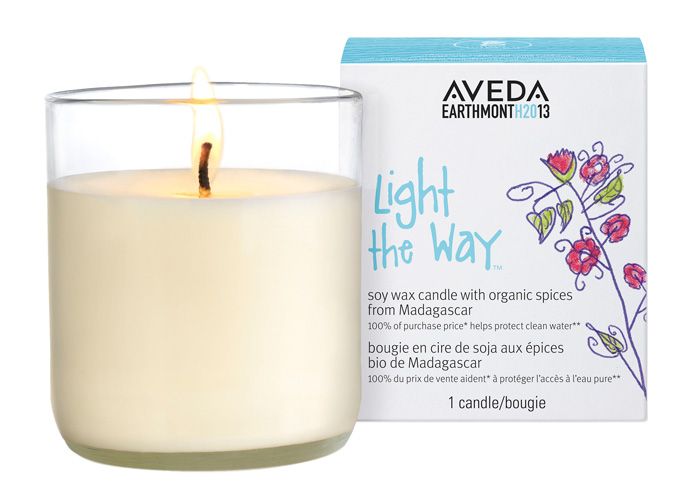 The 2013 Light the Way Candle (held in 100% reclaimed glass beverage bottles) features a new Madagascar-inspired aroma and has been blended with essential oils, including: vanilla, cinnamon, and ylang-ylang, all sourced from Madagascar.  The carton (made from 70% post-consumer-recycled paperboard) has been decorated with artwork made by students of the Association School in Ampasimanjeva, Madagascar, a village that has received two Global Greengrants Fund grants for water projects.
It's plain to see that a lot of real thought, and energy has gone into the production of these candles.  Almost every aspect of the finished product can be linked in some way to the very good cause that the brand are helping to promote.
The Aveda Light The Way candle is priced at £16, and available to buy online from www.aveda.co.uk