I've been trying out the ADesign Skincare Brush Set for just over a month now, and I wanted to see if this one set could ever possibly replace the various skin brushes that I've grown to love over the years.  I have to say, the set did fare better than I thought it would… but the ultimate answer is that nothing can replace many years of replacing rubbish brushes with marginally better ones until you reach brush nirvana!
But let me talk you through the brushes contained in the ADesign Skincare Brush Set*, with particular reference to my. new. favourite. brush.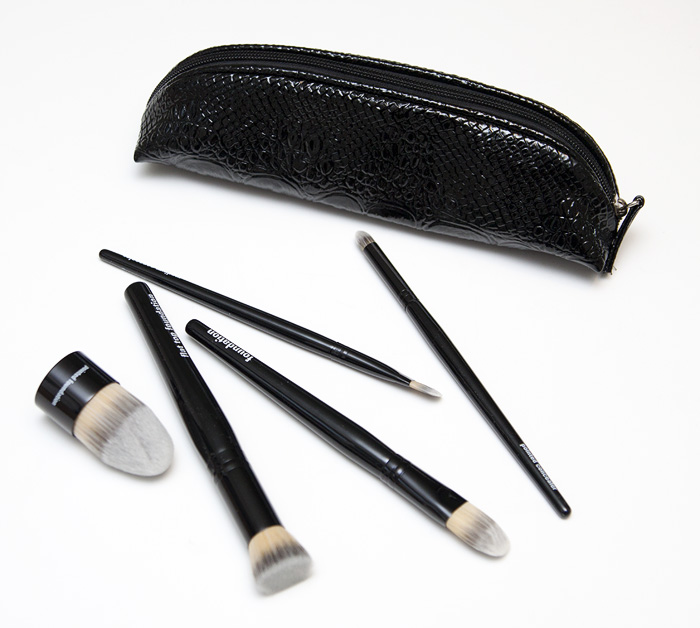 I'll begin by giving you a quick overview of the set, which is available to buy online from Cocktail Cosmetics, priced at £44.95.  Broken down, that works out at around £8.99 per brush – which for face brushes, makes it a very good value set.  You'd easily pay that on the high street for brushes that don't come close to even 10% of the quality that these represent.
For your money, you get five brushes housed in a patent mock-croc bag that is fully-lined to prevent damage from spills.  The brushes (from left to right) are: Pointed Foundation Kabuki Brush, Flat Top Foundation Brush, Foundation Brush, Medium Concealer Brush, and Pointed Concealer Brush.
You may be asking yourself, why on Earth would you need three different foundation brushes?  If you are, get off my blog.
Moving on…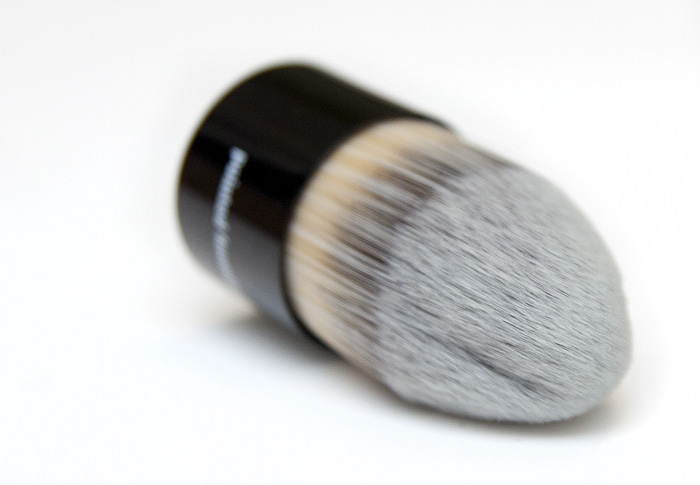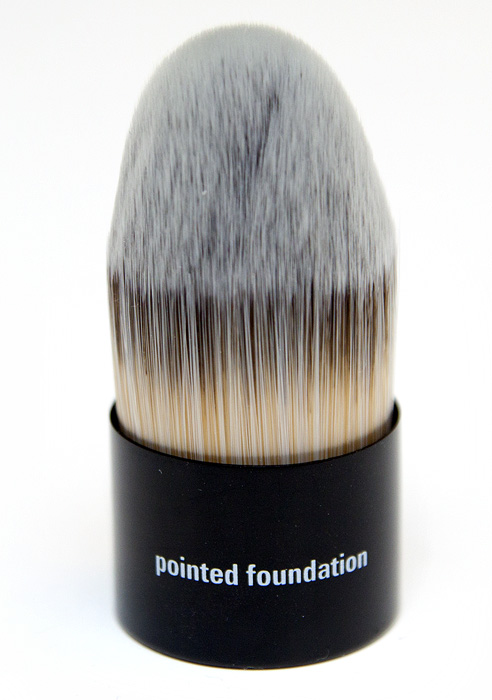 Yes.  It's magnificent isn't it?  Like a silver bullet sent to banish bad makeup application werewolves (or something *shrugs*).  I haven't quite got the hang of how best to use the Adesign Pointed Foundation Kabuki Brush and I'm not keen on the stubby kabuki-handle – the pointed tip is obviously engineered to provide precision and having a longer-handle would complement this more effectively.  Of course, if you love the design, you could always opt for something like the Bdellium Tools Bambu Pointed Foundation Brush as an alternative.
The heavily tapered bristles on this brush allows for dual-motion blending… you can swipe both back and forward like a traditional painting motion or apply circular buffing strokes.  For me, I've found its forte when it comes to applying concealer over a larger area, particularly around the nose as the point gets right into the creases whilst the taper blends the edges seamlessly.  I'm not completely sold on it, but I do think I've not quite mastered the best technique for it yet.  If you have any suggestions, I'm all ears!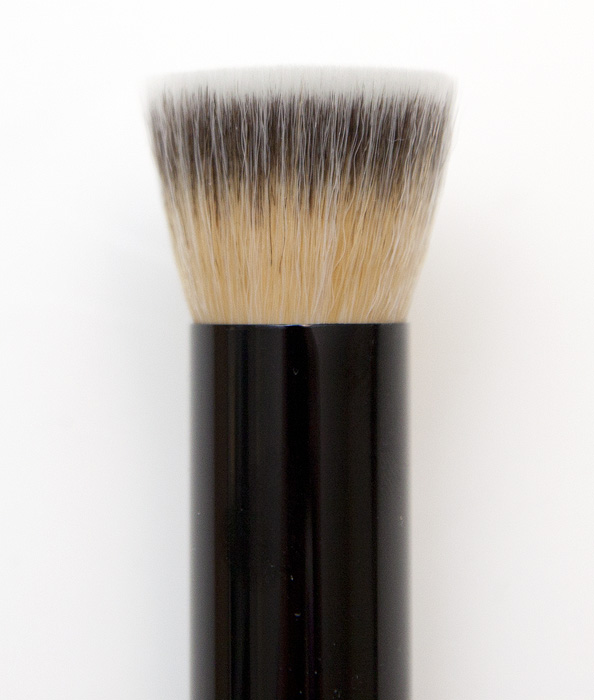 The Adesign Flat Top Foundation Brush, a.k.a. my new favourite brush.  It's a masterpiece, so beautifully dense with tickle-me soft fibres.  It is not very pliable which allows for a really good buffing motion (rather than flopping about ineffectively on the face) and comes with a small head which I much prefer when compared to a larger size flat-top such as the ELF Powder Brush.  I'm going to photograph comparable brushes shortly and reiterate why I prefer this brush to the others.  For quick reference, comparable brushes would be: MAC 130 and Shiseido Perfect Foundation Brush (though this one isn't cut at an angle).
I've been using this for applying foundation (all textures), applying cream blush and blending out any edges.  When my skin has been particularly dry and all my products have been cream or liquid-based, I haven't even bothered to use a different brush.  This is the stand-out offering from the set.  The smaller head also means that it complements my stick products really well (things like NARS Multiples and my Shu Uemura Stick Foundation).  Perhaps the ultimate compliment I can pay it though is that it has enabled me to wear my MUFE HD Cream Blushes… those things played me up something chronic, I just couldn't find the right tool to get the just-flushed blush from them.  Until now.
I wish that I could point to a single technical aspect of this brush that suits my needs so well, but all I can tell you is that I'm in brush love.  For reals.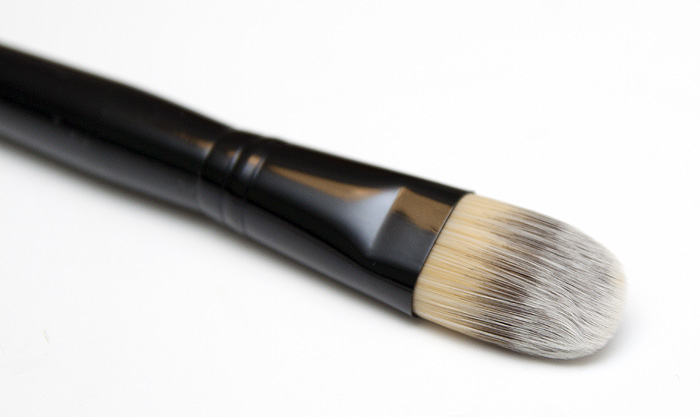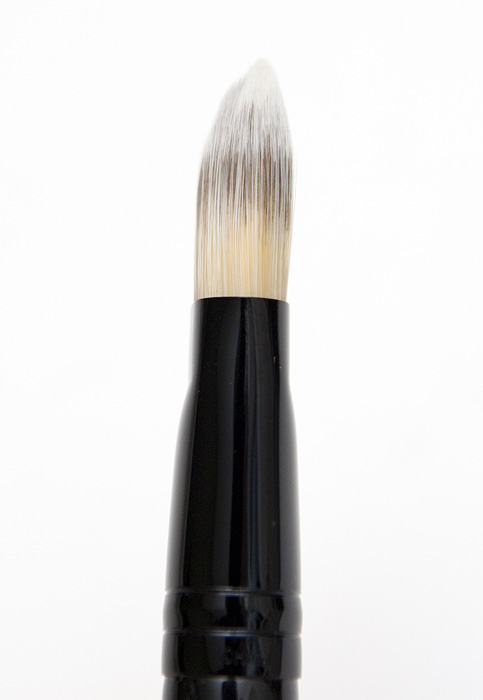 After the gushing over the previous brush, the Adesign Foundation Brush doesn't get me nearly as excited.  Again, this is small-headed… comparable in size to the Giorgio Armani Designer Foundation Expert Shaping Brush but mega-bucks cheaper.  While the GA brush tapers away quickly, the ADesign brush provides greater density from the base up, which allows this brush to both paint and buff.  The fibres have a good amount of spring to them and are densely packed from root to tip.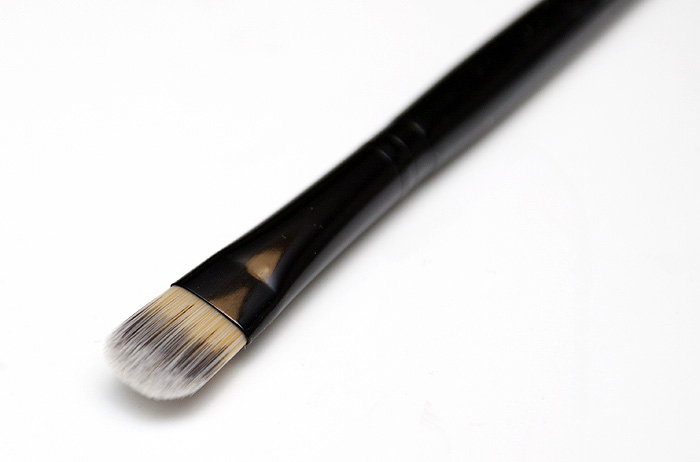 The Adesign Medium Concealer Brush is another that didn't give me an awful lot to flap about.  Again, it's a good-looking brush without any flaws and applies under-eye concealer very gently but one the whole, I prefer my No7 Concealer brush when it comes to painting on the product with a flat edge like this offers.  But talking of flat edges…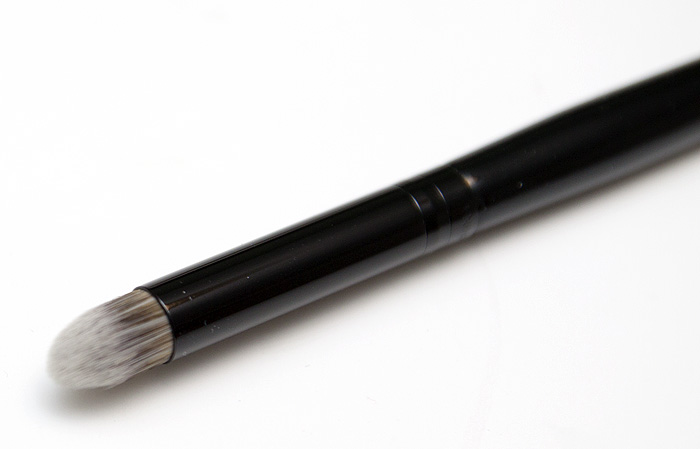 …the Adesign Pointed Concealer Brush is without them!  This is a really good brush for concealing over blemishes.  It delivers the product with pin-point precision and blends without dislodging or removing any of the product you've just placed!  How many times have you applied concealer to a spot, blended and then realised that you've blended at least 50% of the product off?!  This has worked wonders for my concealer application skillz… now I has some!  Again, this is so densely packed, you would think you'd need something with a 'lighter' touch, but no… despite my initial scepticism, this really does the job magnificently well.  It's a little too stiff-feeling to use in the delicate eye area, where something like a MAC 224 works well to both apply and blend concealer.
Without exception, each of these synthetic-fibre brushes are high-quality.  The ferrules are solid, the fibres are well-cut and dense.  Each is perfectly soft, washes well and keeps its shape as it dries.  Talking of drying, these do dry more slowly than natural hair fibres…. such is the downside to synthetic brushes but I haven't experienced any shedding during washing or application at all.  Which is more than can be said for most brushes.  Whilst I haven't fallen head-over-heels for every brush in the set, the two that have made an impression on me (Flat Top Foundation & Pointed Concealer) … have made an impression that I want to shout about.
As an aside, you may be wondering why this is called the 'skincare' set… well, if you watch the video below, you'll see that this set was designed for both makeup application AND skincare application.  Call me old-school but I'm all about the fingers when it comes to skincare!
The ADesign Skincare Brush Set is available to buy online from Cocktail Cosmetics, priced at £44.95
* press sample