Question of the Week – A $50 gift certificate from Sephora magically appears on your desk. It's going to disappear from your desk if you don't use it within the next hour. What are you going to buy?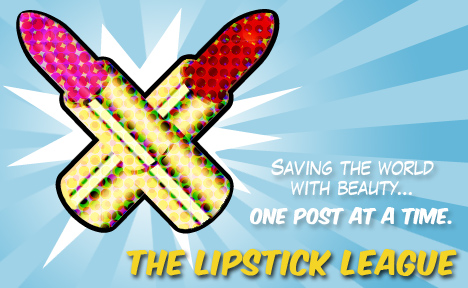 Answer: – EASY!  I would get a Bite Beauty Cashmere Lip Cream for Autumn… probably Sancerre, leaving enough money to get a Stila Stay All Day Liquid Eyeliner in charcoal grey.  Now, who's got the money?  No-one?  Oh well, on with the league…
Prime Beauty – issues a GUSH ALERT for the Marc Jacobs Style Eye-Con Eyeshadow Palette in Starlet. She hasn't been this verklempt since her teen crush on Bobby Sherman in the 70's.
Phyrra – It's no secret that Phyrra loves teal. See what she's lusting after in this week's Teal Thursday!
we heart this – Glamorous geek? Check out the Digital Nails Companions collection based on Doctor Who (she says while she pushes up her glasses and thigh-highs simultaneously!)
Clumps of Mascara – has gone gluten free and dairy free. No one said it would be fun but she's putting together all kinds of yummy recipes.
Gouldylox Reviews – Can a washcloth be worth $33? I wouldn't have thought so, but this one is!
Lipglossiping – contemplates the pros and cons of finding a perfume that bridges the gap between your teenage tastes and your current loves.
My Beauty Bunny – Get beautiful from the inside out by drinking your water! We've got a giveaway to add some pizzazz to your H2O and some cash to your wallet – Win $100 Plus All 6 Stur Drinks!
Nouveau Cheap – Pond's, the classic drugstore skincare brand, has released a new BB Cream. Is it worth your time? Find out right here.
Guest Post of the Week, as chosen by Prime Beauty – Kathryne from TheFabZilla. The majority of her posts are beauty related, but she does mix it up with fitness, lifestyle, and fashion from time to time. Kath says "After all, looking fabulous is beyond hot red lips or sexy smoky eyes."