I know you ladies appreciate great British brands, good skincare, and a bit of a bargain.  Wanna hit the jackpot?  Well, Elemis have just announced another TSV (today's special value) to be aired on QVC this coming Saturday, 1st September.  What better way to see in a new month than with a new skincare regime?
As always, the full contents are a bit of a closely-guarded secret but in true photo-fit fashion, let's play "guess the missing products!"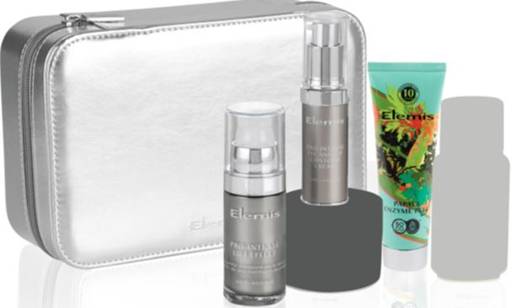 The "known" contents of the TSV are:
Elemis Pro-Intense Lift Effect (worth £55)

Elemis Pro-Intense Eye and Lip Contour Cream (worth £58.20)

Elemis Limited Edition Papaya Enzyme Peel (worth £28.60)

…and two other "mystery" products to be revealed on the day.
The price of this collection is also being kept schtum until the deal goes live on air, but I've been reliably informed that the entire set represents a saving of over £70!
I'm good for a bit of sleuthing!  I reckon that one of those mystery products will be a 30ml of PCMC (isn't it always?) and the other…. it's gonna be a travel-sized something or other, one of these probably.
Will you be tuning in to QVC this Saturday?  Ignore me if you want to keep it a surprise – I was the same as a kid, my Christmas presents were always the ones with peep-holes on the corners!