Heal Gel.  The most visually uninspiring product to land on my desk, ever.  Except – perhaps more than most – as beauty lovers, we should understand that looks can be deceiving, and if my instincts on a product's efficacy serve me well, this unassuming little jar contains something not unlike a miracle.  Yeah, you heard me.  I don't mince my words when it comes to my reviews, but you'll rarely hear me call something out as a skin saviour.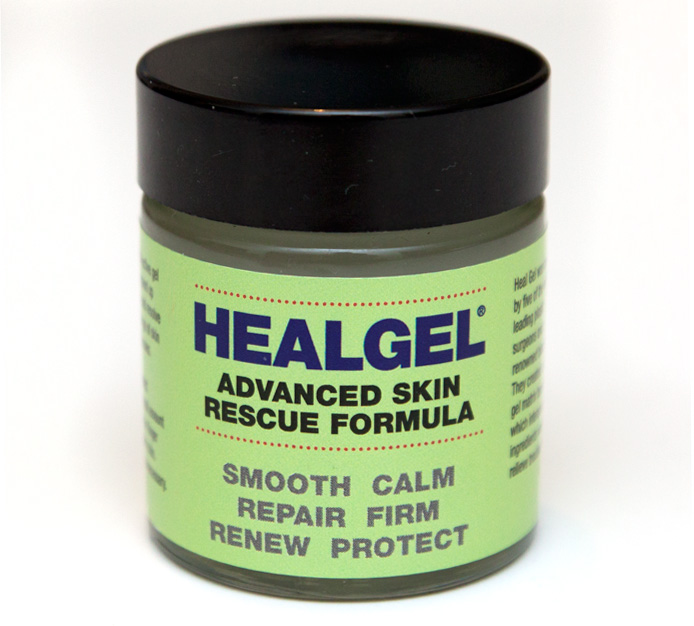 Boring isn't it?  But when compared to some of the flash self-proclaimed "miracle" creams on the market, this one actually appears to have some potency.
I put a shout out on Twitter to ask for recommendations on products that might help to improve the appearance of my daughter's scar.  She picked the scab that had healed over a scratch back in February and it had, in return, left her with a slightly red dent on her cheek.  It wasn't the most noticeable thing in the world, but on her completely flawless canvas – it was a shame.  Thankfully, over time and with generous moisturising with calendula cream – the colour in the scab calmed and returned to match her skin-colouring, the dent however, remained.
I genuinely didn't think that there would be any topical product that would help this situation, I mean… if there really were something that could 'plump' the skin up enough to fill a dent (and do it permanently), that stuff would already be holy grail for every single woman on the planet (and probably cost a bajillion pounds) right?  The good people on Twitter suggested lots of things and home remedies that I'd already tried – the most popular being Bio Oil, something that I've used in the past and didn't personally feel achieved much compared to how lauded it is in the beauty community.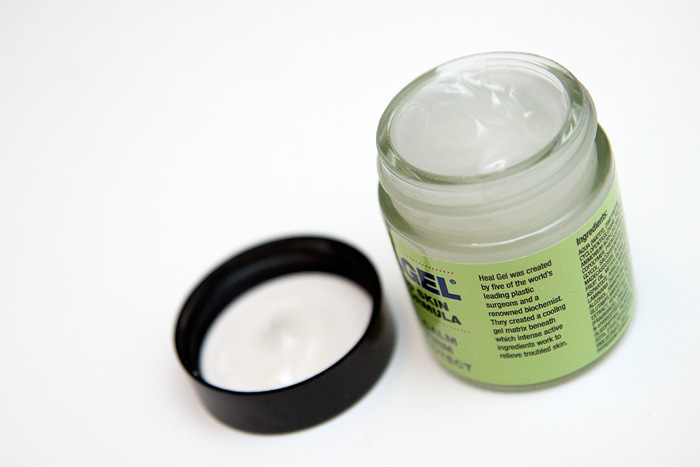 The PR for Heal Gel* asked if I wanted to try a sample of the product which is used to treat post-operative scarring, keloid scars, blemishes and aged scar tissue.  My interest was piqued, on paper – it fits the bill but I was unsure, because it's one thing testing products out on myself but I don't feel comfortable trying samples on my daughter.  I googled to find out more about Heal Gel and had a DM from a fellow blogger with much more skincare nouse than me who had seen the tweet and suggested that it might actually work.
Well, it worked.  I think.
I applied a tiny amount directly to the dent, three times a day and within 3 weeks of application, I started to notice that when my daughter turned her head, the light that reflected in the dent was looking more shallow than it had previously.  It's really hard to quantify a change that, to be quite honest, is minimal.  I have to trust my instincts somewhat that it's not a placebo effect but both myself and my husband agree that overall, the scarring is looking flatter and can only really be noticed now when she angles her head into the light.
I feel that perhaps this is something that would have happened in good time.  She's young, has plenty of collagen and good skin elasticity but I also believe that my use of Heal Gel accelerated the natural healing process.  I commented on Twitter that I thought I was seeing good results… but I wasn't entirely sure about writing a post extolling it's virtues – I didn't want anyone to go rushing out to spend their pennies on this stuff based on my reccomendations without something just a little more tangible.  I started to use Heal Gel on my own aged surgery scars, and crossed my fingers.
That was only a week ago, not enough time to notice any difference in the slightest.
So why am I writing my review now?  Well, I got sunburned on Sunday morning, walking around the car-boot sale.  I'd SPF'ed my face to the max and completely ignored my chest, clever no?  Combined with a stiff breeze I really didn't feel the effects until I sat back in the car and felt the tell-tale stinging sensation that tells me I've over-done it.  Bugger.  Until I remembered the Heal Gel sat in my desk at home and I formulated a cunning plan!
I would treat one half of my *cough* burnt bosom *cough* with my usual aftersun solution of Aloe Vera gel and the other, with the Heal Gel.  Within 24 hours, I'd found a good enough reason to trust my initial instincts.  Look!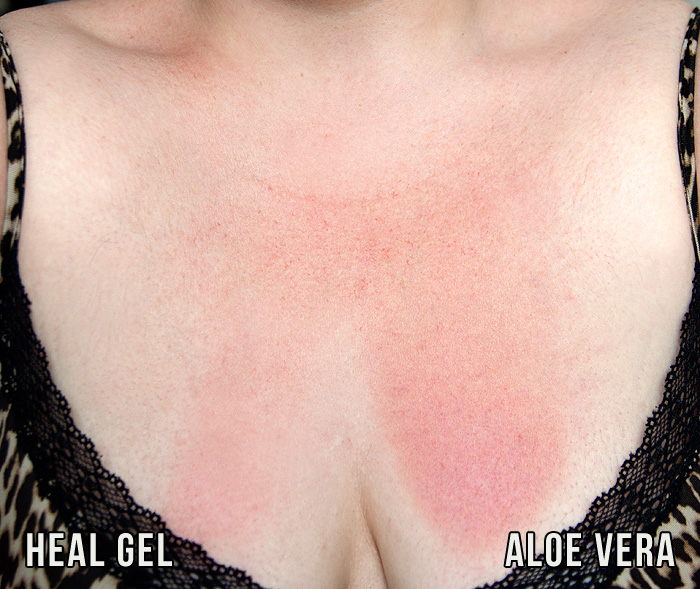 I'm half proud of my ingenuity at trying to deliver some tangible results with the product, and half mortified that I've basically flashed my boobs in my leopard-print cami (don't try and pretend you didn't notice the cami) on the fucking internet.  Go me!
I'll leave you with this thought…  If it takes five leading British plastic and cosmetic surgeons only three years to perfect the formula for Heal Gel.  Why is it taking me longer than thirty years to remember to sun-protect my chest in the first place?  Shameful.
Heal Gel is priced at £33.50 for 30ml and can be purchased online from Victoria Health and Cult Beauty.  It's also available instore at Liberty.
* press sample
** for an ingredient list and more scientific information than I'm able to provide, click through to either Victoria Health or Cult Beauty for more information, the Heal Gel website is a little sparse at the moment!