I'm a simple girl. I don't want much from life: flawless skin, lashes that touch my eyebrows, a bigger bum/smaller belly, and hair that doesn't look like it's been backcombed, when it hasn't.
When I was growing up, I didn't associate "frizzy hair" with my hair-type.  I thought that "the frizzies" was something only women with thick, curly hair were afflicted with.  You remember the old adverts on the telly where some super-serum would turn a mass of unruly curls into poker-straight silken locks yes? Well, that's not me.
My hair is pretty straight to begin with but full of flyaways and random sticky-out bits that won't lie flat?  And let's not forget the flat-at-the-roots, major poofy stuff going on at the ends which results in my number-one nemesis, triangle hair.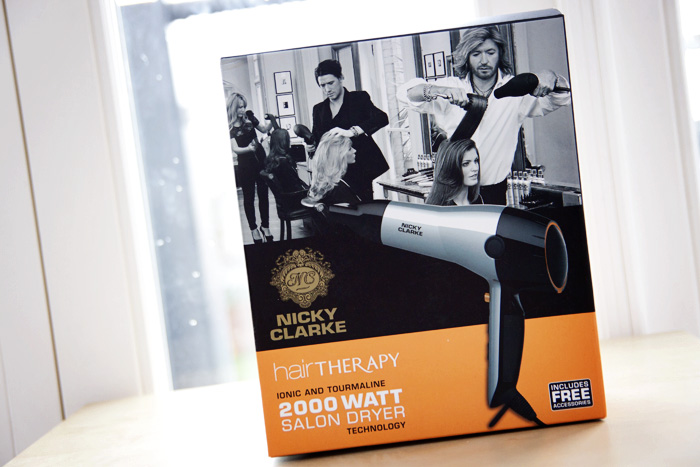 It took me far too long to realise that half my problem was being caused by my hair dryer.  I can emerge from the salon with the hair of my dreams and most of the time, there's very little "product" in it because the stylist always tells me that… "your hair is fine, you don't want to weigh it down."  OK.  Then what VOODOO are they doing to my hair that I can't do at home?
"It's all in the blow dry!" they say (as smug as you like), wriggling their fingers at me like they've been possessed with the powers of the late, great Alexandre de Paris himself.
"Shut up."  says me.  OK, I don't… but I bloody want to.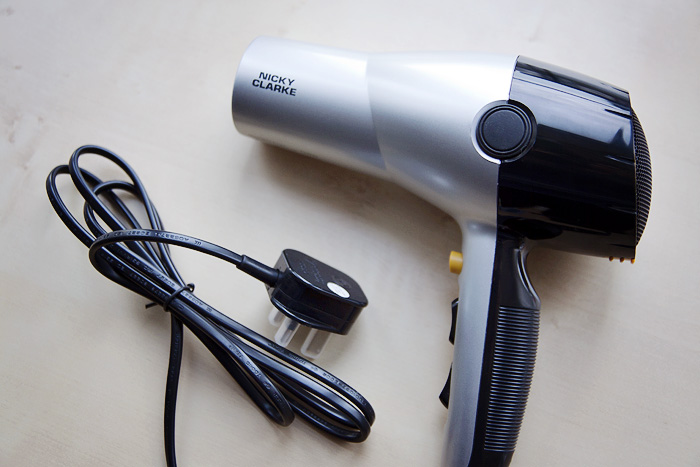 The Nicky Clarke Hair Therapy 2000-watt Hair Dryer* is a supposed solution for taming the frizz on a daily basis.  It's far bulkier than my current hair dryer and boasts three heat and two speed settings with a cool-shot button which is great for "setting" curls if you're using rollers.  Despite its bulk, it's really lightweight… infact, it feels pretty "cheap" to be blunt.
I guess there's always a payoff between designing something like this so that your arms don't ache after 30-seconds of use, and wanting the product to actually "feel" good in the hand.  This doesn't feel good in the hand… but then, it doesn't make my arms drop off either.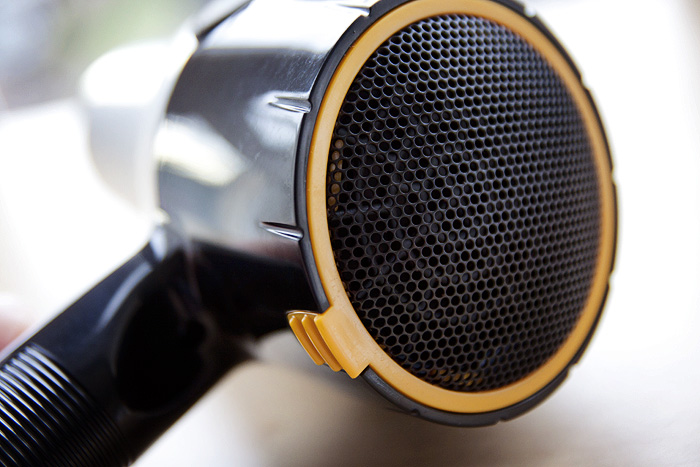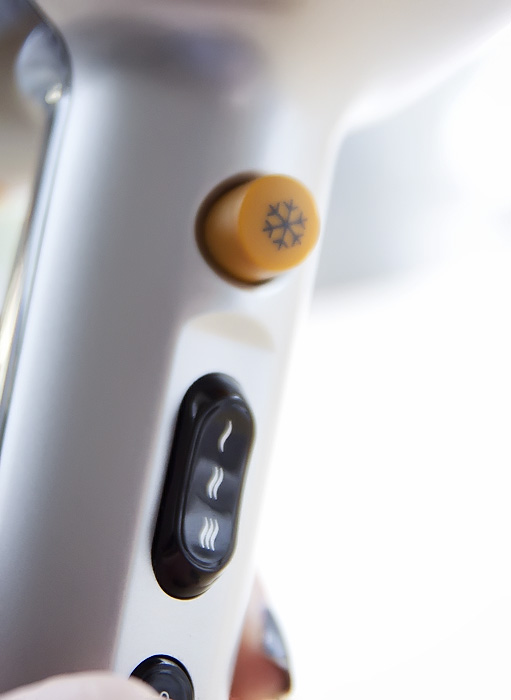 The 2000-watt motor delivers enough power to dry my hair within around four-minutes.  This is particularly interesting because my old hair-dryer (also rated at 2000-watts) takes around seven-minutes to get my hair dry enough so I can leave the house.  That's a pretty good time-saver, and I'm assuming that I have the ionic and tourmaline technology to thank for this difference.
Or maybe it's VOODOO!  Either way, it gives me more time to enjoy my cup of tea that I usually have to leave half-finished… and for that, I'm thankful.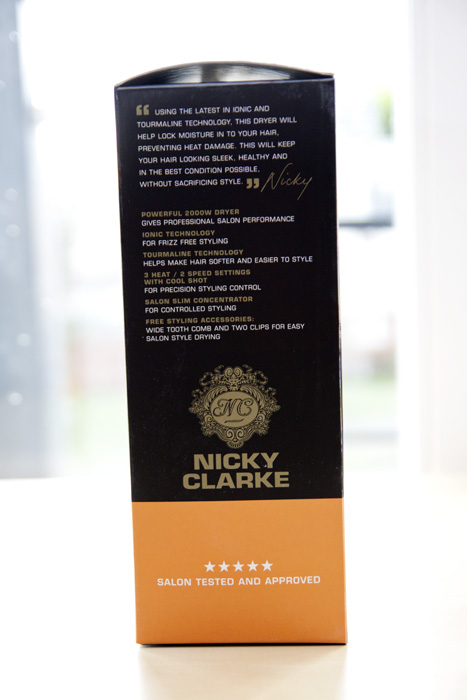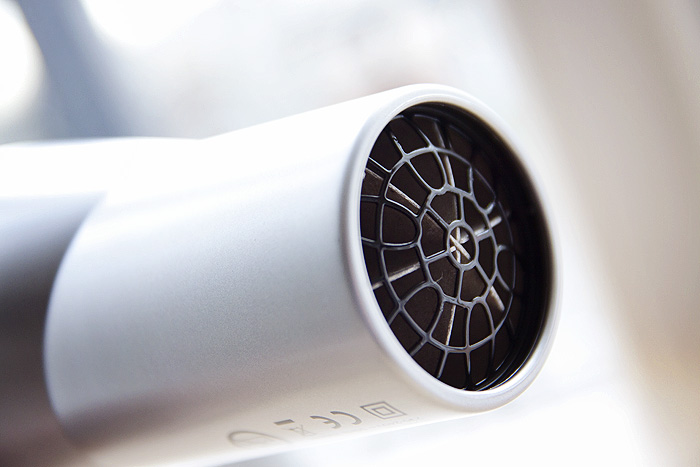 The Nicky Clarke Hair Therapy Hair Dryer is also pretty quiet.  I live in a flat and have washed and dried my hair later than 9pm with ALL OF THE GUILT.  I try to do it as quickly as I can… with all the doors shut and sometimes, if I'll just do my fringe (absolute essential!) because I'm a considerate neighbour… but this hairdryer is pretty quiet.
I must admit, I didn't notice it at first and it was my husband who pointed out the difference.  You can imagine the fun I had annoying him by comparing the two hairdryers for noise levels.  Don't worry, I made sure I did it during daylight hours!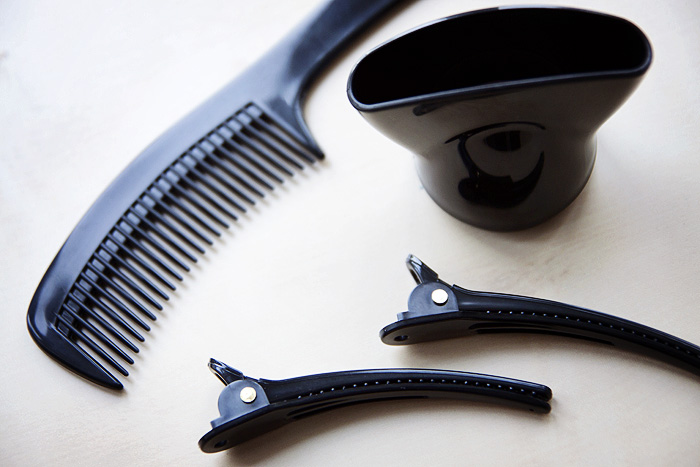 This dryer comes with some freebies, they're pretty lame.  An unbranded, generic comb and a couple of sectioning clips.  I kinda wish it came with one of those BIG HAIR diffusers as well as the nozzle style for when I'm rocking the curly-haired look but I guess we're not in the 80s anymore Toto.  Perhaps more impressively, it comes with a loop so you can hang it up if you want.  Ok, it's only me that's impressed by that addition.
There's one final thing that I don't like about this hair dryer, the cord isn't quite long enough for me.  I mean, cords have been getting longer and longer haven't they?  I need a longggggg cord to stretch into the hall so I can use the big mirror sometimes, and this doesn't reach.
It's not shamefully short (don't make me go and measure it) but if you need a hair-dryer with a "long" cord, don't get this one.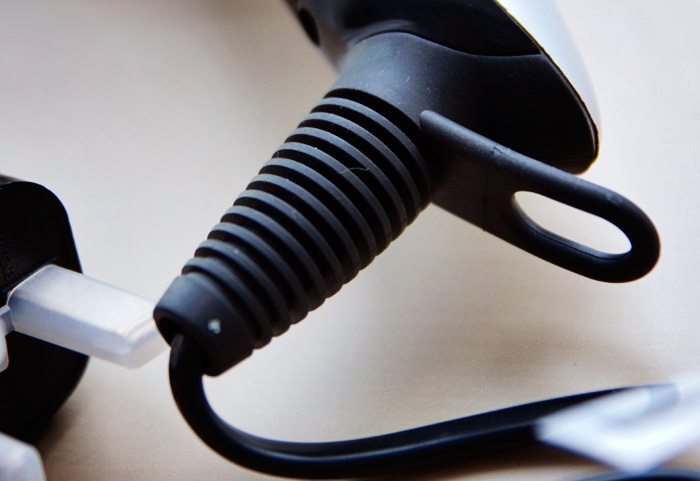 And finally, what about the frizz?  Am I now sporting super-sleek locks?  Well, I sort-of am actually.
Ok, it's no salon blow-dry, it's not a miracle but, BUT… there is definite improvement.  No longer am I sporting an equilateral triangle on my head, it's now more…. Isoceles.  And that's a good thing people.
The Nicky Clarke Hair Therapy 2000-watt Hair Dryer is priced from (a ridiculously reasonable) £18.00 and available to buy online from very.co.uk
* press sample