Launching exclusively to QVC at midnight on Saturday 14th August is Decléor's latest cleansing solution.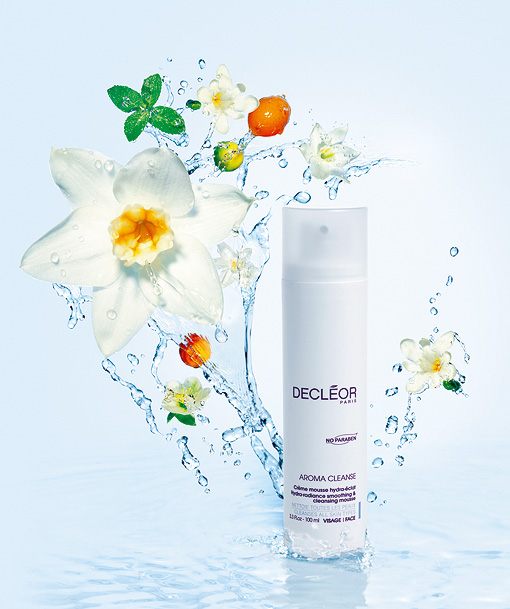 Decléor's Aroma Cleanse (£28) is a mousse that promises to deliver well-balanced cleansing with an emphasis on skin-caring ingredients.
In the past, I've sworn off mousse or foaming cleanser in favour of cremes.  As someone with combination/sensitive skin I generally find these kind of cleansers quite drying on my easily-irritated fizzog.  However, Aroma Cleanse claims that it will leave my skin feeling (and I quote) "rehydrated".  Interesting…
The formula promises three distinct actions:
Deep Cleansing

When it comes into contact with water the rich, concentrated cream quickly lathers to a gorgeous mousse-like texture, creating tiny bubbles to swiftly deep cleanse and soften the skin leaving it clean and velvety soft.  The inclusion of two cotton cloths with each pump dispenser also provides a further delicate exfoliating action and helps to ensure skin is left free of residue post-cleanse.

Skin Polishing and Perfecting

Grapefruit, Papaya extract and Japanese White Mulberry exfoliate and gently slough away dull dead skin cells to leave the skin crystal clear with visible clarity and luminosity after just one use.

Moisturising and Plumping

With nourishing Neroli essential oil – also known for it's decongesting and calming properties – and Hyaluronic acid, a potent protein that occurs naturally in the skin and can hold up to 1000 times it's own weight in moisture, immediate results on the skin are outstanding.  The skin has renewed plumpness due to the injection and retention of moisture, which gives it an extreme feeling of firmness, while wrinkles appear reduced and skin feels intensely soft and balanced too.
Just a couple of claims to bear in mind while I'm testing the sample I received then… phew!
Mostly, I'll be concentrating on this moisturising aspect… I'm sceptical!  I've never used a mousse or foaming cleanser (and I've used a lot!) that hasn't left me RUNNING for my moisturiser as my skin tightens uncomfortably within minutes of cleansing.
You're up against it Decléor!