It's true, we don't have much need (where did I put my umbrella?) for protecting our locks against sun damage on these drizzly shores at the moment but if you're planning a Summer holiday to warmer climes don't forget to pack more protection than just your SPF30!
Our hair can suffer the effects of the sun just as much as our skin and if you're constantly dipping in and out of the sea or chlorinated pools whilst on your hols, your barnet will return home drier than a sun-dried twiglet.
Welcome to the second installment of The Cutting Room Floor, the segment devoted to Summer hair bits and bobs that have caught my eye over recent weeks!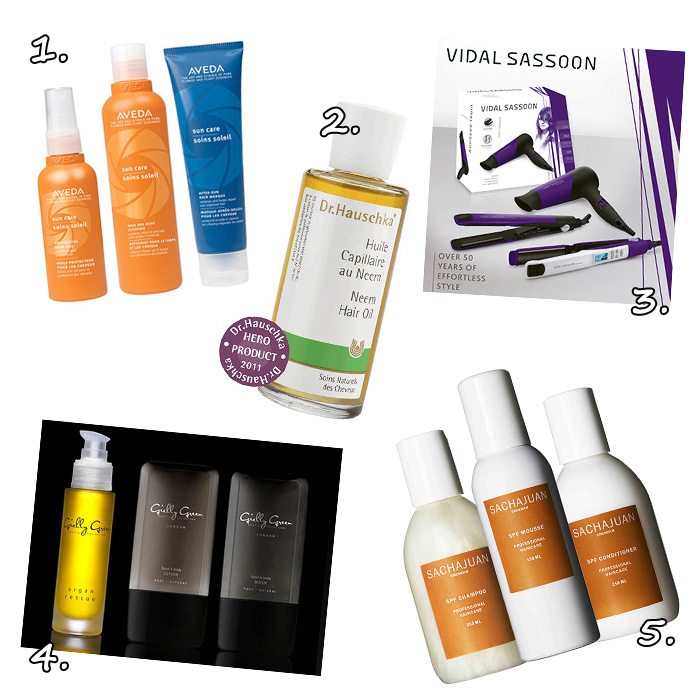 1.  Aveda Sun Care 2011 (from £14.00)

Aveda Sun Care 2011 lineup comprises of a three-step defence and recovery system:
Aveda Cun Care Protective Hair Veil (£17.50):  A lightweight, water-resistant UV defense mist that forms an invisible screen to help protect hair from sun exposure for up to 16 hours, to minimise colour fading, damage and dryness.
After Sun Hair & Body Cleanser (£14.00):  Aveda Sun Care Hair & Body Cleanser features a colour-safe formula with corn-derived chelator that gently removes chlorine, salt and product residue.
Aveda Sun Care After-Sun Hair Treatment Masque (£16.50):  An intensive cream masque that replenishes hair's protein balance, moisturises and defends against free radicals and the damaging effects of sunlight.
2.  Dr. Hauschka Neem Hair Oil (£22.95) *
Described as a 'hero product' for the Dr. Hauschka line, the Neem Hair Oil contains a rich, replenishing formula that promises to soften and restore hair that has been damaged by treatments, hair tools and the strains of holiday living!
It also lays claim to being able calm itchy, flaky conditions, encourage hair growth and even normalise sebaceous activity on hair that is prone to greasiness!  Best used as a weekly pre-shampoo treatment on most hair types but also recommended as a styling product for those with extra-dry, frazzled locks.  I have a sample here that I'm ITCHING (no pun intended) to put to good use… watch this space!
3.  Vidal Sassoon Contemporary Collection (from £17.99)
From August, Vidal Sassoon is getting a new look.  Clearly fed up with us lot buying up the high street stores in an attempt to reinvent our Summer wardrobe, the iconic hair brand is upping their game to join us!
The purple accents and redesigned packaging give a nod to the hairdresser's love of geometric lines and asymmetric styling.  The new budget-friendly range in its eye-catching new packaging will be on shelf from August.
4.  Gielly Green Summer GWP offer (£19.50)
If you're more concerned about the weight of your luggage than anything else this Summer (well not *anything* else, need a life much?), you might be interested in the current offer available at Gielly Green.
My love for their Argan Oil is well documented on here and until the end of August, when you purchase a bottle, you'll receive complimentary travel-sized Lemon & Muguet Body Wash and Lotions with every order.  Perfect for sticking two fingers up at RyanAir's baggage restrictions and indulging in a bit of pampering at the same time!
5.  Sachajuan SPF Range (from £18.00) *
Sweden's hottest hair stylists have hit the UK with a new range expected to delight the socks off beach lovers everywhere.  The SPF line up includes three products designed to offer maximum protection against environmental damage without adding additional weight or build-up to fine hair.
A shampoo, conditioner and UV-busting mousse ensures that your style is protected with long-lasting effects without skimping on nourishment thanks to its very own Ocean Silk Technology formula containing valuable proteins and minerals derived from sea algae.
Sachajuan is available instore at Liberty and online at MichaelJohn Boutique
.
Do you have any practical Summer hair tips for holidays?
* press sample