I really don't like to rush reviews on skincare, there are always so many claims to consider and sometimes skin takes its sweet time to get used to new products.  I received the Biotherm Skin.Energetic Concentrate serum for review consideration almost 2 months ago and have been using it every morning, I'm just about ready to give you my thoughts and impressions of this serum that claims to "fight the most visible signs of fatigue".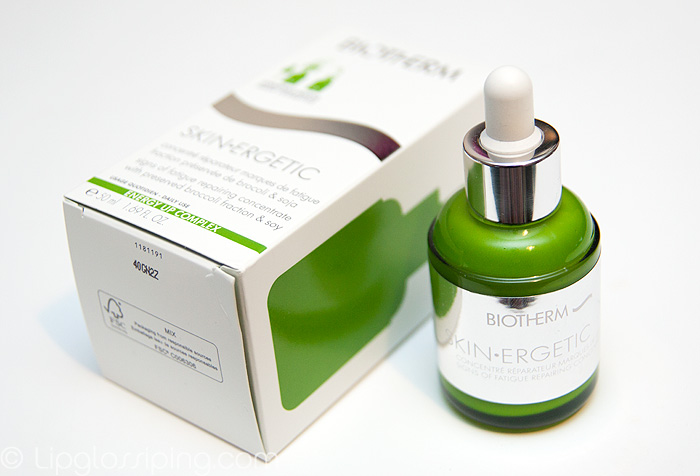 The product recommends itself to morning and nightly application but I prefer to use serums and oils that target my low hydration levels in the evening… that's just a personal preference.  However, I'm the total opposite in the mornings and have been known to skip moisturiser entirely purely because I hate to feel like I have a heavy mask of skincare on throughout the day.
The Biotherm Skin.Ergetic Concentrate is not your usual anti-aging serum.  It's designed for a younger market who may be just noticing the first effects of the aging process but instead of claiming to reverse those signs, the Skin.Ergetic serum promises to boost moisture, radiance and dampen the effects that a busy lifestyle can have on tired, dull or stressed skin.  This in itself has me sitting up and paying attention.  Radiance?  Freshness?  Did someone say perky?  I'm all about the perky.
First things first… what a total bugger this is to open and 'mix'.  It comes in two parts, the 'serum' (think of it as a carrier oil) and then a 'powder' (think of that as the active ingredients).  You need to dispense the powder into the serum and shake thoroughly to mix.  I can do the shaking but the dispensing had me stumped for a little while.
I read the instructions, re-read them properly… made a cup of tea and glared at the bottle.  Then I gave the thing to Mr. L, throwing my arms up in the most Gallic way I could muster and pointed at the instructions.  About 15 seconds later he gave it back to me fully mixed with a pitying look on his face that left me with no other option than to refuse to say thank you and KMT at him instead.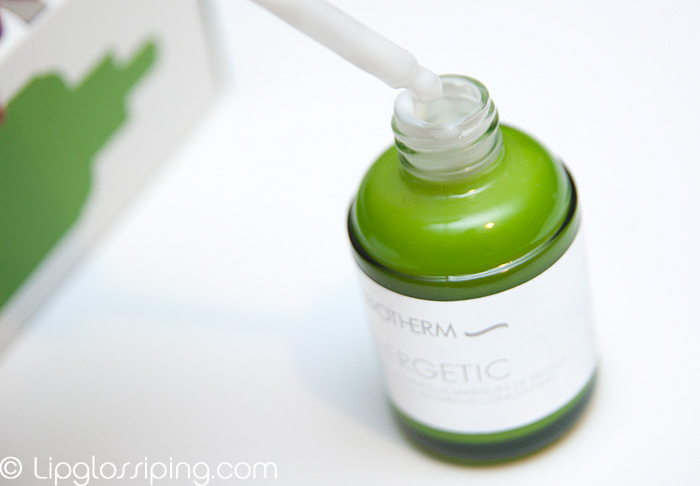 The concentrate smells divine.  It's fresh, zingy and above all else, apple… er… y.  It makes for a positively uplifting experience in the mornings on my freshly washed skin.  A white lotion that spreads thinly and without resistance over my face ensuring that a little prodcut goes a very long way.
I was unconvinced that it would give me enough moisture and in patches, I don't think it does.  I definitely need to use my normal day cream over this but in fairness, you're not supposed to use it alone anyway.  Moot point.
The concentrate is enriched with things such as: Broccoli (a novel way to get your 5 a day), Soy, Apple, Lemon and Sugar Cane… all of which promise to improve radiance and skin texture.  In honesty, I can't say I noticed a huge difference to my skin texture first nor last… but radiance?  Well… it was only when I stopped using it last week (thinking that I'd had enough of it not doing anything other than smelling and feeling good) that I noticed how much duller my skin was looking by the middle of the day.  The Biotherm Skin.Ergetic concentrate seems to bring a brightness to my complexion that it's visibly lacking without.
Priced at £35 for 50ml… I'm not even close to being halfway through the bottle after 2 months (1x a day) usage so have no problems expressing that I believe it provides value for money.  My only concern is chasing after something that gives more than just visible brightness.  Admittedly, it provides most things I want from a daytime serum… non-greasy, easily absorbed, refreshing, value for money, brightening… but it doesn't give me smoother skin or plump out fine lines.  Does anything?  Well… I'm still chasing that particular pot of gold.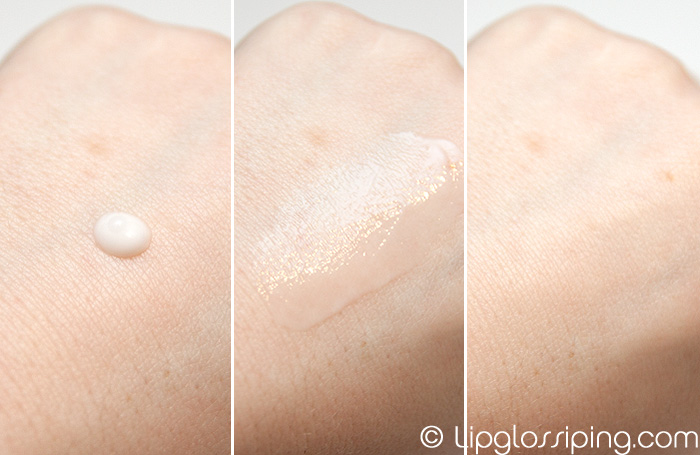 All in all, if fatigue is your main skin concern and you want something light and refreshing for the summer months that will brighten your complexion and leave you looking more refreshed.  I'd seriously give Biotherm's Skin.Ergetic Concentrate a second look.
Biotherm Skin.Ergetic Concentrate is priced at £35 and available to buy from most department stores and online at Boots, Debenhams, House of Fraser and Beauty Expert.
What do you look for in a serum?