A few weeks ago now, I made a haul from Puresha when they were offering the Cargo Plant Love range at half price.  It's an organic ECO-CERTed range that I'd been eyeing up for ages but this was the push I needed to commit to a closer look.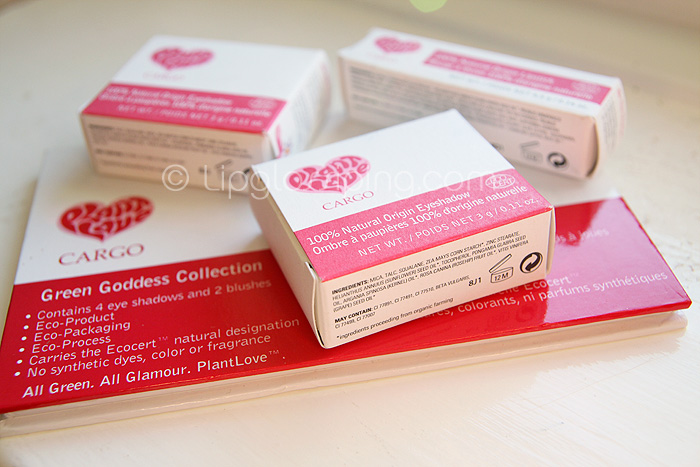 I picked up 4 things which were delivered super quickly by Puresha and tied up in a rather beautiful furoshki wrap.  I'm loving this company's commitment to 'beautiful living'.
But enough about the stockist, how about the makeup?
I have mixed thoughts.  For one thing, the packaging feels flimsy and unfortunately one of my eyeshadow pans had come unstuck and was rattling about inside the casing.
But… I'll get my single biggest problem outta the way first shall I?  I experienced an epic eyeshadow fail in this order.
One of the eyeshadow solos I ordered was a rather lovely looking shade called Loon.  Here it is on the left: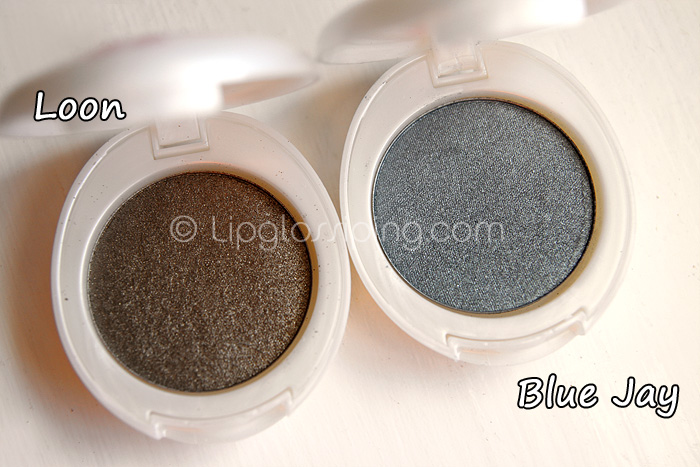 It's described as a glimmering khaki bronze.  I'd describe it as tea leaves.  And I'm not talking about the colour.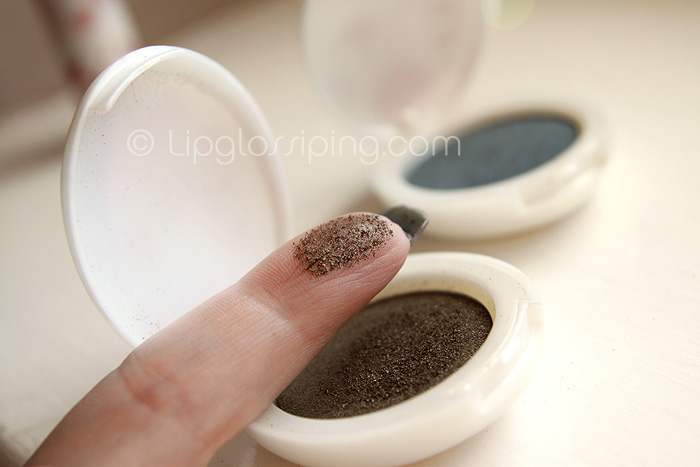 Nice texture… how about swatched?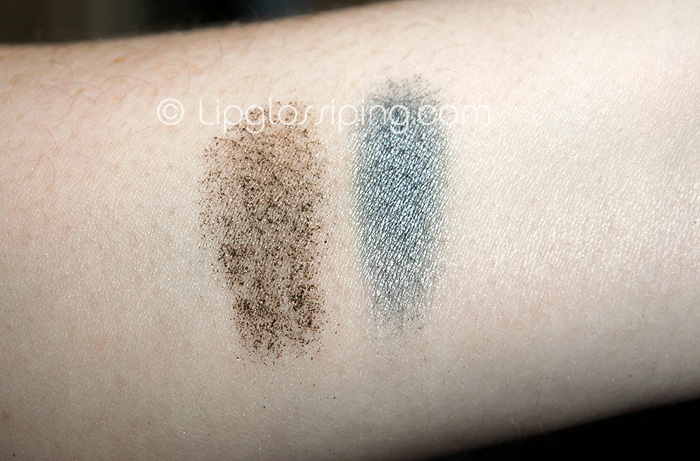 Sadly, a completely unusable eyeshadow.  On the other hand… Blue Jay is a truly truly beautiful slate blue.  Has anyone ever experienced an eyeshadow with a texture like my Loon?  I contemplated contacting Puresha about it, but to be completely honest… at the price I paid for my order, I'd rather feel that I was robbing them by asking for a replacement.
Anyway, one eyeshadow win… one fail…. what else did I get?
I bought a lipstick in shade Yakushima.  I wanted a soft, sheer plum… which is exactly what I got.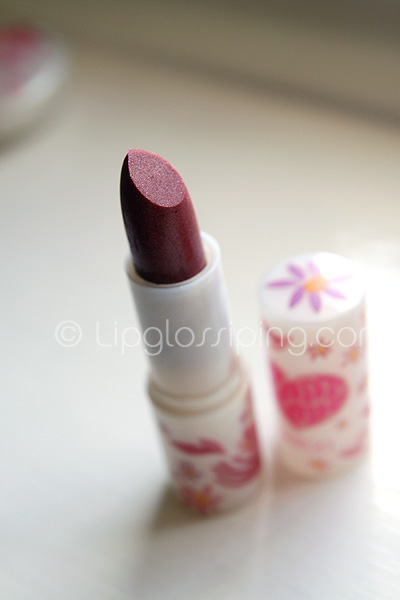 I'm not massively keen on the scent… it's very waxy smelling, but I do love the shade.  Sheer, rich plum with a subtle gold glimmer.  The glimmer gives the illusion of fuller lips and makes this a fantastic choice for the festive season.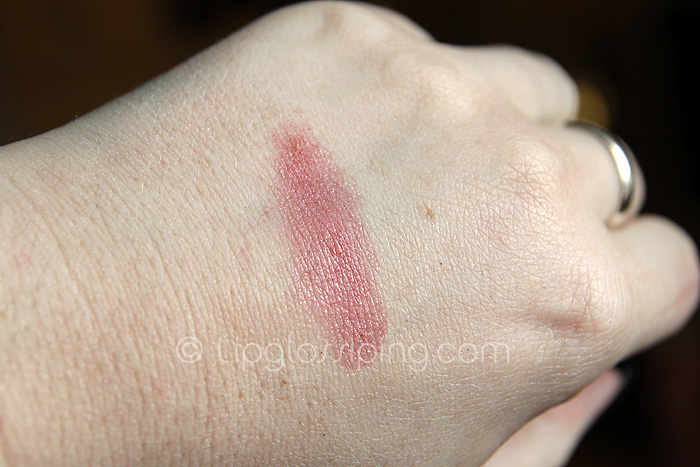 The final thing I picked up was the Green Goddess Collection palette that contains 4 eye shadows and 2 blushes.  I absolutely adore how slimline this thing is… check it out…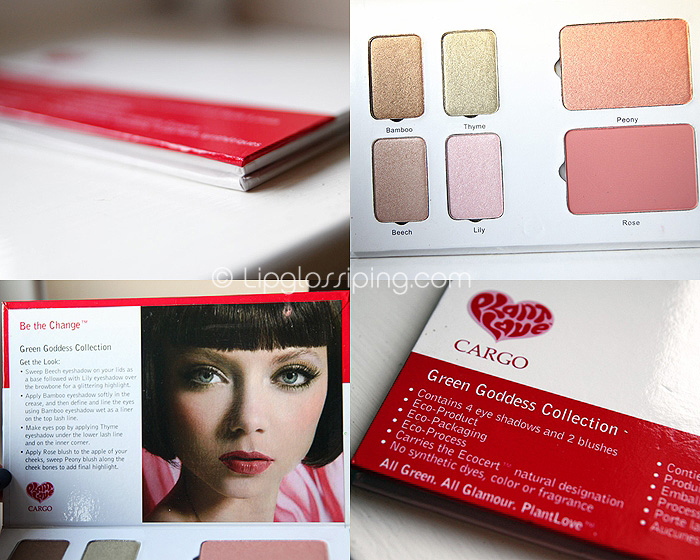 With the exception of Rose blush, all products are incredibly shimmery.  The eyeshadow in Lily is reminiscent of Urban Decay's MCRA-type glitter… it's too much.  I'm not entirely sure how much wear I'll get out of this palette to be honest.  All shades are well-pigmented although Thyme (the pale shimmery green) has a little of that tea-leaf thing going on again.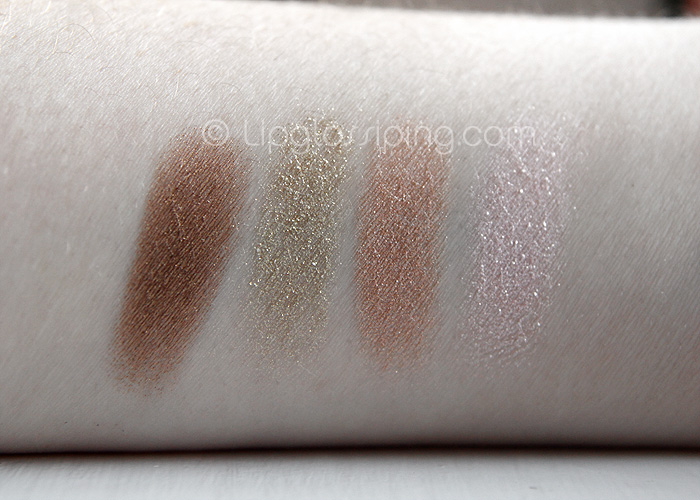 The blushes are so-so… Rose is more of a bronzer on me because it applies with quite a deep, warm almost brick-like appearance, though it looks nice with a small amount of the very shimmery Peony dusted ontop.  I just need to use a very light-hand with these two.
So overall, it's a mixed bag.
From the rattly loose-panned packaging to the eyeshadow textures that just won't apply properly, I think that Cargo's Plant Love range may well have some quality issues that will prevent me from exploring the brand further.  I did wonder if perhaps I'd received one from an 'off' batch.  Infact, that's what I assumed… until I read this on MakeUpAlley.  Sound familliar?
The things that I'm happy with… I'm very happy with.  The rest, a bitter disappointment.
You can purchase Cargo Plant Love products online from Puresha with prices starting from £6.50