Small portions at restaurants, a child that can't complete a sentence without repeating the word "Mummy" over and over before getting to her point, and body lotion that slides ineffectually over my skin for all eternity without actually sinking in.  These are the kind of things that get on my tits daily.
E45 have released a trio of new body creams that dodge my irritation-o-meter, they're light, pleasantly slippy, cooling on the skin and quick to absorb.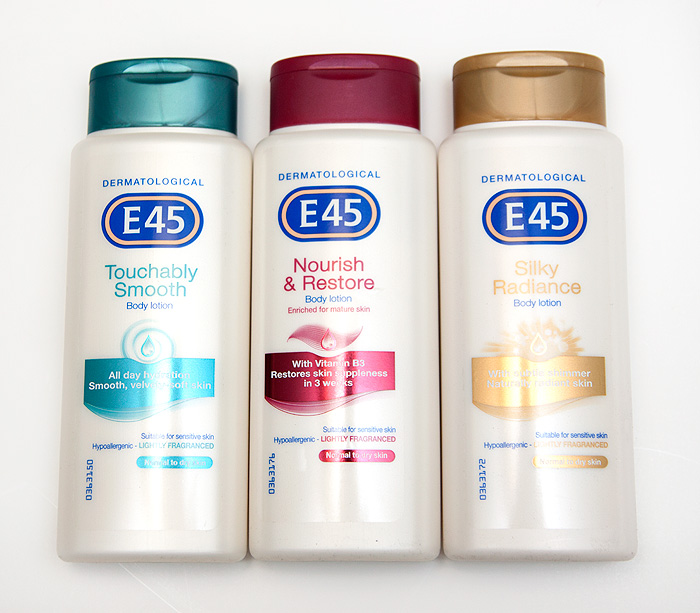 The three varieties are best suited to normal/dry skins as a daily moisturiser, if you're looking for something more nourishing for brillo-pad elbows and shins, look elsewhere in the range for heavier formulas.  My favourite of the three and the one that I'm classing as my "inexpensive beauty find" is the E45 Silky Radiance Body Lotion* (the one on the far right in the above picture).
This is going to be a particularly good choice for the summer months as it contains a really subtle shimmer that makes you look all glowy and healthy.  I can't even emphasise just how crucial it is to have shimmery limbs right now – I mean, I can't turn on the telly without being blinded by some s'lebs shiny legs and this is a far more appealing version which doesn't like you've rolled around in the butter dish.
E45 Silky Radiance Body Lotion is available to buy instore and online at Boots.com, priced at £3.99 (also available from Supermarkets and the usual places)
* press sample