I haven't really explored the B. range at Superdrug since its launch, to be honest… I just can't say that any of the brand's releases have inspired me to make the trip further-afield to a better-stocked Superdrug.  I saw a press release for their new B. Vibrant Lip & Cheek Colours, and for one moment… I thought I might well be converted by the look of these chubby lip crayons.  But was I?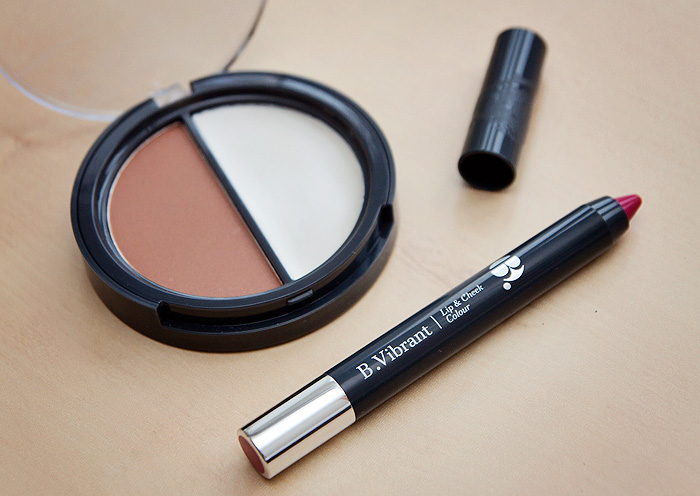 Along with one of the new B. Vibrant Lip & Cheek Colours in Fandango* – a hot pink, I was sent the new B. Sculpted Contour Kit in shade Dark*.  I'll start with the Lip & Cheek Colour first…
It's packaged in a traditional, crayon-style format with a twist mechanism to raise and lower the waxy nib, perfect if like me, you hate having to sharpen anything!  It feels well-made and the colour glides over the lips effortlessly.
Perhaps a little too effortlessly, you see… it feels quite greasy and to achieve anything like the kind of vibrancy I was expecting, you need to layer up.  More layers = more grease.  It's not a great combination.  I wasn't expecting a matte formula but there's just something about the way this feels that doesn't appeal to me.  It's not sticky and it's not overly heavy, it's just… not quite there.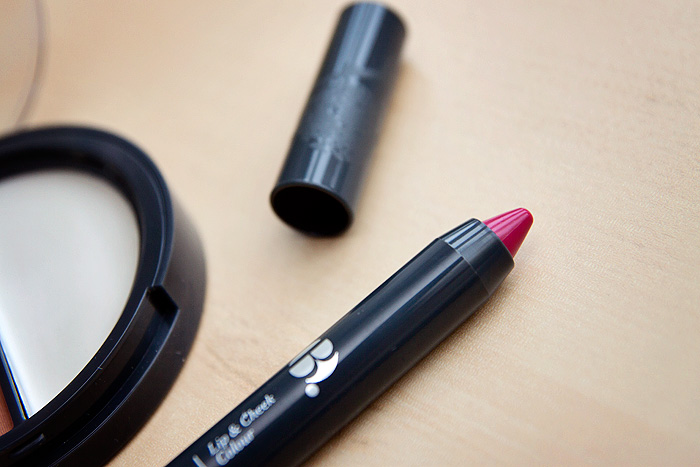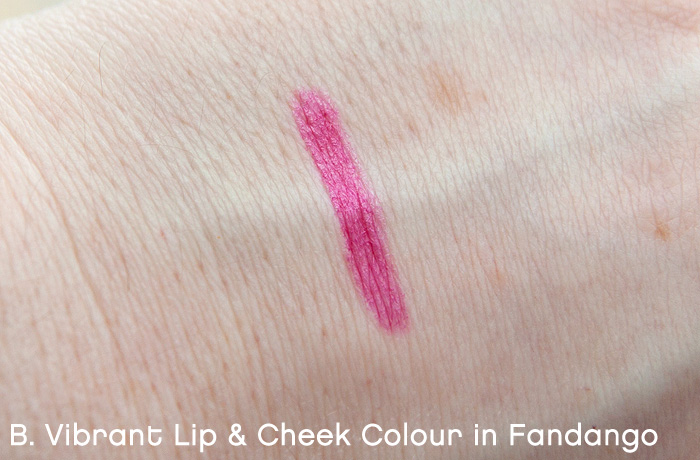 Once I've built up the pigment to a medium-high finish (the swatch above shows about 5 swipes with the crayon), I tend to grab a tissue to blot.  That's the only way I can enjoy wearing this shade on my lips.  To be fair, this doesn't take down the pigment too much and possibly increases overall wear time but I just wanted something more instantly vibrant from a product that calls itself… vibrant.
As for my cheeks?  Perhaps the multi-use function of this product has something to do with why the formula feels the way it does… but you know about my distaste for sharing my lip products with my face and if I saw someone smearing their lip crayon around on their cheeks after I'd just watched them apply it to their mouth, I might be forced to spit on a tissue for them.
The B. Vibrant Lip & Cheek Colours come in five shades, ranging from a soft pink through to a rather striking mandarin.  I've only tried the one shade and would be interested to hear your thoughts on the others!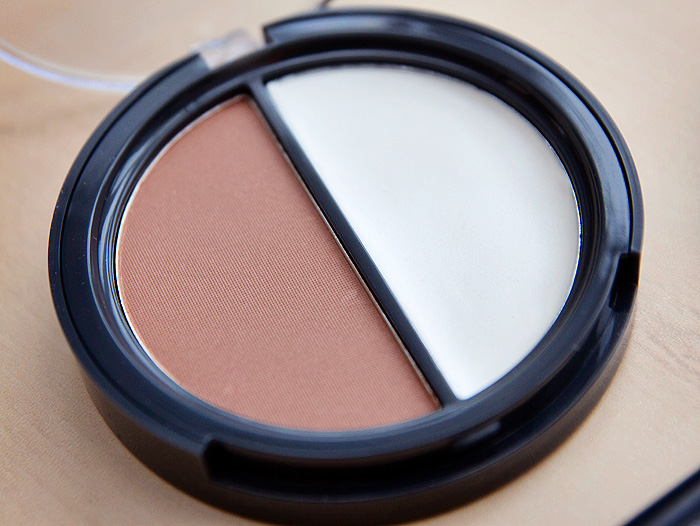 The other new release from the brand is a Sculpted Contour Kit that is available to buy in light, medium, and dark.  This is the "dark" shade choice.  The kit is split into two pans containing just over a total of 10g of product.
The powder, the contouring side of the pan feels finely-milled with a nice, soft texture and a good amount of pigment pay-off.  The cream highlight shade is an oddity.  When I first saw it in the pan, I angled it under the light, expecting to see some mica particles glimmer back at me.  But no, either mine is defective or it's just a translucent white cream.  Much like a thin, theatrical greasepaint.  On my skin, it doesn't do an awful lot other than look… greasy.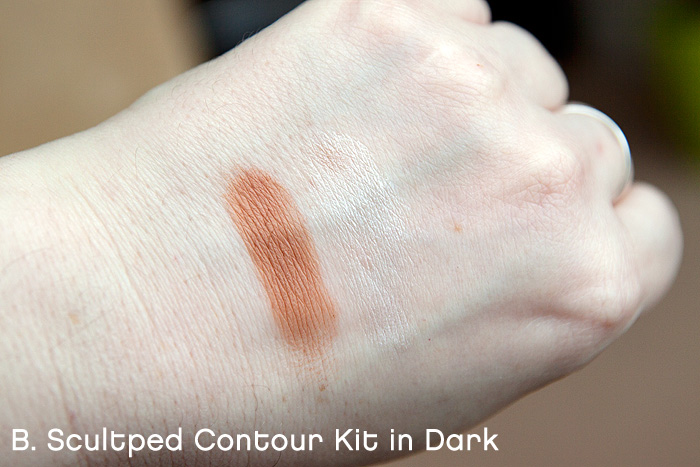 Once blended, it reminds me of putting a slightly more-refined version of vaseline on the high points of my face… there's nothing wrong with this, women have been using vaseline as a highlighting trick for years, it just wasn't quite what I anticipated.  It's best applied at the end of your makeup routine, otherwise any setting powder that you apply will ruin the effect.
All in all, I'm not excited or enthused about these two releases from the budget high-street brand.  In 2014, I expect better formulas for the not unsubstantial RRP price tags of these products.
B. Vibrant Lip & Cheek Colour in Fandango is priced at £7.99 but currently a third off at £5.32 for a limited time.  B. Sculpted Contour Kit in Dark is priced at £11.99 but currently a third off at £6.99 for a limited time.  Available to buy instore at Superdrug and online at superdrug.com
* press sample
 if you liked this post, please don't forget to check out my subscriber options, here