Whilst this may not be the most important question we'll ever ponder, for me… it was all I could think about a fortnight ago as I sat in the hair salon umm-ing and ahh-ing over this very dilemma.
In the end, I did what I always do in situations like this, I semi-commited.  I let the stylist cut me a hint of a fringe, a slight side sweep.  A fringe for wimps really.
I don't like it. It's bitty and it's annoying… it says "Here stands a woman who has no faith in her own judgement!"
What I should have done, is bought one of these before visiting the salon.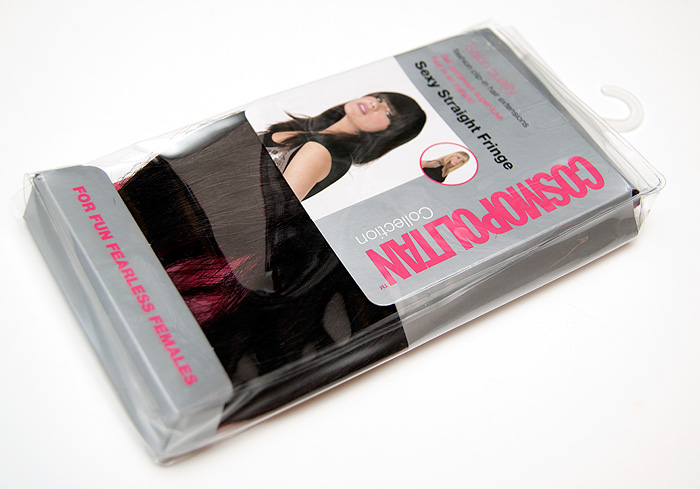 The Cosmopolitan Collection Sexy Straight Fringe in Darkest Brown.  A clip-in fringe for commitment-phobes!
It's the easiest thing in the world to attach, simply align wherever you want the end of your fringe to reach and press on the two clips that come attached.  Voila!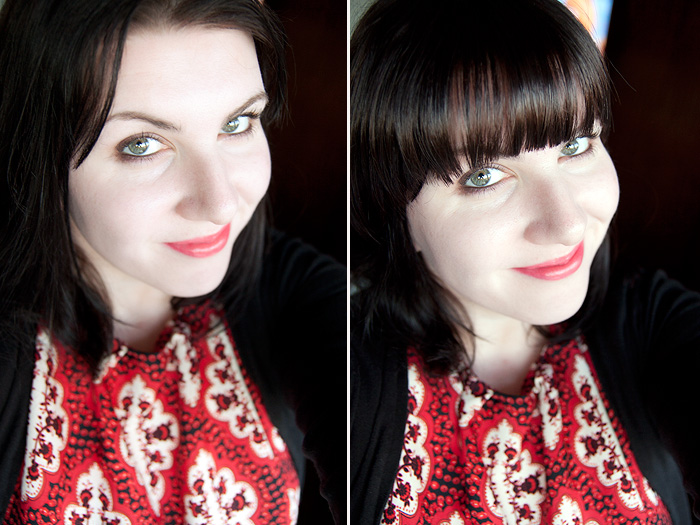 Instant fringe!
Now, whilst I am actually in love with my new fringe, it doesn't come without issues.
1. It's synthetic and therefore shiny.  If only my real hair were this shiny!  Now, don't get me wrong… we're not in doll's hair territory, it's not a horrible synthetic shine but it does contrast to my own hair and I need to fix this before I'd wear it out.  I've heard that some dry shampoo should do the trick.
2. If you have fine hair like mine, you need to play around with the back of the fringe (where it meets your hair) to ensure that the join is as well-hidden as possible.  Those with thicker locks will probably find this a doddle, I need a bit of careful placement and backcombing.
3.  Beware of relationships with partners, family and friends.  Mr. L and I are no longer on speaking terms since he called me Duane Dibley.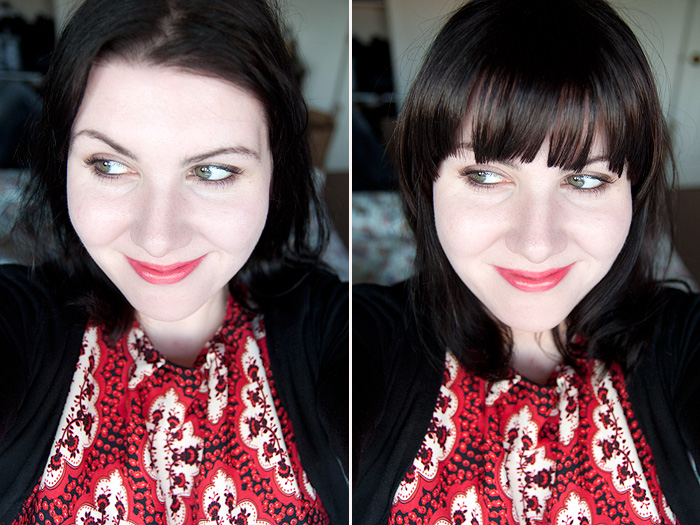 On the plus side, it provides instant gratification for a striking new look on nights out or when I want to confuse my 2 year old.  It's well cut and heavy enough without being comedy-heavy and perhaps best of all, it covers my grey roots like a dream!
You can purchase The Cosmopolitan Collection Sexy Straight Fringe* online at HotHair, priced at £24.
* Press Sample